Realize the Value of HCC Coding
In Coding
April 1, 2019
Comments Off

on Realize the Value of HCC Coding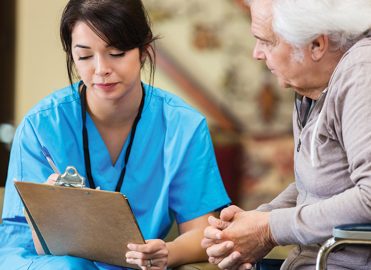 Documentation is key to correct ICD-10-CM coding, better patient care, and proper reimbursement.
Physician documentation is one of the most important keys when abstracting for hierarchical condition category (HCC) coding. In a value-based payment system, documentation — more specifically, coding extracted from that documentation — determines whether a physician is properly compensated for managing the chronically ill. The more accurate the risk scores, the more accurate the benchmark for expenditures, and the more accurate the physician's reimbursement.
Now is a perfect time to assess how your providers are documenting and reporting the health risks of their patients.
HCC Coding Basics
HCC is a risk adjustment model used by the Centers for Medicare & Medicaid Services (CMS) for Medicare Advantage (Part C) contract rates. Risk adjustment is a health plan process for compensation, based on the underlying health conditions of their enrollees. The CMS-HCC model relies on ICD-10-CM codes to map to HCC codes that risk adjust patients based on their state of health. Healthcare facilities and plans use this model to understand the risk level of patients and predict patient cost.
HCC models organize the disease process and conditions into body systems and diagnostic groups. The diagnostic groups are categorized into condition categories. The CMS-HCC model focuses on chronic conditions, such as congestive heart failure (CHF) and diabetes, that impact future healthcare costs. Acute illnesses and injuries are not considered in this model because the data is not reliable when predicting healthcare costs. Not all diagnoses are mapped to an HCC code, only the diagnoses that are costly to manage.
A few of the top categories include:
Rheumatoid arthritis
Diabetes
Breast and prostate cancer
CHF
Depression and bipolar disorders
You can download the 2019 Mid-year Final ICD-10-CM mappings Excel file from the CMS website.
Reporting HCCs
Individual HCCs are valid for one year, regardless of the fundamental chronicity. Although chronic conditions are ongoing, providers must document a patient's chronic condition and recapture the ICD-10-CM code annually to maintain the patient's HCC risk score. For example, a patient with CHF requires a face-to-face encounter each year, at which time the provider can discuss and document the CHF. This encounter allows the appropriate ICD-10-CM code to be reported, and the HCC code to be captured, in the new base year.
Assess the Provider
In your assessment, verify the medial record is authenticated, the provider is eligible, and the patient identity is validated. CMS has guidelines that identify acceptable document sources, as well as eligible providers and provider specialties.
Eligible providers include:
Medical doctor (MD)
Doctor of osteopathic medicine (DO)
Residents
Certified registered nurse practitioner (CRNP)
Ineligible providers include:
Diagnostic radiologist
Registered nurse (RN)
Licensed practical nurse (LPN)
Registered dietitian (RD)
Map the Chronic Condition to the HCC
These providers must recapture ICD-10-CM codes for certain chronic conditions. Examples of conditions that map to an HCC include:
COPD
Diabetes
HIV status
Parkinson's
Organ transplants
Amputation status
CHF
The documentation in the patient's medical record must support the condition as present and as being assessed and/or planned by an eligible provider qualified to manage the condition.
Use MEAT to Capture Codes
One strategy that is commonly used by organizations to capture a diagnosis is the "MEAT" method:
Monitoring (signs, symptoms, progression/regression)
Evaluated (test results, response to treatment)
Assessment (condition of the patient, order test, referrals, review records)
Treatment (medications, therapies)
Accurate coding is essential for characterizing the risk of the patient. When documentation does not allow for accurate coding, health plans do not receive the data needed to adequately fund the patient's care. Incorrect risk levels ultimately affect patient care and provider payment.
What Can You Do?
Perform annual audits in your practice to identify patients with unreported chronic conditions. Providers should follow up on these patients to better manage and recapture their chronic conditions. This requires a wider focus than just presenting symptoms during an office visit. Prior to value-based care, reimbursement was based on demographic factors. Risk adjustment models allow patients to be evaluated on an equal scale and providers to be paid on a level playing field.

Documentation Tips

Confirm documentation is exclusive to the date of service (DOS): Documentation from a different DOS cannot be used to clarify documentation for a current DOS.
Be aware of the Cut and Paste functions: Ensure the documentation has been updated by the provider during the current patient encounter and not "cloned" (copied and pasted) from a previous DOS.
Be careful with "history of:" Unless the condition is resolved, the provider cannot use "history of" to describe a current condition. Documentation should indicate that the condition is active and being addressed during this encounter (e.g., "Mr. Brown is being seen today for diabetes, controlled with metformin and diet and exercise.").
Keep patient status conditions up to date: Status conditions that affect medical decision making (e.g., amputation, dialysis, ostomy, asymptomatic HIV status, transplant) should be documented at least once per year.
Include applicable radiology and laboratory findings: Providers should document relevant results in the medical record.
Be precise and detailed: Providers should tell the patient's entire story, leaving no relevant details out. Is this a drug-dependent patient or is this abuse of drugs? Is the cancer active or in remission? Is this condition acute or chronic? Is the stage of the chronic kidney disease documented? Is the patient's obesity related to their diabetes or other illnesses? Is this patient morbidly obese according to body mass index guidelines?
Be specific with the review of systems (ROS): Providers should name the specific systems reviewed for this DOS and avoid using "All systems negative."
Ensure the medication list must be current: Providers should update the medication list at each encounter, and make note in the documentation that the medication list is updated.
Keep up with the problem list: Providers should update and address chronic illness annually.
Double check the assessment/impression/plan: Diagnoses should align with treatment plans.
---
Risk Adjustment Documentation & Coding Authors: Sheri Poe Bernard, CCS-P, CDEO, CPC, CRC. Publisher: American Medical Association
CMS, ICD-10-CM Official Guidelines for Coding and Reporting FY 2018 (Oct.1, 2017 – Sept. 30, 2018)
Watson, Monica M. "Documentation and Coding Practices for Risk Adjustment and Hierarchical Condition Categories." Journal of AHIMA 89, No.6 (June 2018): extended online version
Latest posts by Elizabeth Martin
(see all)