It's May MAYnia! Spring to Your Local Chapter
April 30, 2019
Comments Off

on It's May MAYnia! Spring to Your Local Chapter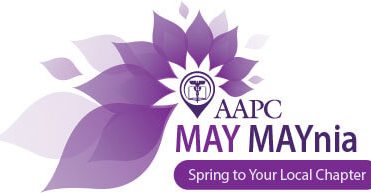 Bring creativity, education, and friendship to local chapters for your 2019 May MAYnia event.
May is the best time to come to any of the more than 500 AAPC local chapters participating in May MAYnia. Healthcare business professionals are invited to AAPC local chapter events this month to discover all of what they have to offer throughout the year. There are educational topics presented by industry experts, as well as medical coding games and door prizes. AAPC offers discounts on products and sends local chapters fun giveaways for attendees. It's an event for everyone in our industry.
Local chapter officers use May MAYnia as an opportunity to boost attendance by making it a special meeting that members don't want to miss and will always remember.
Make It a Real Crowd Pleaser
Here are some ideas from Holly Brown, CPC, COC, CEMC, CPCO, CPMA, CRC, former AAPC Chapter Association board member, to get local chapters excited about May MAYnia and make it a memorable event:
Make a day of it and offer a seminar. Some chapters change the date of their regular chapter meeting and hold their May MAYnia event on a Saturday or Sunday. In giving members the whole day for education, you can offer more continuing education units (CEUs) than a regular meeting and extra time to network with other healthcare business professionals.
Have some fun and host a night of games. Make a Jeopardy board and ask coding/billing questions or play Pictionary and race to draw pictures of the human anatomy. Whatever you do, create excitement for members with fun, competitive energy.
Get well-educated speakers. Bring in knowledgeable experts to enlighten members with important education in healthcare. For example, a physician might speak about a new procedure or a coder might speak about a topic in which they have specialized expertise.
Promote healthcare in your community. Invite a nonprofit organization to speak about a healthcare issue they advocate. For example, in 2012, the Orange Park, Florida, local chapter invited a speaker from "Take it to Heart," who discussed heart disease in women and the steps women can take to reduce the risks. It was very informative, and they made it fun by holding a raffle and handing out T-shirts.
Set a Memorable Atmosphere
Decorating, games, prizes, and giveaways will make your local chapter shine.
Sarah J. Jones, CPC, CDEO, CPB, CPMA, former AAPCCA Region 5 representative, says, "You can give freebies to attendees as they register at the door; hold silent auctions for giveaways; and play coding games, such as Medical Jeopardy, Family Feud, or Scattergories, and award the winners with prizes." AAPC provides prizes and giveaways for May MAYnia based on CEU requests, but don't delay. "If you don't request CEUs in timely manner, you may not receive these May MAYnia prizes and giveaways in time for your event," Jones said. You can also purchase low-cost door prizes on AAPC's website and check the clearance section for great deals.
Because the May MAYnia theme is "Spring to Your Local Chapter," flower and spring colors and patterns are a crowd pleaser. Jones said, "You might purchase or make flower centerpieces that can later be given away to attendees, and coordinate snacks and drinks that match your theme, as well." She also recommends getting party theme and decorating ideas on Pinterest. You can also find food ideas online that fit your theme, if you wish to provide food.
Don't Let the Party End in May
AAPC's Director of Local Chapters Marti Johnson recommends keeping the momentum going all year. "It's true that May MAYnia only lasts through the month of May, but what you need to know is that local chapters can help your career flourish all year long," she said. Here's what your May MAYnia attendees should know about local chapters to keep them coming back, according to Johnson:
Networking: Students and those searching for jobs can rub shoulders with other members who are employed by a desirable company. Supervisors and seasoned coders can learn and share opportunities in their medical communities. The best part is everyone is delighted to meet like-minded associates in the same specialty or position.
CEUs: Although CEUs are abundant in today's virtual world, there is nothing like conversing with an expert after a meeting. Most officers gear their curriculum to accommodate their members' needs and requests. There is a wealth of knowledge to tap into among our coders, physicians, and other experts, and many of them are willing to share their know-how with local peers at meetings.
Certification: If you're certified, you know how grueling the certification process can be. Chapter officers help by offering review classes, study sessions, and educational presentations with test-takers in mind. There's comfort in sitting for the exam in a friendly, familiar location.
Development: Serving as a chapter officer is a great way to jump-start your profession. Learn and practice leadership skills in a safe environment, with local chapter friends and fellow colleagues. AAPC provides leadership training and officers are strongly encouraged to participate.
May is the perfect time to experience all your local chapter benefits for yourself. If you don't know how to get to a chapter meeting, just go online  to find the closest chapter to you.
What are you waiting for? Spring to your local chapter for May MAYnia!
---
What Did Your Chapter Do for May MAYnia?
AAPC celebrates May MAYnia by providing creative, fun ways for local chapter members to receive quality education, draw in new members, and network with colleagues. What did your local chapter do at this year's event to make AAPC members shine and bring in new members? Show Healthcare Business Monthly your memorable May MAYnia moments by sending your photos and stories to michelle.dick@aapc.com, and be sure to include your name, member ID number, and local chapter name.
Latest posts by Michelle Dick
(see all)