Get Paid for Field Avoidance
May 7, 2019
Comments Off

on Get Paid for Field Avoidance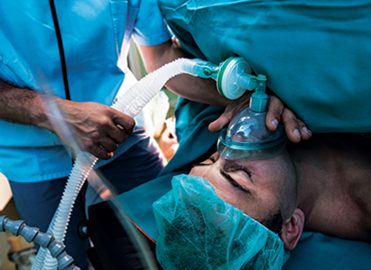 Follow these payer documentation guidelines when anesthesia services call for modifier 22.
Field avoidance — when access to patient's airway is limited due to the nature of the procedure or the position of the patient —when administering anesthesia increases the provider's work. Getting paid for this extra work, however, can be a challenge. Here are some tips for how to get these claims paid.
ASA Recommends Modifier 22
In the 2019 Relative Value Guide (RVG), published by the American Society of Anesthesiologists (ASA), reporting guidance for field avoidance is clarified. The guide states:
Whenever access to the airway is limited (e.g., field avoidance), the anesthesia work required may be substantially greater compared to the typical patient. This anesthesia care has a minimum base unit value of 5 regardless of any lesser base unit value assigned to such procedure in the body of the Relative Value Guide. Refer to the text in Modifier 22, page xvi.
In referencing page xvi – Modifier 22, the guide states:
22 Increased Procedural Services:
When the work required to provide a service is substantially greater than typically required, it may be identified by adding modifier 22 to the usual procedure code. Documentation must support the substantial additional work and the reason for the additional work (i.e., increased intensity, time, technical difficulty of procedure, severity of patient's condition, physical and mental effort required). Note: This modifier should not be appended to an E/M service.
At first glance, this appears to be a great way to increase revenue for field avoidance; however, there are challenges when reporting modifier 22 Unusual procedural service.
CPT® does not adopt a specific modifier for field avoidance; and the "generic" modifier 22 does not specify why the service was "unusual." This requires you to send the medical record to the carrier for review, which presents several challenges:
The increased administrative time to copy the medical record and create a paper claim;
The reimbursement delay, due to the individual consideration of the claim;
There is no guarantee the payer will agree with your assessment of additional work; and
There is no set percentage or amount of the allowed reimbursement.
All Medicare Administrative Contractors (MACs) agree on the use of modifier 22 to report field avoidance, but they may indicate unique reporting and processes to submit these claims properly. It's up to you to know what each payer needs to review these claims.
For example, an excerpt from Palmetto GBA Jurisdiction M Part B MAC guidelines and instructions specifies:
CPT Modifier 22
Guidelines/Instructions:
Submit this modifier to indicate that the work required to provide a service is substantially greater than is typically required
This modifier may only be reported with procedure codes that are specified as having a 0, 10 or 90 day global period
This modifier may not be submitted with evaluation and management (E/M) procedures
Documentation required with the claim:

A concise statement AND operative report

The concise statement may be entered in the electronic documentation field or submitted with an electronic claim via the fax attachment process. Services that are submitted with CPT modifier 22 that do not meet these requirements will not be considered for additional reimbursement.
The concise statement may appear on the operative report, but it must be clearly identified. You may circle, underline, highlight or write the concise statement on the operative report.

Failure to submit the appropriate information will result in a denial of the claim.

Palmetto GBA will consider claims submitted with CPT modifier 22 on an individual basis; in other words, there is no set percentage of additional reimbursement. Depending on the documentation, we may or may not allow additional reimbursement.
Commercial payers may have their own guidelines. As an example of how they adjudicate anesthesia services with modifier 22, Blue Cross Blue Shield of North Carolina (BCBSNC) provides the following instruction:
Modifier 22 will not affect claims processing adjudication. In general, BCBSNC does not allow a severity adjustment to fee allowances. Payment for new technologies is based on the outcome of the treatment rather than the "technology" involved in the procedure.
Factor in Time
Reporting with modifier 22 is an option; however, payer acknowledgement and processes can make this a very cumbersome option without a guarantee of additional revenue. If you choose this option, know the impact it may have on your revenue stream in terms of time, effort, increased expense, and any payer guidelines that affect reporting this modifier. When reporting modifier 22, make sure the extra work and why the case was complicated are easily discerned in the provider's documentation, and follow the payer's guidance to the letter.
---
Ronda K. Ash, CPC, CPMA, CHC, CHCA, CIFHA, is the president of RKAsh Consulting Associates, Inc., a healthcare consulting company, providing auditing, coding analysis, compliance guidance/administration, and documentation education. She is a member of the Palm Beach, Fla., local chapter.
Resources
Relative Value Guide 2019 Book, American Society of Anesthesiologists
Abeo™ Management Corporation, Change in Anesthesia Field Avoidance: www.abeo.com/change-anesthesia-field-avoidance/
Palmetto GBA Jurisdiction M Part B MAC, CPT Modifier 22: www.palmettogba.com/palmetto/providers.nsf/DocsCat/JM-Part-B~8EEL8Y3466
BCBS North Carolina, Corporate Reimbursement Policy:
www.bluecrossnc.com/sites/default/files/document/attachment/services/public/pdfs/medicalpolicy/modifier_guidelines.pdf
Latest posts by Guest Contributor
(see all)