Push Past the Perils of Out-of-network Emergency Providers
May 7, 2019
Comments Off

on Push Past the Perils of Out-of-network Emergency Providers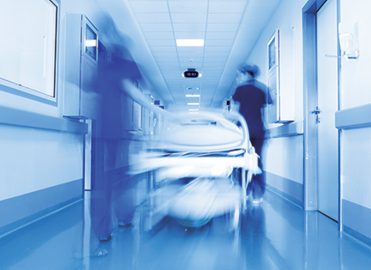 Don't let the financial stress of billing for a non-participating provider surpass the stress of an emergency visit.
A trip to the emergency department (ED) is stressful, enough. Don't rub salt on a wound by sending a surprise bill for services rendered by an "out-of-network" provider. Take steps to collect payments due and keep patients, too.
Accounts Not Receivable: Get Ready to Write Off Charges
If a provider is not on staff at a hospital, it's up to them whether they will participate in the same insurance networks as the hospital. If a provider opts out of the network, that provider's portion of the bill will be paid at out-of-network rates.
If your provider is considered out of network for a patient's insurance, and they "round" in the ED or provide consultation on patient care, you have the option to bill the patient for outstanding balances. In theory, this guarantees the provider will be paid for rendered services, but there are a few things to consider when you move from theory to practice:
Patient Unable to Pay: As referenced in the "Report on the Economic Well Being of U.S. Households" (Board of the Governors of the Federal Reserve System, 2016), a high percentage of Americans are unable to afford a surprise bill owing to "cash reserved for other bills that would otherwise go unpaid." When patients are unable or unwilling to pay a bill, the amount remains in the practice's account receivable. This raises the risk that the account either will be sent to collections or adjusted as bad debt, negating any potential reimbursement.
Patient Complaints: As with any industry, customer satisfaction is key in healthcare. Without satisfied patients, a provider or facility is unable to maintain a steady source of income. Patients communicate in a variety of ways (e.g., internet, word of mouth), and providers who are out of network but who round at a hospital run the risk of losing patients.
Government Concerns: As referenced in a 2018 Yale Business Report, states are starting to take notice of providers who are out of network and balance bill patients. New York, for example, "banned balanced billing and required insurers and physicians to enter into binding arbitration to settle disputed bills." (Cooper, et al. 2018) Other states are starting to take notice, and it's suggested that provider and facility payment be packaged together.
Some states are proposing that hospitals must post how much they charge for procedures. With the cost of healthcare continually rising and more people claiming financial bankruptcy due to medical bills, eventually the government will be forced to regulate the surprise, out-of-network charges.
What to Do
You want to guarantee that the provider gets reimbursed for services rendered, but you don't want to risk losing patients by balance billing. What steps should you take?
Review the insurances accepted at the facility: Does your provider accept the insurances listed? What is the office policy for patients who are seen out of network? Depending on the volume seen at the facility, is it worth credentialing with the insurance that considers you out of network?
Review your balance bill collection practices: Do you offer a discount for payment plans? Prompt payment? Is your provider willing to work with patients who show financial hardship?
Educate providers: Your provider might wish to see patients at a facility for a variety of reasons, and without thinking of the insurance aspect. Patient care is their first concern, but they should be informed about financial risks of seeing patients while out of network.
To summarize: As per a Centers for Disease Control and Prevention report released in 2013: There are 41.9 ED visits per 100 people. Of those ED visits, only 14.5 percent arrive via ambulance. (Rui, et al. 2013). Although many patients can control which ED they go to, they cannot control who sees them when they get there, and they may not realize it's a concern. Be mindful of the potential pitfalls of your provider being out of network and take steps to minimize any risks to both patient care and provider reimbursement.
---
Resources
Board of the Governors of the Federal Reserve System. May 2016. "Report on the Economic WellBeing of U.S. Households in 2015," Washington, DC: Federal Reserve Board: www.federalreserve.gov/2015-report-economic-well-being-us-households-201605.pdf
Rui, P.; Kang, K.; and Albert, M. 2013. "National Hospital Ambulatory Medical Care Survey: 2013 Emergency Department Summary Tables," Washington, DC: Centers for Disease Control and Prevention: www.cdc.gov/nchs/data/ahcd/nhamcs_emergency/2013_ed_web_tables.pdf
Cooper, Z.; Morton, F.; and Shekita, N. 2018 "Surprise! Out-of-Network Billing for Emergency Care in the United States." Yale University: https://isps.yale.edu/sites/default/files/publication/2018/03/20180305_oon_paper2_tables_appendices.pdf
Latest posts by Joshua Caillouet, CPC, CASCC
(see all)