If You Missed the Anatomy Expo, Were You Even at HEALTHCON?
May 7, 2019
Comments Off

on If You Missed the Anatomy Expo, Were You Even at HEALTHCON?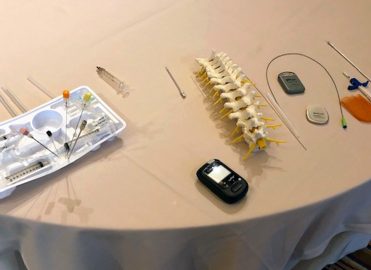 2019 was my first AAPC National Conference since 2008. Although there were many big changes since 2008, a few major differences I noticed particularly were that the size of attendance has quadrupled, and the education quality, as well as the food quality has gone up. One of the coolest additions to HEALTHCON since I first attended so many years ago was the Anatomy Expo. It was an afternoon filled with six 20-minute, exhilarating and face-paced sessions with different specialty physicians and clinicians providing education in their particular area of anatomical and surgical expertise.
In past years there were usually six physicians or clinicians presenting on their anatomy and coding specialty. At 2019's HEALTHCON, there were 10 speakers! Here was the killer line-up:
Among the Lungs
David Young, DO
This session looked at lung diseases, both common and rare, through the bronchoscope. It journey from the vocal chords to the distal airways, showing the normal anatomy and some disorders.
Percutaneous Interventions
David Zielske, MD, COC, CIRCC, CCC, CCVTC
Cardiovascular interventions have evolved over the years due to technological innovations. This presentation let attendees handle these devices, including angioplasty balloons, stents, wires, catheters, and filters. Attendees had a chance to touch and deploy models of the blood vessels.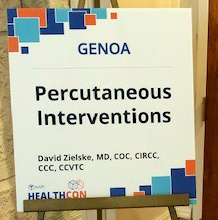 Pelvis Presley: All Shook Up
Jeffrey McQueary, MD, CPC-A
This anatomy session discussed potential abnormalities in the female pelvic anatomy, exploring insights from the perspective of a pelvic reconstructive surgeon.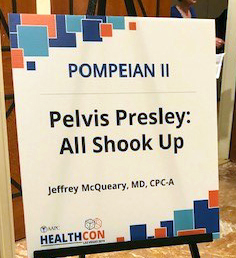 Dimensions of Dementia
John Zazaian, DO, FACOI
This presentation explained how to determine and recognize different neurocognitive disorders by examining related symptoms and neuroanatomy. One interesting little known fact is that caffeine may decrease your chances of getting dementia.
Are Sleeping Disorders Keeping You Awake?
Louis Jimenez, RRT, CHT
Don't let sleeping disorders make you restless. This expo discussed the ABCs of getting the proper Zs for those with sleep apnea. It examined obstructive sleep apnea and demonstrated equipment use, components, and patient interphase. The information helped the audience breathe a little easier!
So, It's Cancer – What Now?
Mark Synovec, MD
Attendees entered the life of an anatomic pathologist as they evaluate common malignancies providing diagnostic and prognostic information to provide optimal care for cancer patients. The presentation discussed the workup of the initial diagnostic material and the follow-up excisional specimen, as well as appropriate CPT® coding for these services.
Coding Arrhythmias
Michael Kushner, MD, MPH, CPC, CPMA, FAAFP
This took the pulse of ICD-10 coding for the cardiac conduction system and reviewed how pathologies of that system lead to cardiac arrhythmias. Be still my heart!
Pokes Over Pills
Patrick Harper, MD
If you ever wondered what happens in a procedure suite during interventional pain procedures, this was the presentation for you. It discussed injections to drug pumps, radiofrequency ablation to spinal cord stimulation! It got your hands on some of the tools used in a pain practice.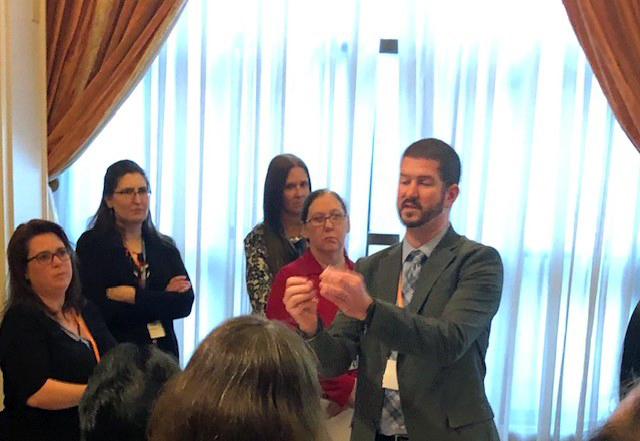 Caption: Patrick Harper, MD explains the intricacies of epidurals, facet joint injections, etc.
Ba Bad to the Bones
Samuel "Le" Church, MD, MPH, CPC, CRC
This reviewed the bone anatomy specifically connected to osteopenia and osteoporosis. ICD-10 and CPT codes were discussed in connection with appropriate coding for medication and imaging for screening and managing these conditions.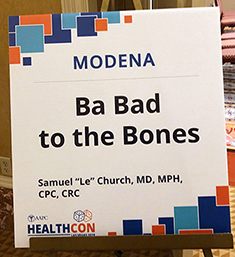 Podiatry
David Pougatsch, DPM
It's important to take good care of your feet. This podiatric surgery specialist gave an expert look into foot anatomy and procedures of podiatry.
Catch the Anatomy Expo Next Time
If you missed this year's Anatomy Expo at HEALTHCON in Las Vegas, be sure to catch it at next year's in At Disney World in sunny Orlando, Florida. It's chock-full of hands on human body education you can't get anywhere else.
If you can't attend AAPC's national conference, HEALTHCON, there is plenty of coding and healthcare revenue management education at one of their regional conferences in New York City, (Aug. 19-21) or Seattle, Washington (Oct. 14-16).
Latest posts by Michelle Dick
(see all)