It's All About You!
May 7, 2019
Comments Off

on It's All About You!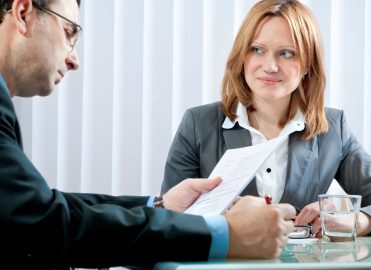 "Why don't you tell me a little bit about yourself?"
This question was presented to me in one of my first job interviews after graduation. At that moment, it felt like the world had slowed to a stop. They wanted me to talk about myself? Wasn't that just bragging? I was not expecting to talk about myself at all. My mind went completely blank, and my response was a combination of muttering and shrugging. I still cringe when I recall that interview. My failure to prepare and reflect on what I had accomplished in the past cost me a great opportunity. Don't let this happen to you.
If talking about yourself causes you to freeze up, don't despair. Learning how to talk about yourself and your experiences will give you the reassurance you need to discuss confidently all that you have to offer.
Learn How to Talk About Yourself
If talking about yourself doesn't come naturally, proper preparation and forethought can make all the difference when you're seated across from a potential employer. Remember: A job interview is essentially two strangers talking for the first time. Let an interviewer get to know your professional side. They want to hear about your history: what led you to coding, your education and job experience, and what led you to apply to the specific position. Clearly conveying this information can bring a conversational tone to the interview and put both parties at ease.
Step 1: Explain Why You Pursued Coding
Think back to why you decided to pursue your coding certification:
Maybe a co-worker inspired you to sit for the Certified Professional Coder (CPC®)
Maybe you were working in billing and wanted to advance to coding
Maybe you've never worked in healthcare before but found coding and followed your
Whatever the reason, talk about the moment you realized you wanted to be a medical coder. Your enthusiasm for the medical coding field will start to shine through in your answer, and that spark can make a great difference in a job interview. Pursuing a coding certification requires perseverance and passion. As it turns out, these are two of the most sought-after attributes in medical coding employees. You can't go wrong by sharing exactly why you are so excited to be a medical coder.
Step 2: Talk About Your Training and Education
Discussing your education and training is also important in a job interview. Talk about your education program, and the sections of the coding curriculum that excited you most. If you didn't take part in a formal education program, talk about whether you learned to code independently or through on-the-job training. Your journey to learn coding is important and should be shared. Often, we get caught up in the difficulty of coding education and our journey to obtain our certifications; we forget that fortitude and determination are key attributes to success within the coding field. When you talk about persevering through coding education, you  show the passion you bring to a coding position.
Step 3: Discuss the "Big Picture" of Your Work History
When sharing information about yourself in the interview, your personal work history is key to presenting the big picture of how you can be a beneficial part of a coding team. Keep in mind that the interview panel does not need to know every detail of every job you've ever held. A quick review of past positions, highlighting your successes and accomplishments, will reflect the talents and skills you have to offer.
For example, it is one thing to say that you work independently and that you make quick, knowledgeable decisions, but it's far more effective to describe a situation when you displayed those characteristics in a job function. Explaining past successes can feel like bragging, but there is no better way to reflect your proficiency and skills. Too often, we think to ourselves that we "just" answered phones at the front desk, or we "just" filed documents; but every duty, every job, every experience has led you to where you are now. These experiences have armed you with an arsenal of skills that set you apart from other candidates. Don't be shy in sharing what you know.
Remember: You are part of a large and supportive coding community. Employers and interviewers are usually coders, just like you. We're all here to encourage each other, and that support is palpable in an interview situation. Talk about all that you have to offer and allow yourself to shine!
Latest posts by Annie Barnaby
(see all)