Is Working from Home a Career Killer?
May 7, 2019
Comments Off

on Is Working from Home a Career Killer?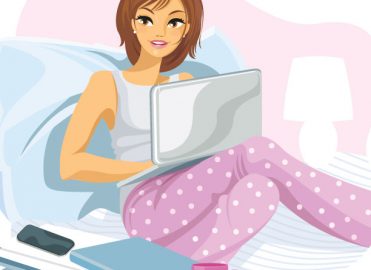 The key to setting the course for working-at-home success is in a Diana Ross song.
Do you know where you're going to? Do you like the things that life is showing you? Do you know …
This verse of Diana Ross's song prompts me to reflect on my career goals and where I am in relation to those goals. I am a middle-aged woman who works full time from home as a medical coder. Many of my friends and family are openly envious of my ability to roll out of bed anytime I want and, still in my pajamas, navigate from my cozy, dark bedroom into my chilly, dark den, where I sit for the next eight hours at my cluttered desk and code surgical cases. How glamorous!
To some, it's a coveted work arrangement. They imagine that I loll around in my PJs all day, sipping coffee, as I leisurely look up the correct codes from my tower of coding and reference books — taking time to put a load of laundry in the machines.
Undoubtedly there are many advantages of working from home — such as working a schedule set by me; but this is not quite where I imagined I would be post-undergraduate.
Before you work from home, be sure you know the realities of it, and if it is the right career move for you.
Know Where You're Going
To address the question posed in Diana Ross's song: Do you know where you're going to?
Sure, everyone knows and wants the many advantages of working at home such as spending less money on clothing and gasoline or transportation. But here's a word of caution: Depending on where you are in your career (start, middle, or end), working from home may not be your best course of action.
For example, if you are near retirement or quite content in your position and enjoy the comfort of working from home, then it's ideal. If your goal is to rise into a mid-management or higher-level position, however, working from home could put you on a trajectory course headed to stagnation and unfulfillment. For example, you may stall or kill career goals, lose skills, miss the camaraderie and networking gained by working face to face with others, and you may develop cabin fever.
Stagnation of Career Goals: Working from home could mean "out of sight, out of mind." Sometimes a lack of visibility stalls or kills your career because you are out of plain view of your manager and others who may have influence over your career goals. There is no way for those in management to see first-hand:
How you conduct yourself;
How you work with others;
Your problem-solving skills;
Your overall appearance; and
The impact you have on
Another pitfall: Supervisors often recruit from outside to fill open positions, rather than select "in-house" remote workers because they want someone who can work on site.
Lost People Skills: Some key soft skills fall by the wayside when working at home, such as good communication skills and being    a team player. These skills are not heavily utilized or cultivated in the coding-from-home environment. For example, in my position I interact with two individuals who are only interested in my coding skills, not communication or team building exercises.
No Camaraderie and Live-person Networking: For extroverts, that sense of community is gone — such as when a group of like- minded individuals share a laugh or two around the water cooler. Unless employee events are mandatory, not everyone is motivated to attend. There is less opportunity to network with intradepartmental employees. Not having that direct contact, can result in a loss of needed resources such as not knowing whom to call for certain job needs.
Cabin Fever: Not having to leave home for work can lead to anxiety, boredom, loneliness, a sense of isolation, and intolerance of others. Not everyone will experience all or any of these, but they are real disadvantages to working at home. Less human contact and communication may be ideal for introverts, but this autonomy may cause psychological issues for extroverts. By nature, humans are social creatures and require interaction and connection with others.
Combat the Pitfalls
Working from home is not a new concept — some people in the sales industry have been functioning successfully for years working from home. For those who are new to this work arrangement, here are some ways to combat the pitfalls:
Stay involved in social activities and gatherings at work, and attend chapter meetings for the sake of
Plan personal gatherings with co-workers to stay connected and maintain a sense of
Use messaging tools to communicate with co-workers (e.g., greet the team each morning).
Use the extra time saved from commuting to get involved in a hobby (e.g., writing for AAPC's Healthcare Business Monthly or Knowledge Center blog).
Join an organization such as Toastmasters or a fitness
Take classes to hone your employable skills or grow your career.
Before considering a remote medical coding  position, take a self-assessment to consider your personality, aspirations, and goals. If you're an outgoing, gregarious person, who is still working on your career goals, you may want to "know where you are going to" before you lose your way.
---
Winda F. Hampton, RHIA, CPMA, CCS-P, has more than four years' experience as an outpatient surgical coder. She attended the University of Alabama at Birmingham where she received a Bachelor of Science in Health Information Management. Hampton is a member of the Durham, N.C., local chapter.
Resources:
Guerrero, Aaron. "The Downsides of Working from Home," Money. Sept. 25, 2013: https://money. usnews.com/money/careers/articles/2013/09/25/the-downsides-of-working-from-home
Rosenberg, Joyce M. "4 'Cons' of Working From Home." The Associated Press. July 26, 2017:
https://inc.com/associated-press/downside-danger-working-from-home-remote-workers.html
Lorenz , Kate. "Top 10 Soft Skills for Job Hunters, AOL, Jan. 26, 2009:
www.aol.com/2009/01/26/top-10-soft-skills-for-job-hunters/
Latest posts by Guest Contributor
(see all)