Teaching Docs Have a New Way to Document E/M
By Brad Ericson
In CMS
May 10, 2019
Comments Off

on Teaching Docs Have a New Way to Document E/M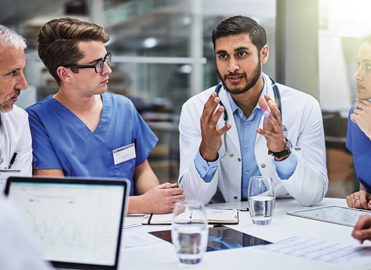 Rules are changed for teaching physicians documenting Evaluation and Management (E/M) codes being reported to Medicare July 29, 2019. These changes are part of the Center for Medicare & Medicaid Services' (CMS) revamp of E/M payments. This will affect medical coders and billers, especially those working in clinical documentation improvement.
Changes Part of E/M Revamp Effort
The change relaxes the long-standing requirement that teaching physicians re-document information documented by residents and the medical team. This is part of CMS' response to physicians and facilities' request to simplify documentation and E/M decision making in general following nation-wide meetings. It also allows teaching physicians to join their non-teaching peers in not having to redocument the chief complaint and history documented by ancillary staff, such as medical assistants, nurses, and others who might do the initial workup when the patient is first encountered.
The change request, CR 11171, assures the following policy clarifications are observed by providers and Medicare Administrative Contractors (MACs) :
For the purposes of payment, E/M services billed by teaching physicians require that the medical records must demonstrate: 1) that the teaching physician performed the service or was physically present during the key or critical portions of the service when performed by the resident; and 2) the participation of the teaching physician in the management of the
The patient medical record must document the extent of the teaching physician's participation in the review and direction of the services furnished to each beneficiary. The extent of the teaching physician's participation may be demonstrated by the notes in the medical records made by physicians, residents, or nurses.
Medicare notes that MACs will not search files to reprocess claims affected by this change. However, they will adjust claims that you bring to their attention.
Additional E/M Changes
Other changes released in a different rule eliminates the documentation requirement for medical necessity for home visits and that physicians may only document what has changed in the last encounter rather than reiterating previous visits in their documentation. More information about those rules will be covered in the Knowledge Center.



Latest posts by Brad Ericson
(see all)