AAPC Conference App Is a Must Have at Regionals
May 29, 2019
Comments Off

on AAPC Conference App Is a Must Have at Regionals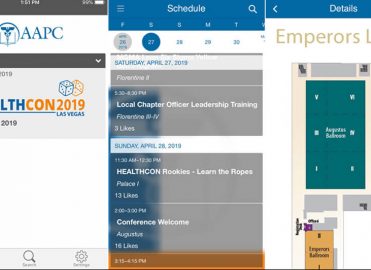 If you didn't use the AAPC Conferences app for HEALTHCON, you'll want it for regional conferences.
Navigating four days of AAPC conference educational sessions, events, networking, vendors, food, and entertainment at a large location has become a snap with the AAPC Conferences app. It was a lifesaver at HEALTHCON in Las Vegas this spring, so be sure to download it to your smartphone if you register and attend the New York Regional Conference (Aug. 19-21) or the Seattle Regional Conference (Oct. 14-16) this fall. It will keep you connected to everyone and everything at the event, so dive into its easy interface and explore the quick access tool.
All at Your Fingertips
Here are some of the features the app has to make your conference experience easier and paperless. It provides access to:
Activity Feeds – This is where attendees can upload photos, conference sentiments, and let you know all the fun things going on.
Schedules – This shows an itinerary of all conference sessions and events, describes them, and includes what time they are, where, and who the presenter is. You will receive reminders when you sign up for your sessions.
Sessions – When you add sessions to your schedule, it will appear in the "Sessions" area for quick access.
Slides – These are the presenter slides in PDF form, which come in handy if you don't want to take notes but want to review what you learned later.
My Notes – You can type notes to yourself, with a time stamp, for future use and reference.
Maps – This is a floor plan that displays all the rooms where the conference activities take place.
Speakers – This tab lists all the speakers, and their photos and bios to help you spot them and know what their career accomplishments are. Click on the presenter's picture to learn more about their area of expertise and the presentation.
Exhibitors – This shows you all of the vendors, explains their company, displays the booth number; and in a click, you can quickly find them on the exhibitor hall map.
Contacts – Once you make a networking friend, you can enter their PIN code or scan their QR code to add them to your contact list and quickly pull up their conference info.
Messaging – Once you create a contact, you can instant message them if you want to meet up again or just to keep connected.
Social Media – You can connect directly to Twitter and the HEALTHCON Facebook page through the app using the Social Media tab.
My Profile – Create a conference profile that includes your title, contact information, Website, and a biography; then set your privacy settings to whatever your comfort level is.
What's Happening! – During conference events, this area will show the sessions that are taking place at that time.
The AAPC Conferences app really is a key component of networking, scheduling, and finding everything you need to make the most out of the educational opportunities and to stay connected and make a most memorable conference experience.
Latest posts by Michelle Dick
(see all)