Radiology Coding Audit Quick Tips
In Coding
June 10, 2019
Comments Off

on Radiology Coding Audit Quick Tips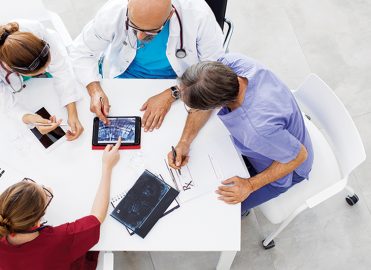 Verify the information of 11 items to be sure your radiology auditing is up to par.
A medical coding audit is a process where an auditor samples coded claims to provide analysis and feedback to the provider and coding teams.
Coding audits may be defined in several ways:
Focused vs. Random: A focused audit covers one item or one type of service, one specialty, one provider, etc. A random audit means the claims are selected for review at random.
Internal vs. External: Internal audits are performed by in-house staff; external audits are performed by someone outside of the practice or facility.
Prospective vs. Retrospective: Prospective means that claims are audited before they are submitted. Problems identified prospectively can be corrected prior to submission. Prospective audits must be completed quickly to avoid delays in claims submission. Retrospective means that claims are audited after they have been paid to check for accuracy. If a problem is identified retrospectively, then it will be reprocessed for accurate payment, and overpayments can be returned to avoid potential penalties.
An effective audit program is ongoing. For example, regular audits may be performed on a monthly or quarterly basis.
Radiology Audit Checklist
When auditing radiology services, you'll need to verify the following information:
Patient demographics: This includes information such as patient first and last name, date of birth, etc.
Date of service (DOS) and time
Indication/Reason for visit: Verify the reason for the visit and choose the most appropriate ICD-10-CM codes. You may need to refer to your payer policy such as a local coverage determination or national coverage determination.
Procedure header: Verify that the procedure header and body of the report agree. For example, the header may support a three-view X-ray, but the body of the report may support a four-view X-ray. In these cases, use the body of the documentation to support services billed.
Procedure techniques: Confirm the services rendered such as computed tomography (CT), magnetic resonance imaging (MRI), etc., number of views, and with or without contrast.
Procedure details: Check all the relevant information related to the procedure (image quality, limited or complete study, procedure complications, patient cooperation, recommendations, follow-up visit, etc.).
Comparison studies: Review the prior exam and previous images and reports and compare them with the current examination. Compare the details of the previous exam including date, hospital, specialty provider details, reason for exam, etc.
Findings/Impressions/Results: This section is a summarized list of statements of the problem/condition and result of the exam. It defines significant features like mass size, oval shape structure, etc.
Provider signature: This may be handwritten or electronic. An electronic signature usually contains a date and timestamp and should indicate "signed by" or "verified/reviewed by," followed by the practitioner's name and a professional designation. Note that the Centers for Medicare & Medicaid Services does not allow rubber stamps for signature.
Supervision and interpretation: Check that supervision requirements were met and who provided the interpretation.
Modifier use (see below)
More on Modifiers
Common modifiers used in radiology practice include:
Modifiers RT/LT (Right side/Left side)
Modifier 50 Bilateral procedure or units 2
Modifier 59 Distinct procedural service (or Medicare X (EPSU) modifiers) when two radiologic procedures are performed on the same person, same day.
Modifiers 76 Repeat procedure or service by same physician or other qualified health care professional for repeat procedures performed on the same day by the same physician and 77 Repeat procedure by another physician or other qualified health care professional for repeat procedures performed by another physician or qualified healthcare professional.
Modifiers 26 Professional component when billing only the professional component portion of a test and TC Technical component when billing only the technical component of a test. When reporting a global service (both the professional and technical components), no modifiers are necessary to receive payment for both components of the service.
Sample Medical Record
When auditing radiology coding, check the highlighted components to make sure everything is accounted for and correct:
DOS: 3/01/20XX
Time: 07:30
Patient Name: XXX
Chief complaint/ Reason for visit: Left shoulder pain
Header: Two views of shoulder X-ray
Techniques: AP & lateral vies of exam performed in left shoulder
Impression: Left shoulder pain secondary to degenerative osteoarthritis.
Provider signature: John W., M.D
Electronically signed
CPT: 73020 – 26 –LT
ICD-10-CM: M19.012
Audits are truly effective only if they are followed by education to share the findings. Based on the audit report, set frequent calibration between the coders, auditors, and providers to improve provider documentation and adherence to coding guidelines.
Latest posts by Sivaraj Ramesh
(see all)
No Responses to "Radiology Coding Audit Quick Tips"