Reach More Members with Virtual Meetings
June 10, 2019
Comments Off

on Reach More Members with Virtual Meetings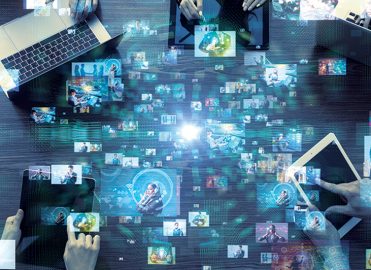 Follow these insider secrets to help ensure a successful virtual meeting.
There's a big change to local chapters this year, and chapter officers are thrilled to share the news. Virtual meetings are now underway, and we're reaching out to more members than ever before. Because virtual meetings are new to local chapters, it's a good idea to know more about them and their benefits, and then get past the learning curve to experience successful meetings.
Realize How They Work and the Benefits
With virtual meetings, chapter officers and members sign on remotely through a web application such as GoToWebinar or WebEx. The chosen app must be installed on every attendee's electronic device or accessible through a web browser. While connected, members can participate in the meeting as it happens live online.
Although virtual meetings are a supplemental option and cannot replace the significant networking benefits of in-person meetings, they are a great option to combat winter weather, frustrating traffic, and meeting room restrictions while still offering the benefits of local chapter involvement. Virtual meetings also encourage members who have never attended a meeting (or who have not attended in a while) to begin participating in their local chapter. Virtual meetings add considerable potential for diversity on speakers and topics, as well.
Overcome the Growing Pains
There are a lot of perks with virtual meetings, but with all new processes comes growing pains and lessons learned. Here are some tried-and-true tips to have a successful AAPC local chapter virtual meeting:
Decide on the best meeting application for your chapter. Officers can utilize the GoToMeeting AAPC account by contacting localchapters@aapc.com to schedule a time. Alternative applications can be approved, but the chapter will be responsible for associated expenses. Make sure a report of attendees can be generated by the application for the chapter to mark attendance and receive appropriate credit.
Make sure everyone is comfortable with the application. Attendees should be given detailed log-in instructions so they can receive continuing education credit (CEU) credit. Most importantly, the speaker must be able to navigate their presentation, hosting, and audio controls. Hosting a test session prior to the meeting is a great way to identify glitches early on.
Make appropriate use of the "mute" button. The application should allow the presenter to mute all attendees to avoid background noise and selectively unmute attendees for questions and comments.
Have a clear plan. Virtual meetings are not webinars; they are intended to have the same structure as in-person meetings. Officers will need to go over chapter business such as financial status, upcoming events, and open jobs. This is also a great opportunity to promote upcoming in-person meetings and events.
Account for time differences. Remember that the speaker may be in a different state and time zone than your chapter. Officers should confirm the day and time (including time zone) with the speaker to ensure the meeting runs smoothly.
Have a backup plan in case there are last-minute issues. Officers should be armed with another presentation in case of technical difficulties or speaker issues.
What Are You Waiting For?
With an understanding of the applications that facilitate virtual meetings, a little disaster-proofing, and some patience, nothing can stop you from using virtual meetings to enhance the value of your local chapter.
For more information on virtual meetings and requirements, read the article, "Virtual Local Chapter Meetings Are Here!" by Melody S. Irvine, CPC, CPMA, CEMC, CFPC, CPB, CPC-I, CCS-P, CMRS, CMCS, in Healthcare Business Monthly (May 2019, page 35).

Latest posts by Victoria Moll
(see all)