Trump Presses for More Medical Price Transparency
In Billing
June 28, 2019
Comments Off

on Trump Presses for More Medical Price Transparency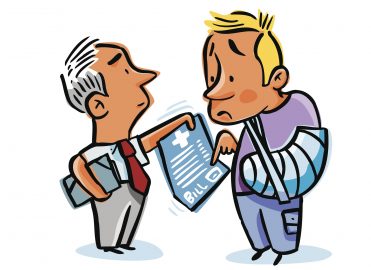 President Trump signed, June 24, an executive order "Improving Price and Quality Transparency in American Healthcare to Put Patients First" to address escalating healthcare costs and "surprise" billing.
President Trump says in the order, "My administration seeks to enhance the ability of patients to choose the healthcare that is best for them. To make fully informed decisions about their healthcare, patients must know the price and quality of a good or service in advance."
The U.S. Department of Health and Human Services (HHS) Secretary Alex M. Azar II is tasked with several initiatives.
Inform Patients About Actual Prices
Within 60 days from the date of the executive order, propose a regulation that requires hospitals to publicly post standard charge information, including charges and information based on negotiated rates and for common or shoppable items and services, in an easy-to-understand, consumer-friendly, and machine-readable format using consensus-based data standards. And this information should be updated regularly.
Millennials expect this price transparency, but earlier generations will need to be taught that such transparency exists.
Hospitals have been required to release price lists publicly since the Obama administration; and HHS already finalized this requirement in the 2019 Inpatient Prospective Payment System final rule. Hospitals must post a list of standard charges online in a format that can be downloaded and viewed on a standard electronic device effective Jan. 1, 2019. The requirement for posting negotiated rates is new, and up for debate.
The Centers for Medicare & Medicaid Services (CMS) launched a Procedure Price Lookup tool that allows patients with Original Medicare (without Medigap) to compare national average prices for outpatient procedures performed at hospital outpatient departments and ambulatory surgical centers.
Within 90 days, HHS, the Treasury Department, and the Labor Department will issue an advance notice of proposed rulemaking to solicit comment on a proposal to require healthcare providers, health insurance issuers, and self-insured group health plans to provide or facilitate access to information about expected out-of-pocket costs for items or services to patients before they receive care.
Within 180 days of the order, HHS will issue a report describing the manners in which the federal government or the private sector are impeding healthcare price and quality transparency for patients and provide recommendations for eliminating these impediments in a way that promotes competition.
Establish a Health Quality Roadmap
Also in 180 days, HHS, the Defense Department, and Veteran Affairs are to develop a Health Quality Roadmap that aims to align and improve reporting on data and quality measures across Medicare, Medicaid, the Children's Health Insurance Program, the Health Insurance Marketplace, the Military Health System, and the Veterans Affairs Health System. The Roadmap will include a strategy for establishing, adopting, and publishing common quality measurements; aligning inpatient and outpatient measures; and eliminating low-value or counterproductive measures.
Increase Access to Data
HHS is also tasked with increasing access to de-identified claims data from taxpayer-funded healthcare programs and group health plans for researchers and other stakeholders.
Empower Patients
Within 120 days of the order, the Secretary of the Treasury must issue guidance to expand the ability of patients to select high-deductible health plans to be used alongside a health savings account, "and that cover low-cost preventive care, before the deductible, for medial care that helps maintain health status for individuals with chronic conditions." The Secretary has 180 days to propose regulations to treat expenses related to certain types of arrangements, "potentially including direct primary care arrangements and healthcare sharing ministries," as eligible medical expenses; and to issue guidance to increase the amount of funds that can carry over without penalty for flexible spending arrangements.
Address Surprise Medical Billing
Within 180 days of the order, HHS must submit a report to the president on additional steps the administration may take to implement the principles on surprise medical billing the president announced on May 9.
Judgement Call
Media giants and some stakeholders question the motives of the president. "The order is pegged to the gathering momentum of the 2020 election in which voters are eager for political leaders to lower what they pay for care," writes Amy Goldstein for The Washington Post (June 24).
Dr. Martin McKary, who was present for the president's remarks on May 9, took the opportunity to state his case. "In my own profession of surgical oncology," he said, "we see now that half of women with stage-four breast cancer report being harassed by medical bills. That's a disgrace to my specialty. That's a disgrace to the medical profession. And that's a disgrace to our country. We can do better.
"Hospitals and healthcare can get their act together to provide one honest and fair transparent bill so we can restore medicine to its mission and finally stop the erosion of the public trust that we're seeing."
---
Resources:
https://www.govinfo.gov/content/pkg/FR-2018-08-17/pdf/2018-16766.pdf
Latest posts by Renee Dustman
(see all)