HEALTHCON Attendees Hit the Jackpot in Vegas
July 8, 2019
Comments Off

on HEALTHCON Attendees Hit the Jackpot in Vegas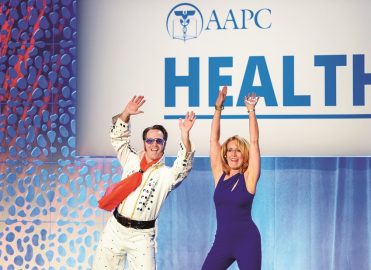 Professionals on the revenue side of healthcare left Vegas rich in medical coding knowledge, friendship, and confidence.
This year's HEALTHCON in Las Vegas, April 28-May 1, was a whirlwind of excitement, education, networking, and entertainment for professionals on both the revenue side and clinical side of healthcare. Here is what made it so great this year.
Unprecedented Education
AAPC CEO Bevan Erickson opened HEALTHCON with his "Conference Welcome" state of AAPC address. He immediately engaged the audience by revealing something he knew about each of them just by where they were sitting. It was a fun, informative way to start the conference.

Former Acting Assistant Secretary for Health at the U.S. Department of Health and Human Services (HHS)
Karen B. DeSalvo, MD, MPH, MSc
, followed Erickson with a keynote speech about Social Determinants of Health (SDOH). This is such an important issue right now, we decided to dedicate the July issue to the cause. Be sure to read the cover story "
Address and Overcome the Stigma of Social Determinants of Health
," starting on page 34 in the July issue of
Healthcare Business Monthly
.
Attendees also had the opportunity to hear HHS Office of Inspector General (OIG) Special Agent Tony Maffei's cautionary and shocking healthcare fraud tales from OIG investigations. And our own
Raemarie Jimenez, CPC, CDEO, CPB, CPMA, CPPM, CPC-I, CANPC, CRHC
, presented on "What Happens When E/M Guidelines Change?" and "Confronting Reality for Successful Outcomes."
There were educational sessions for everyone. "AAPC did a great job with the variety of speakers," said AAPC Chapter Association Board of Directors Chair
Cynthia Stephenson, CPC, CRC, AAPC Fellow
. "I learned so much from the many general sessions, as well as breakout sessions." Stephenson said her favorite educational session was Legal Trends and Issues, presented by the AAPC Legal Advisory Board. "It's always so informative," she said.
Michael D. Miscoe, JD, CPC, CASCC, CUC, CCPC, CPCO, CPMA, CEMA, AAPC Fellow
, speaks at both general and breakout sessions, and likes this session best because, in his words, "There is no script, and it is all about addressing the excellent legal questions from the attendees."
S
haron Powell's, CPC, COBGC
, favorite presentation was "Extraordinary Health for Healthcare Professionals," presented by the dancing doctor,
Marian Wymore, MD, CPC, CRC
. Powell said, "I love that she brought energy and confidence. She reminded us to not forget our own happiness and to get up and get out there, live life, and be healthier by making small changes. She is a true motivator."
The Anatomy Expo was a huge hit at HEALTHCON, as always. It was an afternoon filled with six 20-minute, exhilarating, and face-paced sessions, with different specialty physicians and clinicians providing education in their area of anatomical and surgical expertise.
Denise Jenkins, CPC, CPC-I
, said, "It was awesome! I could not get enough of it. I plan to attend every year and hope it is as awesome as it was this year."
Unparalleled Networking
"No matter how much you know, there is always room for growth and to meet great people," according to Jenkins. "It's also a way to get to know the board members, staff, and leaders from AAPC, or the people who help you when you call AAPC for many questions and different things throughout the year."
HEALTHCON networking possibilities are limitless. Stephenson encourages everyone in our industry to attend at least one. "I have made numerous contacts networking across the country," said Stephenson.
"No matter how much you know, there is always room for growth and to meet great people."
Technology Enhances the HEALTHCON Experience
The AAPC Conferences app really turned out to be a key component of networking, scheduling, and finding everything educational in the Caesars Palace conference center. Attendees used the app to make the most out of so many educational opportunities; to navigate three floors of classrooms, exhibit halls, and auditoriums; and to stay connected with medical coding friends and colleagues.
Social media was a hotbed of medical coder excitement, as well, with attendees posting or tweeting kind HEALTHCON sentiments and camaraderie (see Chatroom buzz on page 10). The posts show that AAPC members and staff truly are a family of healthcare and medical coding professionals.
Attendees Win Big!
Everyone goes home a winner at HEALTHCON. There are always awards, AAPC prizes, Hardship Scholarship Fund quilt raffles, and big prize giveaways between general sessions and in the Exhibit Hall. Powell said, "I was lucky to win the $250 from the HCTec raffle. It was a wonderful surprise and I am so thankful. Thank you, Thomas Tanner, from HCTec!"
Next Stop, Disney!
AAPC aims to make the 2020 HEALTHCON at Disney's Coronado Springs Resort, April 5-8, even more successful. With Melanie Mestas, Taylor Martindale, and Amy Evans at the helm of planning, it's sure to be the best HEALTHCON yet. Hope to see you all there!
Register early for 2020 HEALTHCON at www.healthcon.com and save!
---
Favorite HEALTHCON Experiences
Here are what some attendees had to say about their favorite HEALTHCON experience:
"My most memorable experience was helping to raise money for The Hardship Scholarship Fund. It never ceases to amaze me how giving our members can be, especially when it helps our fellow coders," said Cynthia Stephenson, CPC, CRC, AAPC Fellow.
"The Anatomy Expo was by far my most favorite part. This was the first year I was able to attend it, and now I see why it fills up so quickly. Each and every speaker was awesome. The only thing I would change about the expo is I wish we had more time with each of the speakers," said Denise Jenkins, CPC-I, CPC.
"The most memorable event for me was the CPMA networking event. It was awesome to meet fellow CPMAs and share experiences and ideas. … The networking opportunities that HEALTHCON provides are invaluable," said Michael D. Miscoe, JD, CPC, CASCC, CUC, CCPC, CPCO, CPMA, CEMA, AAPC Fellow.
"I love that the speakers will stay after the presentation to talk about issues and concerns with attendees. It really shows they care about what is going on. I am also big on reference cards, and I was provided a nice pocket infusion reference card from Kathleen G. Bailey's [CPA, MBA, CPC, CPCO, CPMA, CPC-I, session that will help the clinical staff," said Sharon Powell, CPC, COBGC.
Latest posts by Michelle Dick
(see all)