Realize the Value of Soft Skills in Healthcare
August 30, 2019
Comments Off

on Realize the Value of Soft Skills in Healthcare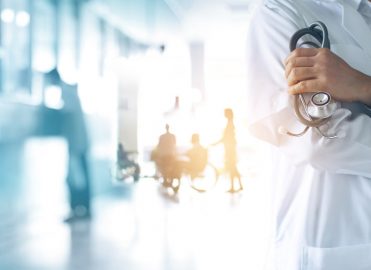 Do your healthcare workers have what it takes to excel in a consumer-driven marketplace?
The landscape of healthcare organizations is changing dramatically. In recent years, the concept of healthcare consumerism has gained significant traction with health systems, hospitals, and medical practices. Healthcare consumerism is a "movement that advocates patients' involvement in their own healthcare decisions. It is a movement from the doctor says/patient does model to a working partnership model" (Darlow et al. 2015; Gandolf, 2019; Internet Collaborative Information Management Systems (ICIMS), 2017). Previously passive patients have become empowered consumers due to the extreme financial burden placed on their personal pocketbooks. With rising costs in medical care, consumers search for and expect greater value and quality of service and a positive patient experience. Healthcare is moving toward patient value, not volume, as a central organizing principle. This shift towards value-based care impacts how patients are cared for and how physicians and hospitals are paid. The rise in consumerism in healthcare is pervasive and has created a workplace that is more demanding, more complex, and more collaborative than ever before (Gandolf, 2019; Healthcare Management Degree Guide, 2019; ICIMS, 2017). Healthcare leaders will need to hire and train healthcare employees with the right professional skill sets to provide well-coordinated, high-quality, patient-centered care.
Take a Closer Look at Soft Skills in Healthcare
Healthcare organizations must ensure they maintain a high level of patient care and satisfaction by thoroughly screening applicants to make the best hiring decisions possible. Finding healthcare workers who will contribute to the value-based environment means hiring candidates with the right balance of hard and soft skills.
Individuals employed in healthcare positions require exceptional soft skills such as communication, teamwork, and empathy. These soft skills are often overlooked in the interview process but are becoming a core criterion for many healthcare positions (Feffer, 2016). According to the International Association of Administrative Professionals (IAAP), 67 percent of human resource (HR) managers said they would hire a candidate with strong soft skills even if technical abilities were lacking (Feffer, 2016). Although hard skills can be critically important in healthcare, hard skills are not what healthcare leaders are saying they need right now.
Soft skills are a collection of personal, positive attributes, and competencies that individuals possess, which enhance their relationships, job performance, and value to the market (Loretto, 2018; Khanna, 2015; SkillSurvey Inc., 2019). In today's workforce, soft skills are considered essential to managing and working with people, customer satisfaction, and forming a positive work environment (Ravindranath, 2016). These skills are also important in determining an employee's ability to fit into an organization. In a comprehensive study by Robles (2012), business professionals rated the top 10 soft skills as courtesy, communications, flexibility, integrity, interpersonal skills, attitude, professionalism, responsibility, teamwork, and work ethic. Today's healthcare leaders emphasize the development of these soft skills since they are critical to productive job performance and the success of an organization.
Top Soft Skills for Healthcare Professionals
As healthcare organizations re-engineer their businesses, there is a focus on what healthcare leaders can do to improve their organizational settings. Healthcare leaders should be aware of the most important soft skills for today's healthcare professionals and drive a recruitment process that is candidate-centric, focusing on hiring employees with strong personal soft skills, as well as excellence in technical abilities (Deloitte Access Economics, 2017; ICIMS, 2017; Loretto, 2019; Parker, 2011).
In the spring of 2016, the authors conducted a qualitative pilot study where 180 health professional students and healthcare leaders were questioned about the most important soft skills needed for workplace success. Based on the findings of that pilot study and current research in healthcare and business literature, a list of the five top soft skills that employers should look for when hiring healthcare professionals was developed.
The top five soft skills are (in no particular order):
Meaningful communication: Employees must listen and understand instructions and get their point across without getting angry. A person must have the ability to change their style of communication as is essential for the job.
Teamwork: In today's healthcare workforce, much of the work is often done in teams. Being a team player, with the team's goals clear in mind and working to achieve them, is vital for the success of the entire organization.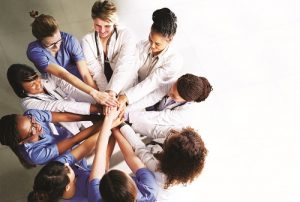 Flexibility: The way healthcare companies do business in today's competitive marketplace is changing all the time. Employees must be adaptable in ways that help the organization thrive.
Empathy: Employees who make up the healthcare workforce must be able to understand the feelings and emotions of others. An effort must be made to understand another person's point of view and to resolve conflicting points of view with compromise.
Time management: Healthcare organizations are challenging, and things move quickly. It's important for employees to manage their time to accomplish goals and tasks. Practicing good time management techniques improves job performance and allows time for high-priority tasks.
Hiring for Soft Skills in Healthcare? Keep These 5 Tips in Mind
A PricewaterhouseCoopers' (PwC) survey found that 77 percent of respondents viewed underdeveloped key soft skills as the biggest threat to today's business. The 2016 National Center for Education Statistics (NCES) projects that over 1.5 million new employees come "preloaded" with requisite technical skills but 46 percent of those new hires fail in the first 18 months for reasons associated with attitude and work ethic. The results of these surveys indicate that CEOs intend to change their workplace culture by promoting soft skills as part of recruiting and managing employees.
Here are five tips to help leaders find the best candidates for their organization (National Association of Colleges and Employers (NACE) 2015; Parker, 2011; SkillSurvey Inc., 2019):
Make soft skills a part of your organizational culture:
Identify what is important to your organization regarding soft skills.
Emphasize the importance of soft skills and how they impact your business.
Research which soft skills are emphasized by your competitors.
Identify soft skills that matter to the position for which you are hiring:
Identify what specific behaviors make your team function/fail.
Review competitors' job descriptions to see how jobs are being positioned through soft skills.
Design job descriptions to communicate required soft skills: 
Make soft skills a requirement in job descriptions.
Identify and describe the soft skills necessary in each posted job description.
Conduct a detailed behavioral assessment prior to extending an employment offer:
Gain insight into a candidate's personality, communication style, and personal qualities.
Determine the candidate's cultural fit with your department.
Practice behavior-based interviewing to uncover a candidate's behaviors.
Use a matrix to assure the skills of each candidate are transparent to decision-makers.
Make soft skills part of your organizational learning and development programs:
Teach employees the soft skills required for success using an effective onboarding process, mentoring, and performance management programs.
Understand what to expect from a multi-generational workforce: Baby Boomers (1946 – 1964), Gen X (1965 – 1980), Gen Y or Millennial (1981 – 1996), Gen Z (1997 – 2012).
Transition Your Soft Skills to Value-based Healthcare
As healthcare organizations continue to transition to a consumerism environment, with greater expectations for quality of services and positive experiences, you must focus on hiring employees with the right skills sets for job success and delivery of patient-centric care. These necessary skill sets include both hard and soft skills, with a balance between the two. Healthcare employers who focus on soft skills can better meet patients' needs, assist employees in their job performance, and promote overall organization success.
As a healthcare business professional, you have a unique set of soft skills that hiring managers are looking for. Next month in the October issue of Healthcare Business Monthly, you'll hear from those managers in the article, "Don't Let Your Soft Skills Hold You Back."
---
Read More on the Switch to Value-based Medicine
For information on value-based healthcare delivery model, read the accompanying article, "The Delivery and Payment of Healthcare Transforms."
---
About the Authors:
Jessica Dolecheck, PhD, OTR, is associate professor and program director at Health Studies College of Health Sciences, University of Louisiana Monroe (ULM). Her areas of expertise are program directing, doctoral education, evidence-based practice for health professions, soft skills development, and health science education. Dolecheck is a retired occupational therapist who earned her Master of Arts in Occupational Therapy at Texas Woman's University and her Ph.D. in Occupational Therapy from Nova Southeastern University in Fort Lauderdale. She has extensive experience in higher education including program administration, curriculum design, conference presentations on soft skill topics, and teaching/designing undergraduate/graduate courses at ULM.
Paula Griswold, PhD, CPC, is interim associate dean at College of Health Sciences, University of Louisiana Monroe (ULM). Her areas of expertise are undergraduate practicum/internship development, healthcare regulatory compliance, online course design and teaching, community partnership initiatives, and soft skill development. She received both her Bachelor of Science in Medical Technology and her Master of Science in Life Sciences from Louisiana Tech University. Griswold obtained her Ph.D. in Toxicology from Northeast Louisiana University and she is a registered Medical Technologist through the American Society of Clinical Pathologists. She is a member of the Shreveport/Bossier City, La., local chapter.
---
Resources:
NCES Blog. National Center for Education Statistics. "Examining the Workforce Skills of U.S. Unemployed, Young and Older Adults," March 10, 2016
Darlow, B., et al. "The Positive Impact of Interprofessional Education: A Controlled Trial to Evaluate a Programme for Health Professional Students." BMC Medical Education, 15, 98. 2015
Deloitte Access Economics. "Soft Skills for Business Success." DeakinCo. May 2017
Society for Human Resource Management (SHRM), Feffer, M. "HR's Hard Challenge: When Employees Lack Soft Skills." April 1, 2016
Gandolf, S. "Healthcare Consumerism: Marketing's New Imperative." Healthcare Success® blog, 2019
Healthcare Management Degree Guide. "What Are Come Important 'Soft skills' to Develop as a Healthcare Worker?" 2019
ICIMS. "The Importance of Soft Skills in the Healthcare Profession." [White paper] 2017
Khanna. V. (2015). "Soft skills: A Key to Professional Excellence." International Journal of Research in Engineering, Social Sciences, 5,1. ISSN 2249-9482.
Loretto, P.  "The Top 12 Soft Skills Employers Seek." The BalanceCareers, 2018
NACE®. "Job Outlook 2016: Attributes Employers Want to See on New College Graduates' Resumes." 2015
Parker, A. "Soft skills: A case for higher education and workplace training." Talent Development (TD) Magazine. November 2011
PricewaterhouseCoopers (PwC). "CEOs' Curbed Confidence Spells Caution," 22nd Annual Global CEO Survey. 2019
Ravindranath, R. "Soft Skills in Project Management: A Review." The IUP Journal of Soft Skills, 10(4), pp. 16-25. 2016.
Robles, M.M. "Executive Perceptions of the Top 10 Soft Skills Needed in Today's Workplace." Business Communication Quarterly, 75, 453-465. 2012.
SkillSurvey Inc. "The Hard Truth about Soft Skills Interactive eBook." 2019
Latest posts by Guest Contributor
(see all)