Design a Value Proposition to Improve Customer Service
September 6, 2019
Comments Off

on Design a Value Proposition to Improve Customer Service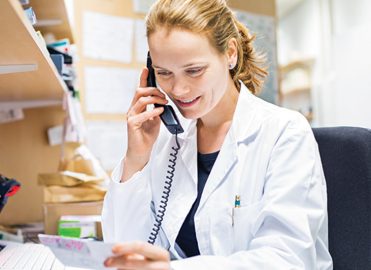 Collaboration and auditing are important to the health of your organization.
The objective of a value proposition is to create products and services that customers want that also benefit the organization.
The auditing department at Duke University Health System (Duke) recently built a value proposition based on concepts outlined in the book Value Proposition Design: How to Create Products and Services Customers Want. This project was a collaborative teambuilding experience that bolstered relationships among the audit staff, as well as with their partners in other departments.
What Is Your Value Proposition?
Defining a value proposition begins by determining who is impacted by your work — these are your customers. For the auditing team at Duke, customers include coders, compliance specialists, managers, directors, executive leadership, physicians, and patients.
A value proposition involves:
Delineating the problems identified that your customers experience
Listing your products and services
Determining how your products and services can be utilized to improve the customer experience
Documenting those outcomes and continuously working toward improving the customer experience
Problem: Communication and ongoing interaction were some of the hurdles that spurred the decision for Duke to prepare a value proposition.
Resolution: Duke established monthly meetings with compliance specialists as the first step in building relationships. Compliance specialists can do this by organizing face-to-face or online meetings with coders after each monthly audit, instead of just sending audit results via email. Offer a monthly educational series focusing on areas of opportunity identified during audits, which include a wide variety of staff who would benefit from the information. This demonstrates engagement and collaboration across departments.
What Are Your Pain Points?
Pain points are best described as areas or instances that cause problems for the customers. Examples of pain points include:
Incorrect coding
Audit results
Lack of documentation
Lack of job aides
Conflicting documentation by providers
Multiple regulations for the payers
Lack of communication
Coders caught in the middle between physician and auditors
Unreasonable demands
Coding misinterpretation (i.e., miscoding 19301 Mastectomy, partial (eg, lumpectomy, tylectomy, quadrantectomy, segmentectomy) for a biopsy versus a lumpectomy)
Precertificated CPT® codes that are different from the actual service provided (i.e., anticipated procedure codes versus codes for the surgical service actually performed)
Problem: Often the CPT® codes provided when the surgery is scheduled are anticipatory and the surgeon may find that different or more extensive services are necessary during the operation. The carrier often does not receive the updates to the actual surgical services performed and relies on the predicted codes, which may result in a denial. Many organizations are challenged by assessing accountability related to timely documentation and communication to the carrier before the claim is submitted.
Resolution: Work across teams toward establishing a proactive process that enables staff to update the carrier post-surgery in a timely manner to reduce denials related to this issue.
What Services Do You Offer?
Duke auditors identified several key areas on which to focus your products and services:
Education
The type and number of audits
Trending
Collaboration with coding, clinical documentation improvement, health information management, and other departments.
Educate your staff based on trends identified during audits to promote both revenue generation and revenue preservation.
How Can You Improve Your Services?
While offering products and services, Duke's audit team demonstrated that individual members are change agents who want to get to YES. Processes were reviewed, assessed, and revised as needed. Keeping it simple enabled rapid deployment of solutions.
Accountability is tantamount. If there is a problem, determine the root cause and collaborate to fix it. Collaboration in any organization is an essential ingredient to overall business success and satisfaction in the workplace.
In this era of diminishing returns, your healthcare organization must focus on creative solutions to bring value, rather than ones that result in additional expenditures. Consider problems or errors as opportunities for improvement, not as punitive mistakes. It takes a team to make the ever-evolving journey toward ongoing process improvement.
Work Toward Favorable Outcomes
The outcomes for this value proposition developed by the Duke audit team enabled improved coding, reduced errors, clean claims that are processed expeditiously, revenue preservation and generation, and improved relationships and ongoing education amongst peers, with supervisors, and ancillary staff.
---
Valerie Fernandez, PhD, MBA, CPC, COC CPMA, CRC, CCS, is an ICD-10-CM and ICD-10-PCS trainer with over 20 years of progressive healthcare management experience. She is the coding integrity at Duke Health and an active member of several professional societies including AAPC, AHIMA, and HFMA.
Key collaborators for this project included Debbie Cooper, Kim Londo, Fateria Johnson, Kathy Kirk, Ella King, Denise Butler, Bobette Haley, and Thomas Beach.
Resource:
Osterwalder, A; Pigneur, Y; Bernarda, G; Smith, A; Value Proposition Design: How to Create Products and Services Customers Want. 2015.
Latest posts by Guest Contributor
(see all)