Cut Through Lysis of Adhesion Payment Challenges
September 5, 2019
Comments Off

on Cut Through Lysis of Adhesion Payment Challenges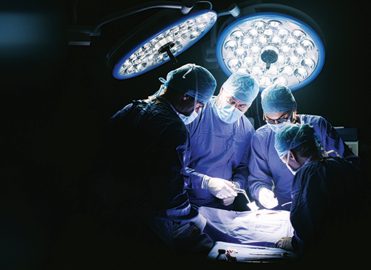 Reimbursement requires extra effort on behalf of the surgeon, in more ways than one.
For general surgeons, payment for lysis of adhesions is a battle that has become difficult to win. But with a relative value unit of 18.46, it isn't something surgeons will let go of easily. I did my homework and found the key to payment.
It Wasn't Always This Difficult
There was a time when lysis of adhesions was billable with an intra-abdominal procedure if there was proper documentation. From CPT® Assistant (January 2000, page 11):
Is it appropriate to ever report code 44005 with the other intestine codes? If so, under what circumstances?
AMA Comment
From a CPT coding perspective, there are some instances when you could report code 44005 with other intestine codes. In the instance where dense, extensive adhesions require significantly greater physician work and procedural complexity, it would be appropriate to report code 44005-59 in addition to the intestinal surgery procedure. The physician would need to document these circumstances in the operative report.
That Was Then, This Is Now
Surgeons will tell you how labor-intensive lysis of adhesions is. They will document in the operative note how they spent 90-120 minutes performing this procedure, just so they could begin performing their primary procedure such as an appendectomy or colectomy. As a coder, you understand their frustration and their expectation to be compensated for their work.
The Centers for Medicare & Medicaid Services (CMS) National Correct Coding Initiative (NCCI) Policy Manual for Medicare Services provides the following guidance on reporting lysis of adhesions:
Open enterolysis (CPT code 44005) and laparoscopic enterolysis (CPT code 44180) are defined by the CPT Manual as "separate procedures". They are not separately reportable with other intra-abdominal or pelvic procedures. However, if a provider performs an extensive and time-consuming enterolysis in conjunction with another intra-abdominal or pelvic procedure, the provider may append modifier 22 to the CPT code describing the latter procedure. The local carrier (A/B MAC processing practitioner service claims) will determine whether additional payment is appropriate.
This is not an easy pill to swallow, because this amount of reimbursement feels like a consolation prize for the actual work performed. Here's the kicker: When we use modifier 22 Increased procedural service to recoup additional compensation for the services, it has become increasingly difficult to get it reimbursed. NGS Medicare provided these guidelines in December 2018 as part of "Ask the Contractor," explaining the use of modifier 22:
Surgeries for which services performed are significantly greater than usually required may be billed with the "-22" modifier added to the CPT code for the procedure.
The biller must provide:
A concise statement about how the service differs from the usual; and
An operative report with the claim.
Per the CMS IOM, you are required to provide a concise statement to support the modifier 22 on the service. Enter a concise description to justify the modifier 22 on the electronic notepad or Item 19 for providers eligible to file paper claims. Providers eligible for paper claims submission may also attach the report. Any reports supplied must expressly document the appropriateness of the modifier 22:
Services that are submitted with the modifier 22 that do not meet these requirements will not be considered for additional reimbursement and the service will price at the Medicare Fee Schedule rate with no additional allowance.
The concise statement, as well as any submitted reports, must support substantial additional work. It must clearly indicate and explain the difficulty of the procedure beyond the norm.
Vague phrases will not be considered supportive of an unusual circumstance requiring payment in excess of the Medicare Fee Schedule rate. Examples of unacceptable explanations include:

Surgery took an extra two hours
This was a difficult surgery
Surgery was for an obese patient
Surgery was harder/longer than average
When I contacted NGS Medicare and gave them the lysis of adhesion scenario for reporting modifier 22, I received the following response:
Modifier 22 usage is really difficult to quantify, and I can't confirm for you that the example below would qualify for additional payment. Lysis of adhesions is a common intraoperative component and it would be up to a CMD on individual consideration to make the assessment of payable "additional work."
Generally speaking, the more explanation of detail and time and effort that can be included in the operative report, the better. As (the doctor) explained on the call, much of the work billed with a Modifier 22 is considered by CMS to be part of the procedure being performed and each situation is individually assessed.
Thorough Documentation Is Key
It's difficult to explain to the surgeon that they aren't going to receive separate payment for lysis of adhesions and that they may not receive any compensation for the extra work.
Surgeons are instructed to provide a statement explaining the basis for appending modifier 22 and an explanation of why the procedure was so difficult. This is your best bet for capturing reimbursement for the extensive work involved in the lysis of adhesions.
Keith McDonald, MBA, RHIA, CPC, COC, CPC-P, is a coder for Catholic Health Services in Long Island. He has a Master of Business Administration in Healthcare Management. He has been a surgical coder for over 10 years that span many specialties including orthopedics, pain management, cardiothoracic, obstetrics/gynecology, oncology, and others. He is a member of the Selden/Suffolk Counties, N.Y., local chapter.
Resources
CPT® Assistant. January 2000. page 11
CMS NCCI Coding Policy Manual for Medicare Services. Chapter 6, page 10. www.cms.gov/medicare/coding/nationalcorrectcodinited/index.html
Latest posts by Guest Contributor
(see all)