Deaths and Illnesses Linked to Vaping Continue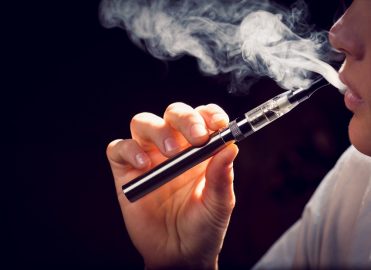 Improved ICD-10-CM coding could lead to answers for what is causing the outbreak.
Twenty-six people in 21 states have died from severe respiratory illness associated with vaping products used in e-cigarettes — all in the past few months.
According to the Centers for Disease Control and Prevention (CDC), as of Oct. 8 more than 1,299 cases of lung illness associated with the use of e-cigarette products have been reported in 49 states and the U.S. Virgin Islands.
The CDC says it is working with states to determine if cases are confirmed or probable after examining the medical records of suspected cases. But even if healthcare providers are documenting correctly, without proper ICD-10-CM coding, the data is less than precise.
Why No ICD-10-CM Codes for e-Cigarettes?
A request to create specific codes for electronic nicotine delivery systems (ENDS) submitted by the American Thoracic Society (ATS) was presented at the March 2017 ICD-10 Coordination and Maintenance Committee meeting, and again at the September 2018 meeting. The ATS has stated and restated at these meetings:
The development and marketing of e-cigarettes, e-cigars and other electronic nicotine delivery devices poses significant challenges to health care providers, researchers, patients, public health officials and for ICD-10-CM coding. Currently, there is no effective way for health care providers to specifically code patients who use ENDS products. Given the growth in its usage, both domestically and internationally, the lack of a unique code set for these products will pose a barrier for the effective use of ICD-10-CM for health surveillance and research purposes.
It's almost like they knew what was coming. Sadly vindicated, in a recent press release, the ATS said,
Since e-cigarette products first appeared in the marketplace, the ATS has been deeply skeptical of their safety. Now, along with the exponential growth in recreational use by children and young adults, there is increasing evidence of harm. Additionally, with the first deaths directly attributable to e-cigarettes, along with other case reports, it is now abundantly clear that much more needs to be done.
There have been many reports of teens abusing nicotine products via ENDS and nearly dying. The rate of high school students vaping increased by 78 percent between 2017 and 2018, according to the 2018 National Youth Tobacco Survey.
A report in the Daily Beast (June 12, 2018) talks about an 18-year-old woman in Pennsylvania who developed "wet lung" after using e-cigarettes for just three weeks. A 17-year-old from Texas was rushed to Cook Children's Hospital in Fort Worth after he started vomiting excessively and had chills, fatigue, and an elevated heart rate, reported Fatherly (Aug. 29, 2019). Clinicians determined that years of vaping had caused the boy's lungs to fail. Another 17-year-old from Delaware County, Pennsylvania, nearly died as a result of vaping, his mother told NBC10 (Sept. 4, 2019).
And that's just a few of the cases we know about.
What's Causing People to Become Ill or Die from Vaping?
One theory is that chemicals in certain e-cigarette products, such as THC — the chemical in marijuana — are to blame for the outbreak in illness. Those who have succumbed to their illness were older and not necessarily in the best of health. Based on admissions by affected teens, however, nicotine addiction and abuse are also suspect. A 16-year-old boy in Indiana, for example, recently confessed from his hospital bed to toking on his Juul 100 times a day, until his lungs shut down (New York Post, Sept. 11, 2019).
Juul pods contain a mix of glycerol and propylene glycol, nicotine, benzoic acid, and flavorants, according to BuzzFeed.com. "The nicotine content is 0.7 mL per pod, which is approximately equivalent to one pack of cigarettes." (Kee, Feb. 5, 2018)
On Sept. 9, the U.S. Food and Drug Administration (FDA) sent Juul CEO Kevin Burns a letter stating, in part, "… FDA has determined that JUUL adulterated its products … by selling or distributing them as modified risk tobacco products without an FDA order in effect that permits such sale or distribution." Burns was given 15 working days from the date of receipt to take corrective actions (as outlined in the letter).
Patients in the CDC's investigation have reported symptoms such as:
cough, shortness of breath, or chest pain
nausea, vomiting, or diarrhea
fatigue, fever, or weight loss
Some patients have reported that their symptoms developed over a few days, while others have reported that their symptoms developed over several weeks, according to the CDC. A pulmonary infection does not appear to be causing the symptoms, which have generally not improved with antibiotic treatment alone.
Without Specific Codes, How Do You Report ENDS Use and Nicotine Dependence?
Despite ATS' multiple proposals for the Committee to add unique ENDS ICD-10-CM codes, medical coders are limited to existing, unspecific codes for reporting e-cigarettes.
According to the Centers for Excellence Health Systems Improvement ICD-10 Tobacco Billing Guide,
Clinicians should use the code representing "Other tobacco product" when the specific type of nicotine product is known and this product does not fall into the category of cigarettes or chewing tobacco. E-cigarettes are a common product under this category.
Based on this guidance, you should use F17.29- Nicotine dependence, other tobacco product codes to report nicotine dependence (0), remission (1), withdrawal (3), other nicotine-induced disorders (8), or unspecified nicotine-induced disorders (9) using an ENDS.
Report Z87.891 History of tobacco dependence if the physician documents "history of" (meaning, past history) nicotine dependence or Z72.0 Tobacco use if the physician documents tobacco use but does not document nicotine dependence.
The codes specific to maternal and newborn health (O99) and the toxic effects of tobacco (T65) should be used to reflect the biological impact of tobacco use.
Documenting ENDS Users
Accurate and complete clinical documentation could potentially hold the answers to what is making people sick. CDC encourages clinicians to report possible cases of e-cigarette-associated pulmonary disease to their local or state health department for further investigation.
If e-cigarette product use is suspected as a possible cause for a patient's lung disease, a detailed history of the substances used, the sources, and the devices used should be obtained, as outlined in the Health Alert Network (HAN), and efforts should be made to determine if any remaining product, devices, and liquids are available for testing.
Clinicians should be specific in documenting the type of product used, frequency of tobacco use, and any pertinent modifying factors. For instance, instead of documenting "current tobacco user" (Z72.0) clinicians might document "currently smokes a few cigarettes a week when out with friends." This will not improve code selection, but it may help clinicians and investigators when looking for clues to tobacco-associated illness.
Per ICD-10-CM guidelines, clinicians should document a cause-and-effect relationship between a patient's tobacco use and other disease processes so the coder can link the disease process to that patient's tobacco use. Coders have no choice but to use "uncomplicated" codes unless there is a documented relationship between nicotine use and the disorder.
For example, a clinician who documents a patient's history of nicotine dependence while treating that patient for asthma, as this history likely is pertinent to the course of treatment, enables the coder to report Z87.891 Personal history of nicotine dependence in addition to the code for asthma.
Coding Tobacco Cessation Counseling
The United Services Preventive Services Task Force (USPSTF) recommends clinicians ask patients about tobacco use, advise them to stop using tobacco, and provide behavioral interventions and FDA-approved pharmacotherapy for cessation to non-pregnant adults who use tobacco. This is an "A" recommendation for adults and pregnant women and a "B" recommendation for children and adolescents.
Medicare and Medicaid consider tobacco cessation counseling reasonable and necessary. If counseling is provided as a portion of or adjunct to the primary purpose of the visit, a provider may report a counseling code in addition to the appropriate evaluation and management (E/M) services.
Guidance in the 2019 CMS Web Interface measure PREV-10 (NQF 0028) Preventive Care and Screening: Tobacco Use: Screening and Cessation Intervention states:
If a patient uses any type of tobacco (ie, smokes or uses smokeless tobacco), the expectation is that they should receive tobacco cessation intervention: either counseling and/or pharmacotherapy.
The guidance also states, however:
Additionally, ENDS are not currently classified as tobacco in the recent evidence review to support the update of the USPSTF recommendation given that the devices do not burn or use tobacco leaves. In light of the current lack of evidence, the measure does not currently capture e-cigarette usage as either tobacco use or a cessation aid.
This could potentially create problems with clinicians getting credit for providing tobacco cessation counseling to ENDS users under the Quality Payment Program.
Government Intervention for E-cigs
Little has been done on Capitol Hill to regulate the e-cigarette industry. Unfortunately, it took six deaths to get government officials to take notice.
The CDC posted, on Sept. 11, an investigation notice, stating:
CDC, U.S. Food and Drug Administration (FDA), state and local health departments, and other clinical and public health partners are investigating a multistate outbreak of severe pulmonary disease associated with e-cigarette product (devices, liquids, refill pods, and/or cartridges) use. This investigation is ongoing and has not identified a cause, but all reported cases have a history of using e-cigarette products.
The FDA intends to finalize a guidance document that would commence enforcement to require that all flavors, other than tobacco flavor, be removed from the market. President Trump announced Sept. 11 his support.
During the press conference in the Oval Office, Trump said:
We have a problem in our country. It's a new problem. It's a problem nobody really thought about too much a few years ago, and it's called "vaping" — especially vaping as it pertains to innocent children. And they're coming home and they're saying, "Mom, I want to vape." And the parents don't know too much about it. And nobody knows too much about it, but they do know it's causing a lot of problems. And we're going to have to do something about it.

UPDATE: The CDC reports that, as of Oct. 29, 1,888 confirmed and probable lung injury cases associated with use of e-cigarette, or vaping, products were reported by 49 states (all except Alaska), the District of Columbia, and the U.S. Virgin Islands, and 37 deaths. New ICD-10 coding guidance was issued on Oct. 17 for illnesses related to vaping.
---
Sources:
Billing Guide for Tobacco Screening and Cessation, American Lung Association, https://www.lung.org/assets/documents/tobacco/billing-guide-for-tobacco-1.pdf
ICD-10 Tobacco Billing Guide https://tobaccofreeny.org/images/PDFs/ICD-10_Tobacco_Billing_Guide.pdf
Latest posts by Renee Dustman
(see all)
4 Responses to "Deaths and Illnesses Linked to Vaping Continue"