Molecular Testing for Nail Fungus Yields Improved Outcomes
In Coding
October 9, 2019
Comments Off

on Molecular Testing for Nail Fungus Yields Improved Outcomes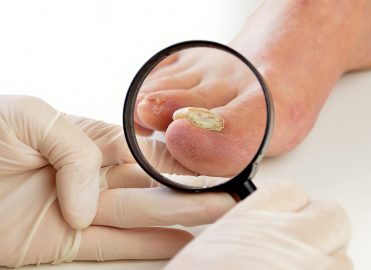 Prevalence and risk require targeted diagnostic testing.
Onychomycosis (tinea unguium), or fungal infection of the nail, causes almost half of all nail pathologies worldwide. It is a progressive infection of the nail characterized by thickening with degrees of white to yellow-brown discoloration and separation of the nail from the nail bed. Here's why molecular testing is medically necessary for proper diagnosis and quality care, and how to prove it to the patient's payer.
Factors that Increase Risk
Although fungal nail infections can affect any age group, they are more prevalent in older adults and patients with HIV, diabetes mellitus, poor peripheral circulation, peripheral neuropathy (sensory loss in the lower extremities), or a weakened immune system. Studies on the mechanisms of human nail diseases report there may be a genetic component that makes patients more susceptible to dermatophyte (fungal) infections, but other studies suggest that patients are more susceptible to fungal nail infections because of underlying systemic problems that place them at risk. Trauma to the nail increases the risk of developing onychomycosis, as does exposure to individuals infected with the condition. The possibility of contracting the infection increases in households and co-habitable areas with infected members and in communal environments with damp conditions and wet floor surfaces where large numbers of people are often barefoot (shower stalls, gyms, locker rooms, swimming pools, etc.). Nail salons with jacuzzi-style foot baths, improperly sterilized instruments, especially overly invasive pedicurists who reuse porous salon equipment (for example, files or sponge toe separators) also increase the likelihood of someone contracting a fungal nail infection.
Patients should be informed of the contagious nature of fungal infections including transmission means such as skin-to-skin contact and shedding of infected dead skin cells on clothing, bedding, and towels. Many patients are unaware of the risk for cross-infection to other nails and other parts of the foot, as well as to other parts of their body.
It's Not Just a Cosmetic Problem
At first, onychomycosis may only be a cosmetic concern as patients notice their nails have become thicker, discolored, misshapen, and brittle. As the disease progresses, quality-of-life changes are clinically significant as many factors can affect overall patient health. Established medical necessity for treatment extends to both clinical manifestations and functional complaints, including problems with physical agility, pain, paresthesia, and difficulty with walking and wearing shoes. Occupational limitations become more prevalent and limitations in social interactions due to anxiety and embarrassment influence emotional health issues, as well. Medical necessity for treating causal effects (such as ordering orthopedic shoes) is established when the physician documents these observations.
Nail fungal infections also increase the risk of other infections of the foot and leg. Recent studies have shown a higher risk of gangrene and foot ulcers and an increased risk of amputation in diabetics with onychomycosis compared to those without the infection, according to the American Diabetes Association. Nearly 246 million people across the globe battle diabetes and its complications, and more than 60 percent of non-traumatic, lower-limb amputations in the United States occur among people with diabetes, making foot health concerns for the diabetic population significant and early diagnosis of diabetic foot infections critical.
A Difficult Diagnosis
The clinical features of onychomycosis can be confused with and mimic other nail pathologies such as psoriasis, eczema, dermatitis, lichen planus (an inflammatory rash-causing grooves or ridges in nail plate), and malignant melanoma. The practitioner must identify the cause of the nail disorder to determine a proper treatment plan.
Onychomycosis is an infection requires proper and specific diagnosis and treatment. When it lingers, serious infections can spread beyond the nail with permanent scarring of the nail matrix. Without treatment, the infection can lead to cellulitis, a potentially serious bacterial skin infection that can affect the bones, tendons, and even spread to the blood. Further complications, especially in compromised patients, include osteomyelitis, sepsis, and tissue necrosis. Failure to initiate appropriate anti-fungal therapy in a timely manner has been associated with poor clinical outcomes and increased mortality.
Because of the prevalence of nail fungal infections and the belief that these infections are relatively superficial, self-care and over the counter (OTC) topical treatments are often chosen to control the problem. Typically, they do not. This is because the nail unit is relatively impenetrable and there are many species of implicating organisms that can affect nails.
Factors intrinsic to the nail — the hard, protective nail plate, sequestration of pathogens between the nail bed and plate, and slow growth of the nail — as well as relatively poor efficacy of the early pharmacologic agents, make dermatophytosis of the toenails (and fingernails) particularly difficult to eradicate. Given the penchant for self-diagnosis and missed diagnosis due to faulty fungus identification, inadequate treatment often allows the infection to worsen. Treatment may not be as effective if the organism is casually identified, leading to unnecessary exposure to medications and therapies and increased risk of side effects.
Even clinically-managed cases yield poor results due to ambiguous test outcomes and non-targeted treatment, with millions of dollars spent annually. The financial impact of oral and topical prescriptions, OTC products, and home remedies — many with side effects such as liver damage or drug interactions, especially in the elderly population — warrant a better, more predictable method of diagnosis and treatment of onychomycosis. Extreme chronicity and resistance to treatment contribute to poor patient outcomes.
Molecular Testing Can Improve Onychomycosis Outcomes
Conventional laboratory diagnosis of onychomycosis routinely involves only direct microscopic examination (potassium hydroxide (KOH) preparation) of the clinical specimen to determine the presence of fungi; however, this does not identify genus, species, or the specific pathogen (disease-causing fungus), nor does it differentiate between yeasts and molds. Tests often report a high rate of false negatives, resulting in inappropriate care or no treatment because a negative result does not rule out fungal infection in a high-risk host.
Conventional diagnostic techniques have fallen short in terms of specificity, sensitivity, and time to diagnosis. Further identification of fungi grown in culture takes several weeks, with failure to isolate the pathogen in 30-50 percent of the cultures. Optimal therapy varies with accurate pathogen identification. Histopathological testing, such as periodic acid–Schiff (PAS) staining, increases the sensitivity of the diagnosis by determining the presence or absence of hyphal (fungal) elements, but the test doesn't identify the organism.
The advent of molecular technology for DNA testing has enabled the development of techniques like polymerase chain reaction (PCR) assay — a highly sensitive and specific test used for diagnosis of various microorganisms including fungal pathogens. PCR testing is used to improve sensitivity in detecting the causative fungi in nail specimens from patients with suspected onychomycosis. PCR testing amplifies specific DNA sequences of dermatophyte fungus and is notably faster than traditional testing procedures (24 hours rather than days or weeks), leading to a significant reduction in time used to establish a diagnosis and initiate treatment. The advantages of time, sensitivity, and specificity over conventional methods make PCR testing a useful and valuable diagnostic tool for identifying fungal pathogens — the patient gets the right medication, at the right dose, faster.
Diagnostic Coding of Onychomycosis
ICD-10-CM code B35.1 Tinea unguium is used to indicate a diagnosis of onychomycosis. Because PCR testing can identify fungal pathogens' genera or species in onychomycosis, including dermatophytes, saprophytes, and yeast, identifiable organisms from the PCR assay may also be coded for further follow-up care.
Code also any underlying systemic problems, such as diabetes with peripheral neuropathy or peripheral vascular disease (e.g., E11.41 Type 2 diabetes mellitus with diabetic mononeuropathy, E11.52 Type 2 diabetes mellitus with diabetic peripheral angiopathy with gangrene), that add to the complexity of care and influence medical decision-making. Codes that establish medical necessity for diagnostic testing include:
Redness (L54 Erythema in diseases classified elsewhere)
Localized edema (R60.0 Localized edema)
Pain in toes (M79.674 Pain in right toe(s), M79.675 Pain in left toe(s))
Difficulty in walking (R26.2 Difficulty in walking, not elsewhere classified)
Cellulitis (L03.031 Cellulitis of right toe, L03.032 Cellulitis of left toe)
Add laterality modifiers and digit specificity to the code(s), as appropriate.
CPT® Coding for PCR Assay Sampling
To obtain a sample for DNA testing using PCR assay, a scraping or biopsy of the nail is taken from a sterile site and collected into a DNA-free container labeled with at least two identifiers and sent to the laboratory for molecular genetic testing. If a nail biopsy (CPT® code 11755 Biopsy of nail unit (eg, plate, bed, matrix, hyponychium, proximal and lateral nail folds) (separate procedure)) is indicated, it typically is performed using appropriate instrumentation for removal of a wedge-shaped portion of the affected nail plate, including a portion of the nail bed. CPT® 11755 makes no mention of anesthesia; if local anesthesia is indicated, it is not billable.
CPT® 11755 cannot be used if the sample was obtained by clipping off nail fragments (distal portion of the nail plate) and scraping out subungual debris. Submitting nail clippings or nail bed scrapings does not constitute a nail unit biopsy. These activities are part of evaluation and management (E/M) services for the medical management of the nail condition.
Certain medications may influence the outcome of the test. It is important for healthcare providers to obtain a complete list of medications (including herbal supplements) the patient currently takes. This will help the practitioner interpret the test results more accurately and avoid unnecessary chances of a misdiagnosis.
Meeting Onychomycosis Testing Challenges
Accurate and timely diagnosis of fungal nail infections remains challenging. Molecular testing technologies for identifying infectious agents by nucleic acid continue to improve. Sampling, collection, and processing techniques, DNA extraction efficiency, contamination targets, and more rapid identification are under constant evaluation. Given the cost associated with current treatments for onychomycosis, early and accurate detection are important. Molecular testing is frequently used in combination with conventional fungal testing to providence evidence-based results for appropriate treatment.
The reasons we need a more sensitive and targeted method of laboratory testing are:
The prevalence of fungal nail problems is a worldwide problem;
There is potential for communal infection and cross-infection;
Problems associated with self-diagnosis and misdiagnosis are concerning; and
There are adverse effects and potential toxicity of long-term use of anti-fungal drugs.
With more specificity regarding the infective organism, PCR testing can differentiate into species, strain, and subtype, helping physicians tailor the best treatment plan of onychomycosis for improved patient outcomes.
---
Pamela Marasco, MEd, CPC, has an academic background in the biological sciences and over 40 years of experience in healthcare. She works with physicians and their office staff to ensure best practices for office-based medical records documentation, medical billing, and coding. Marasco is an associate faculty member at Indiana University-Purdue University — Indianapolis, School of Informatics and Computing, Department of BioHealth Informatics where she teaches courses in the Health Information Management Program with an emphasis on e-learning. Marasco is a member of the Merrillville, Ind., local chapter.
Resources
PLoS Pathogens. Ghannoum M, Isham N. "Fungal Nail Infections (onychomycosis): A Never-Ending Story?" June 2014. 10(6): e1004105: https://journals.plos.org/plospathogens/article?id=10.1371/journal.ppat.1004105
Journal of the American Academy of Dermatology. Zaias N, Tosti A, Rebell G, et al. "Autosomal Dominant Pattern of Distal Subungual Onychomycosis Caused by Trichophyton Rubrum." February 1996. Vol 34 (issue 2, part 1): 302-4: www.jaad.org/article/S0190-9622(96)80142-3/abstract
Arch Dermatol (reprinted by JAMA Network). Szepietowski JC, et al. "Factors Influencing Coexistence of Toenail Onychomycosis with Tinea Pedis and Other Dermatomycoses: A Survey of 2761 Patients." October 2006.142(10): 1279-84: www.ncbi.nlm.nih.gov/pubmed/17043182
Clinical Diabetes. Winston J A, Miller J L. "Treatment of Onychomycosis in Diabetic Patients." October 2006; 24(4): 160-166: https://clinical.diabetesjournals.org/content/24/4/160.full-text.pdf
Winn WC Jr. Mycotic diseases in clinical diagnosis and management. Editor Henry JB. The W. B. Saunders Co. Philadelphia, Pa., 1966. pp 1210–1251.
Journal of the American Podiatric Medical Association. Gupta AK, and Nakrieko K. Onychomycosis Infections. July 2017, Vol. 107, No. 4, pp. 280-286.
Podiatry Today. Lehrman, JD. "When Exactly Can You Use CPT® Code 11755? February 2017:
www.podiatrytoday.com/blogged/when-exactly-can-you-use-cpt-code-11755
Podiatry Today. Garthwait R. "Sophisticated Test Facilitates Quicker Diagnosis and Treatment of Fungal Nail Infections." June 2017. Vol. 6, Issue 7, p. 81: www.podiatrytoday.com/sophisticated-test-facilitates-quicker-diagnosis-and-treatment-fungal-nail-infections-0
Latest posts by Guest Contributor
(see all)