AAPC Supports Member Growth and Success in Seattle
In AAPC News
October 18, 2019
Comments Off

on AAPC Supports Member Growth and Success in Seattle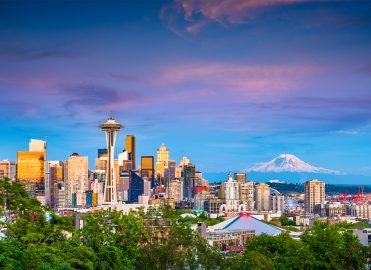 The Pacific Northwest welcomed hundreds of healthcare professionals — medical coders, billers, clinical documentation improvement and compliance specialists, auditors, and revenue cycle and practice managers alike — attending AAPC's Regional Conference in Seattle, Wash., Oct. 14-16.
AAPC members from around the world congregated at the Westin Seattle to network and connect with industry leaders and learn from experts about the ever-evolving business of healthcare. The conference boasted more than 50 educational General and Breakout Sessions, covering topics such as leadership, ICD-10-CM updates with insight into ICD-11, auditing for risk and revenue, modifiers, the complexities of inpatient evaluation and management (E/M) services, and how to negotiate payer contracts like a pro.
Day one of the three-day conference began with AAPC CEO Bevan Erickson's Conference Welcome Session.
Growing by Leaps and Bounds
Erickson kicked off the conference by welcoming first-time AAPC conference-goers and discussing the state of AAPC. He briefly reviewed the organization's 30-year history from its incipience in 1988 through the present, boasting that AAPC now proudly serves over 190,000 members worldwide.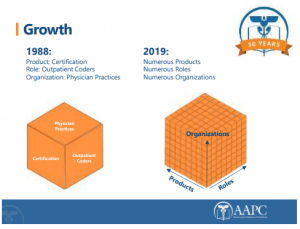 Today the organization offers more to its members than ever before, from certification training classes and roughly 30 different certification options to nearly 200 personal development and continuing education courses and an expanding number of tools and resources. AAPC serves more healthcare roles and types of organizations than ever before, offers a greater variety of products, software, and services, and supports a growing number of healthcare systems around the world.
Erickson said AAPC will continue to offer new benefits, products, resources, and educational opportunities to help members keep up with the demands of an unremittingly changing healthcare industry.
Keys to Success
Erickson went on to discuss the evolution of career skills valued in the workplace. He explained that in today's job market a successful employee must demonstrate both hard and soft skill sets. Employers are looking for individuals who not only have career-specific talents, but also strengths in personality-related traits such as communication, ethics, leadership, problem-solving, and flexibility.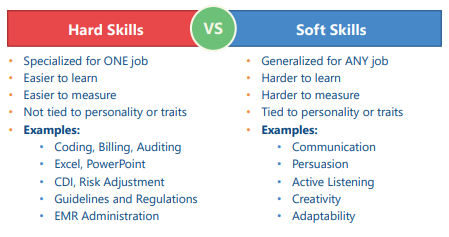 To thrive in the business of healthcare, a field that continues to grow and undergo change, you must find ways to develop and sharpen skills that will facilitate continued success and happiness. Erickson encouraged everyone to constantly be striving to evolve and adapt. Like the great Bruce Lee once said, "Be water, my friend."
Keeping up With the Times
General sessions continued with presentations geared toward providing members with up-to-date information on important topics such as legal trends and issues and changing E/M guidelines. Members then had a chance to attend breakout sessions covering a gamut of topics including staying compliant with the anti-kickback law expansion, outpatient clinical documentation improvement, risk adjustment, and quality metrics.
Attendees wrapped up the first day networking over appetizers, peruseing the exhibit hall, and talking to a variety of vendors.
AAPC's Seattle conference is just one of the many ways AAPC is working hard to provide members with the education, tools, and support needed to excel and ensure growth, both professionally and personally.
Looking Forward to HEALTHCON 2020
AAPC will host its annual National Conference at Walt Disney World in Orlando, Fla., April 5-8, 2020. The event will be packed full of educational and career-boosting opportunities. Attendees will learn the keys to success while being surrounded by the fun and excitement of "The Happiest Place on Earth."
HEALTHCON will help you go farther in your career and teach you about the latest industry trends and solutions. Expand your network by getting to know AAPC employees, subject matter experts (SMEs), National Advisory Board members, and colleagues from around the world. Learn from industry leaders and mingle with over 75 exhibitors showcasing their latest products and services.
There will be over 90 educational General and Breakout Sessions given by SMEs covering inpatient and outpatient coding, billing, auditing, compliance, and practice management. Build and improve upon what you already know in these high-quality sessions, all while earning continuing education units (CEUs) to maintain your AAPC credentials. Register now.
We hope to see you there!
Latest posts by Stacy Chaplain
(see all)
AAPC's annual salary survey gives a good understanding of the earning potential within the medical coding profession.
See what actually is going on in the healthcare business job market.
No Responses to "AAPC Supports Member Growth and Success in Seattle"