5 Ways to Improve CDI and Coder Collaboration
October 31, 2019
Comments Off

on 5 Ways to Improve CDI and Coder Collaboration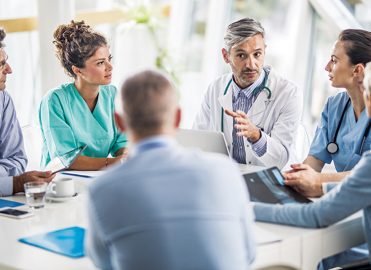 Enhance your working relationship to reach your common goal.
All clinical documentation improvement (CDI) departments have challenges. A common issue seen in the industry is the lack of CDI and coder collaboration. Some facilities may even describe friction between the two departments — and often there are good reasons why. At a high level, when a CDI specialist (CDIS) reviews a chart, they look at the disease process, diagnostic findings, and what's missing in the patient's clinical presentation. When coders review the medical record, they are identifying the cause of the admission and whether the diagnosis is adequately supported and detailed enough to be coded at its highest level of specificity, among other things. Conflict between the two departments often arises when there are discrepancies between the diagnosis-related group (DRG) assignment and/or principal diagnosis selection and coding rules and guidelines. CDIS are often unfamiliar with these guidelines, which creates friction.
There are ways to enhance the working relationship between these two vital departments so they can support each other and become a more collaborative team. Here are five strategies.
Align Departments to Report to the Same Leadership
The reporting structure of both CDI and health information management (HIM) departments should align to the same executive leader. The leading trend is to have both departments (CDI and coding) report through the revenue cycle manager and/or the chief financial officer, which often enhances the communication, interaction, and interface of both departments while still maintaining appropriate and effective oversight by both financial and clinical personnel.
Lynne Spryszak, RN, CPC-A, CCDS, says in the article, "HIM, CDI Programs Require 'TEAM' Effort," in JustCoding News: Inpatient, "A common problematic situation is when CDI team members report to different levels of administration. HIM often reports to finance, and the CDI specialists often report to case management, who then reports to nursing or quality. If the directors of these groups do not utilize a united approach, it will be difficult to resolve the conflicts between the coders and documentation specialists."
It's vital for these departments to be cohesive and fluid and define shared goals and expectations. Trey LaCharite, MD, agrees. "CDI and coding need to be in the same department with the same set of leaders, so everyone is on the same page. You can't have CDI running out of finance and coding running out of HIM. That's too siloed," he explains in Libman Education's "The Intersection of CDI and Coding: A Virtual Roundtable."
Stress the Importance of Communication
Communication, or lack thereof, is often the most challenging aspect of the CDIS/coder relationship. Having a single technology platform that encompasses all workflow provides transparency and reduces rework. Providing this type of platform can:
Improve and facilitate communication between the CDIS and the coder;
Retain their communication; and
Allow for resolution tracking.
This communication between the two parties must remain respectful, based on the understanding that coding rules and guidelines will always prevail. The CDIS, especially when first starting out, may not be familiar with many coding guidelines, which creates an opportunity for education. The CDIS can also provide information on disease processes, diagnostic values, and other detailed data that is valuable to the coder. With clear, transparent communication, it's a win/win for both parties.
Prioritize Collaboration and Teamwork
Collaboration and teamwork are other keys to a successful, robust program. To promote team-building strategies:
Invite the CDIS to coding meetings and coders to the Association of Clinical Documentation Improvement Specialists meetings. Ask them to present jointly on relevant, mutually beneficial topics.
Have "lunch and learn" sessions. Some of the best presentations involve clinicians and coders teaming up to talk through medical conditions (disease processes, treatments, outcomes) and how to code them.
Brainstorm on how to reduce zero payments or DRG reassignments. Analyze what the payers are noting in the denials. If there are reoccurring issues, how can these be reduced?
Collaborate on documentation tip sheets for the physicians, providers, and residents. The shared goal is to have the clinician's documentation specific enough to enable coding the condition to its highest specificity.
Have an Escalation Process
There may be times when the CDIS and the coder do not agree. Having a documented escalation process in place will help mitigate these disagreements.
"In most cases," according to LaCharite, "[DRG mismatches] can often be resolved after a conversation. If it can't be resolved, we have an escalation process, so a coding quality auditor reviews the case and makes the final decision. CDIS may not realize there's a code first, code also, or combination code that takes precedence."
A mediation policy or process lets both parties know that opinions and interpretations of coding rules and guidelines will be heard and vetted appropriately for a resolution.
Create a Shadowing Process or Buddy System
Having a coder team with a CDIS can facilitate communication and feedback. Having a coder the CDIS can reach out to for coding questions can be very helpful, especially when they are reviewing a complicated record. This arrangement also gives the coder an approachable clinical resource to discuss specific documentation issues or technical/diagnostic questions and treatments. The two can learn from each other. This relationship is paramount to developing a robust CDI department and to easing HIM burdens with retrospective queries.
"Coming together is a beginning. Keeping together is progress. Working together is success." — Henry Ford
---
About the author:
Susan Allen, MBA, CPC, CCS-P, is a director with Grant Thornton, LLP. Her background includes electronic health record/Epic implementation support, revenue integrity and charge capture, medical and dental chart auditing, and clinical documentation improvement.  Allen has an MBA in Healthcare Administration and is a past president and former board member of the Tampa, Fla., local chapter.
Resources:
HCPro, Just Coding News: Inpatient, Spryszak, Lynne. "HIM, CDI Programs Require 'TEAM' Effort." March 31, 2010.
www.hcpro.com/HIM-248765-3288/HIM-CDI-programs-require-TEAM-effort.html.
Halbrook, Steve. "The Intersection of CDI and Coding: A Virtual Roundtable." Libman Education – Healthcare Coding and Training. June 15, 2018. www.libmaneducation.com/cdi-roundtable.
nThrive.com, "Are There Hidden Clinical Documentation Improvement (CDI) Problems Crushing Your Bottom Line?" Sept. 27, 2017. www.nthrive.com/blog/are-there-hidden-clinical-documentation-improvement-problems-crushing-your-bottom-line.
Latest posts by Guest Contributor
(see all)