Hospitals Ordered to Offer Patients Price Transparency
In Billing
November 15, 2019
Comments Off

on Hospitals Ordered to Offer Patients Price Transparency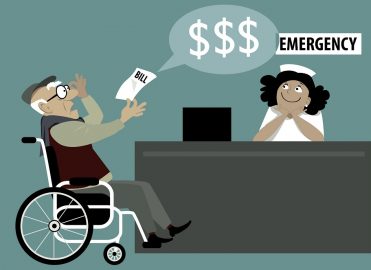 Beginning Jan. 1, 2021, all U.S. hospitals will be required to disclose standard charges for items and services offered to patients. Although many hospitals do this already, the Centers for Medicare & Medicaid Services (CMS) finalized Nov. 15 polices that will require hospitals to be more accountable of the prices they charge and more forthcoming with the information.
What You Need to Know About Price Transparency
Hospitals have been required to make public their standard charges upon request since 2015 and online in electronic format (e.g., PDF) beginning this year. The 2020 Hospital Outpatient Prospective Payment System (OPPS) final rule goes one step further to define:
The terms "hospital," "standard charges," and "items and services"
Requirements for making public all standard charges for all items and services
Requirements for displaying "shoppable services"
Monitoring and enforcement actions
Definition of Hospital
For the purposes of this policy, a hospital is an institution in any state (includes U.S. territories, districts, and provinces) in which state or applicable local law provides for the licensing of hospitals. Federally owned hospitals that do not treat the general public are already in compliance.
Definition of Standard Charges
Standard charges include:
Gross charges on a hospital's chargemaster
Discounted cash prices
Payer-specific negotiated charges
De-identified minimum and maximum negotiated charges
Definition of Hospital Items and Services
Items and services are all items and services that could be provided by the hospital to an inpatient admission or outpatient department visit for which the hospital has established a standard charge.
Requirements for Making all Standard Charges Available in Electronic Format
Compliance with this final rule requires hospitals to:
Compile standard charges for all items and services offered by the hospital in an electronic file, prominently displayed on the hospital's website.
Include a description of each item or service and the medical code(s) used by the hospital for accounting or billing.
Make the electronic file open-access and free to the public, without requiring submission of personal identifiers or creation of passwords.
Update the data contained in the electronic file at least annually, annotated clearly when the last update occurred.
Requirements for Displaying Shoppable Services
Hospitals must make public standard charges for at least 300 "shoppable services" – services than can be scheduled by a healthcare consumer in advance – available in a consumer-friendly manner by:
Including a plain-language description of each shoppable service; an indicator when one or more of the CMS-specified shoppable services are not offered; the location at which the shoppable service is provided, and whether the standard charge for the shoppable service applies at that location.
Listing common shoppable services based on utilization or billing rate.
Including charges for services the hospital customarily provides with the primary service, identified by a common billing code.
Note that CMS will deem a hospital as having met these requirements if the hospital maintains an internet-based price estimator tool that meets the above requirements.
Monitoring and Enforcement Activities
CMS will monitor hospital compliance by evaluating complaints made to CMS by individuals or entities. Complaints will be reviewed, and the offending hospital's website will be audited. Hospitals found to be noncompliant must submit or comply with the requirements of a corrective action plan or may be subject to a civil monetary penalty in excess of $300 per day. CMS says it will post the corrective action on its website. However, there is an appeals process for hospitals.
See the final rule (45 CFR Part 180) for complete details. CMS is holding a national call on Dec. 3.
---
Source:
CMS Newsroom Fact Sheet
Latest posts by Renee Dustman
(see all)