Automate Your Workflow to Capture Lost Revenue
December 4, 2019
Comments Off

on Automate Your Workflow to Capture Lost Revenue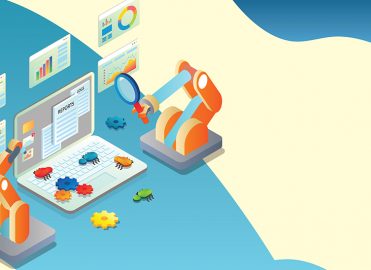 Technology still requires human input to ensure the integrity of automated front-end and back-end processes.
Ten years ago, the healthcare industry was pushed into the digital world via the Health Information Technology for Economic and Clinical Health Act (HITECH); and while some healthcare professionals felt uprooted and/or poorly equipped for this change, others used it to their advantage. In the era of meaningful use, e-prescribe, Physician Quality Reporting System (PQRS), Merit-Based Incentive Payment System (MIPS), Medicare Access and CHIP Reauthorization Act (MACRA), etc., the use of compatible electronic health records (EHRs) and practice management systems have become necessary to operate any mid- to large-scale practice.
From a billing and coding perspective, intelligent software products have streamlined the practice workflow. Let's look at how your medical office workflow can be automated with today's available software.
Front End – Charge Entry
Most practice management and/or EHR systems have an electronic eligibility feature that will tell you if the supplied insurance information is active for a patient. You can also get patient cost share details and referral requirements. Repetitive services in any given specialty provide an opportunity for the physician or other healthcare professionals to create a list or group of commonly used procedures and diagnoses. For example, an otolaryngologist who typically performs two or three types of office visits could choose from a preset macro or procedure group in the EHR or practice management system instead of documenting it on a superbill or choosing each code manually.
Established Patient            Initial Patient Sinus/Nasal Macro
Ear Exam Macro
99213                                  99204
92588                                  31231
92557
92550
Adding diagnosis and modifier links to the groups can help prevent future denials by providing options of reimbursable diagnoses commonly treated by that specific procedure. For example, Aetna's policy on trigger point treatment only allows the ICD-10-CM code M79.10 Myalgia, unspecified site for myalgia-related trigger point injections. A pain management practice could preset M79.10 in their myalgia trigger point procedure group/macro to be used, when applicable, to avoid reimbursement issues on the back end. Any other diagnosis codes listed in the medical note (i.e., back pain, knee pain, etc.) would then be added manually. All codes must be based on confirmed diagnoses and rendered services. Macros should be used solely as a guide, not as a method for coding to get paid, as that is fraud.
Established Patient Myalgia Trigger Point Macro
99212(25)
20552(59) M79.10
The charges then go into a cue for the billing staff to check and/or fill in any blanks before electronically submitting to the correct insurance carrier. Of course, there are a lot of nuances to medical billing, and so the human claim "scrubber" is still a key component, but the creation and implementation of paper superbills or manual selection of individual codes is no longer necessary. As long as the rendering provider is following protocol, the charge entry process can happen in real-time and be more or less automated. There are companies actively working on making the charge entry process even more seamless with artificial intelligence (AI) and machine learning technologies. The jury is out on how effective any new solutions will be, but coding as a service (CaaS) and CPT® crowd-sourcing are on the table.
Back End – Payment Posting
At this point in the workflow, in-network and out-of-network practices branch off in two different directions:
In-Network: Most software systems have an electronic remittance advice (explanation of benefits) feature that allows payments, or lack thereof, to be directly posted and reconciled. In-network contracted rates are generally fixed amounts, and so little to no manual adjustments are necessary. Denials are also reported electronically and can be sent to an internal cue to be worked. Any patient balances can also be forwarded to an internal cue where they are sent out by email, patient portal notification, or paper bill by the EHR or practice management company's staff. Again, the entire process is relatively automated and can happen in real-time.
Out-of-Network: The same electronic remittance advice can be used for out-of-network practices; however, the reconciliation/payment posting will likely be completely inaccurate. There are a variety of back-end edits, adjustments, and negotiations that can affect the final payment amount of any out-of-network claim:
How is the allowed amount determined? By usual and customary rates/FAIR Health® or based on Medicare rates?
Is there an anti-assignment clause? Will the patient get the insurance check?
Will the payer contact you via a third-party pricing vendor to negotiate the reimbursement?
Did the patient pay upfront? Do they need to be reimbursed?
After looking at all these variables, there are things you can do on the front end to tighten up the workflow on the back end; however, these things slow down and/or make a previously automated workflow very labor-intensive. To determine how the patient's plan will price out-of-network claims, you must call their insurance carrier to ask. That information — whether the plan pays at usual and customary or by a percentage of the Medicare fee schedule — is not provided on the automatic eligibility and benefit feature within most EHR/practice management systems. High-dollar out-of-network claims are typically flagged for medical necessity, so the medical notes and/or operative reports should be submitted with the claim manually on the front end.
On the back end of out-of-network, there is a growing trend to reprice claims through a third-party pricing company. When and if a rate is agreed to, those adjustments and payments need to be manually entered into the software system for reconciliation. Plans with anti-assignment clauses send payments directly to the insured, so electronic remittance is generally not available. Those claims will have to be checked manually via a phone call to provider services or through the interactive voice response (IVR). There also are a variety of methods in which providers charge patients for their out-of-network cost share or balances not considered by insurance carriers. These need to be posted and adjusted manually, as well.
What It Means for Out-of-Network Practices
Your administrative and billing overhead will be higher than your in-network counterparts; however, if done correctly, your revenue will also be larger. If you aren't taking the necessary manual steps in the out-of-network administrative workflow, you are almost certainly losing and/or leaving money on the table.
Like any big change, the EHR push of the HITECH Act has had a very rocky start. Venture capitalists flooded the market with software products that were too expensive and labor-intensive. Now, most cloud service EHRs and practice management systems provide billing services to supplement their revenues. Most of these, however, only provide the automated/in-network solution to billing/coding and are not equipped to handle complicated out-of-network practices. As mentioned earlier, AI and machine learning are on the case, but at this point, the variables change too often and too quickly for the available data to remain relevant.
---
About the author:
Matt Dallmann has spent the last 16 years in private healthcare management, consulting, and medical billing. He is vice president of the boutique medical billing firm VGA Billing Services, Inc. In addition to the AAPC, he has contributed blogs, editorials, and professional opinion in industry resources such as PhysiciansPractice.com, BC Advantage Magazine, and MedPageToday.com. Dallmann also developed a continuing medical education activity focused on business education in healthcare through joint sponsorship with the N.Y. State Medical Society.
Latest posts by Guest Contributor
(see all)