Recommendations for Abdominal Aortic Aneurysm Screening
In Coding
January 6, 2020
Comments Off

on Recommendations for Abdominal Aortic Aneurysm Screening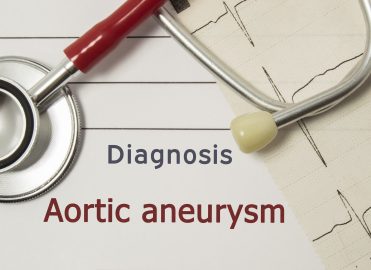 Ruptured abdominal aortic aneurysm (AAA) ranks as the 15th leading cause of death in the United States and the 10th leading cause of death in men older than 55 years. Abdominal aortic aneurysm screenings have shown a measurable and significant reduction in the overall rate of aneurysm-related death.
In this article, we'll review the U.S. Preventive Services Task Force's (USPSTF) recently published recommendations for abdominal aortic aneurysm screening and how to code for this potentially life-saving test.
What Is an Abdominal Aortic Aneurysm?
The aorta is the largest artery in the body. It carries oxygenated blood from the heart through the chest and torso to the rest of the body. An aneurysm is an abnormal enlargement of part of a blood vessel. Thus, an abdominal aortic aneurysm is a balloon-like bulge in the portion of the aorta that runs through the abdomen. A ruptured AAA can cause life-threatening bleeding.
In an adult, the abdominal aorta is typically about two centimeters in diameter. The definition of AAA is a focal dilation of the abdominal aorta such that the diameter is greater than 3 cm or more than 50 percent larger than normal.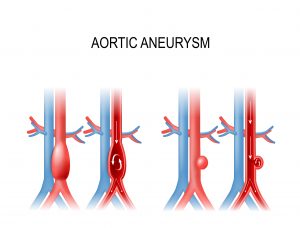 Who's at Risk for AAA?
A number of factors can play a role in the development of an aortic aneurysm, including:
Atherosclerosis (hardening of the arteries) – occurs when fat and other substances build up on the lining of a blood vessel.
Hypertension – High blood pressure can damage and weaken the walls of the aorta.
Blood vessel diseases – Cause the blood vessels to become inflamed.
Infection of the aorta – Rarely, bacterial or fungal infection causes AAA.
Trauma
Risk factors for AAA include being male, older, a smoker or former smoker, and having a first-degree relative with AAA. Other risk factors include a history of other vascular aneurysms, coronary artery disease, cerebrovascular disease, and hypercholesterolemia. Smoking is the strongest predictor of AAA prevalence, growth, and rupture rates. There is a dose-response relationship, as greater smoking exposure is associated with an increased risk for AAA.
Most aortic aneurysms do not cause symptoms until they rupture, which is why they are so dangerous. AAAs progressively dilate over time. The biggest concern is that it can rupture and cause significant internal bleeding, which can be fatal. The larger a AAA is, the higher chance it has of rupturing. A ruptured AAA is a surgical emergency. Although the risk for rupture varies greatly by aneurysm size, the associated risk for death with rupture is as high as 81 percent. This is why it is imperative to screen those at risk, and once diagnosed, the size of a patient's AAA should be monitored periodically. Large AAAs should be surgically repaired before they rupture.
Screening for AAA and Strength of Recommendations
The primary way of screening for AAA is with an abdominal ultrasound. This screening test is easy to perform, noninvasive, does not involve radiation, and is highly accurate in detecting AAA. The potential benefit of screening for AAA is detecting and repairing it before rupture, which requires emergency surgery and has a high mortality rate. The only potential harm of screening is related to the risks of surgical repair such as bleeding complications and death.
The U.S. Preventive Services Task Force recommendation applies to adults aged 50 years or older who do not have any signs or symptoms of AAA. Early detection of AAA can save lives.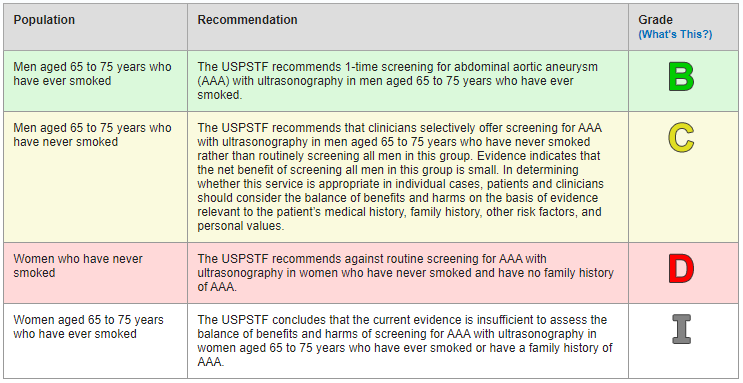 Based on current evidence, the USPSTF concludes with moderate certainty that screening for AAA in men aged 65 to 75 years who have ever smoked is of moderate net benefit, even if they have no symptoms. For men aged 65 to 75 years who have never smoked, the USPSTF concludes with moderate certainty that screening is of small net benefit, and should be offered selectively based on medical history and risk factors. There is sufficient evidence that there is no net benefit of screening women who have never smoked and have no family history of AAA. For women aged 65 to 75 years who have ever smoked or have a family history of AAA, there is not enough evidence to adequately assess the balance of benefits and harms of screening for AAA.
Coding AAA Screening
Medicare covers a one-time AAA screening for beneficiaries with certain risk factors for AAA who have received a referral from their provider. There is no deductible or coinsurance/co-payment for the AAA ultrasound screening test. A patient is considered at risk if they have a family history of abdominal aortic aneurysms, or they're a man age 65-75 and have smoked at least 100 cigarettes in their lifetime. When filing claims for this screening test, use the following codes to ensure proper billing and reimbursement.
76706  Ultrasound, abdominal aorta, real time with image documentation, screening study for abdominal aortic aneurysm (AAA)
The ICD-10-CM code to support AAA screening is Z13.6 Encounter for screening for cardiovascular disorders [abdominal aortic aneurysm (AAA)].

Latest posts by Stacy Chaplain
(see all)