Diagnosis Coding for Super Bowl Blunders
In Coding
January 28, 2020
Comments Off

on Diagnosis Coding for Super Bowl Blunders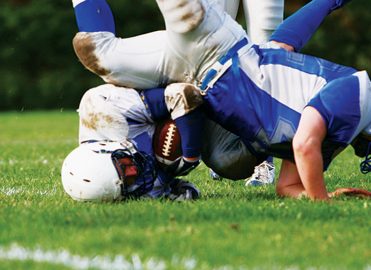 As football fans celebrate and top-notch athletes give it their all, know that ICD-10-CM has the event covered.
Even if you aren't a football fan, you can agree the Super Bowl is a big deal in the United States, with an average of 100 million viewers. Football fans bring to the championship a year's worth of excitement, while others just enjoy it for the halftime show and commercials, which provide interesting conversation around the water cooler.
This year, the Super Bowl LIV is on Feb. 2, 2020, and will be held in Miami Gardens, Florida, at the Hard Rock Stadium. The game will bring out the best (and worst) in athletes and fans. Like in previous years, there may be injuries due to tailgating, celebrating, and the rough and tumble nature of the sport (Y93.61 Activity, American tackle football).
Your healthcare organization can be better prepared for Feb. 2 by knowing the ICD-10-CM codes for all the football- and celebratory-related mishaps your physicians may see.
Tailgating Tomfoolery
Passing around footballs while tailgating can be dangerous when you aren't paying attention to your surroundings. When a patient failed to duck at the rogue ball thrown their way, look to W21.01XA Struck by football, initial encounter.
Another thing to watch out for when throwing around the old pigskin is frozen fingers. The good news is the Super Bowl is in a warm climate, but when the tailgate party is up north, call on T33.531A Superficial frostbite of right finger(s), initial encounter for right-handed, gloveless ball throwers in the emergency room.
Grilling and chilling (Y93.G2 Activity, grilling and smoking food) is a great way to spend time in the parking lot before the championship. Just be careful not to pick up the burgers and hot dogs with your hands (X10.1XXA Contact with hot food, initial encounter) or to tip over the portable grill in an attempt to catch the football (T24.132A Burn of the first degree of left lower leg, initial encounter).
Florida is hot most of the year, even in February, and food must be kept cool to prevent it from spoiling. Those who graze on potato salad sitting in the sun for too long may land in the hospital due to A05.9 Bacterial foodborne intoxication, unspecified.
Remember: Moderation is key to an enjoyable tailgate party. Popping too many jalapeño poppers and hot chicken wings may lead to R12 Heartburn, while enjoying several libations may lead to F10.929 Alcohol use, unspecified with intoxication, unspecified.
Many people aren't used to being in the sun all day, especially those who travel from the north to see the championship. Baking in the Florida sun longer than usual can lead to all sorts of maladies. Drinking plenty of water will prevent a patient from being diagnosed with E86.0 Dehydration, as well as T67.5XXA Heat exhaustion, unspecified, initial encounter or X30.XXXA Exposure to excessive natural heat, initial encounter.
Standing Out in the Crowd
Some fans take team gear to the extreme (R46.1 Bizarre personal appearance). Before fans put team colors on their skin, it's best to choose safe ingredients that will not cause ill effects such as L25.2 Unspecified contact dermatitis due to dyes.
For the shirtless football enthusiasts who tailgate all day, it's best to lather on the sunscreen and avoid overexposure (L55.1 Sunburn of second degree).
Be loud, be proud — the louder fans cheer for their team, the better. Unfortunately, the more you yell at the top of your lungs, the quieter and squeakier your voice becomes, until this happens: R49.1 Aphonia.
Our ears take a beating from all the stadium noise. To be on the safe side, it's probably a good idea to bring earplugs to avoid ear damage when the stadium is in a frenzy, which could result in H93.19 Tinnitus, unspecified ear.
Injuries of the Full-Throttle Athlete
When the most elite athletes go head to head, there are bound to be injuries. Here are some codes you may use to report injuries occurring on the field (Y92.321 Football field as the place of occurrence of the external cause):
S06.0X0A            Concussion without loss of consciousness, initial encounter
S83.512A            Sprain of anterior cruciate ligament of left knee, initial encounter
S63.639A            Sprain of interphalangeal joint of unspecified finger, initial encounter
W23        Caught, crushed, jammed or pinched in or between objects
Have fun and stay safe for Super Bowl LIV. May the best team win!
More ICD-10 Celebratory Fun
For holiday fun with ICD-10 codes, read these articles on AAPC's Knowledge Center:
Heed ICD-10 Advice for St. Valentine's Day
ICD-10-CM Codes for Independence Day Follies
Spooky ICD-10 Codes to Look Out for on Halloween
Keep These ICD-10 Codes Handy for Holiday Mishaps
Latest posts by Michelle Dick
(see all)