Acupuncture for Chronic Low Back Pain Covered Under Medicare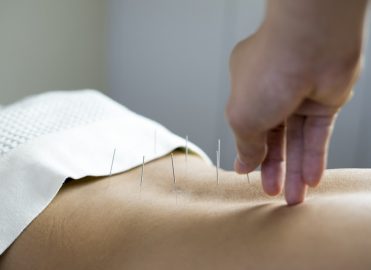 Chronic low back pain (cLBP) is traditionally treated with both pharmacologic (opioids) and non-pharmacologic (therapy) medicine. Acupuncture has long been considered by some a safer, more effective alternative to conventional therapies.
Last year, the Centers for Medicare & Medicaid Services (CMS) opened a national coverage analysis (NCA) on the benefits of acupuncture for managing cLBP. The federal agency released on Jan. 21 a final decision memo based on what they learned from the NCA.
In the final decision memo, CMS declares acupuncture for cLBP a covered benefit for Medicare patients, effective for claims with dates of service on and after Jan. 21, 2020.
"CMS recognizes that the evidence base for acupuncture has grown in recent years, as noted in systematic evidence reviews evaluating non-pharmacological treatments for chronic pain," the agency states in the final decision memo.
What Is cLBP?
Nearly everyone experiences low back pain at some point in their lifetime. Generally, a bit of rest takes care of it, but not always. Sometimes the pain lasts for months or even years. The pain can be debilitating and greatly reduce a person's quality of life.
CMS defines cLBP as:
Lasting 12 weeks or longer;
Nonspecific, in that is has no identifiable system cause (i.e., not associated with metastatic, inflammatory, infection, etc. disease);
Not associated with surgery; and
Not associated with pregnancy.
What Is Acupuncture?
Acupuncture is one of the oldest pain-relieving modalities known to modern civilization. Acupuncture is the selection and manipulation of specific acupuncture points by penetrating the skin with fine needles.
For the purposes of the NCA, "Acupuncture was defined as a process involving needles to be inserted into the skin (without an injection) at classical meridian points, extra points or Ah-shi points (painful points), accompanied by a definite feeling of 'De Qi,'" CMS states in the final decision memo. "De Qi was defined as 'a sensation of numbness or distention sometimes generated by stimulating acupuncture needles by hand or with an electrical current.'"
Medicare Coverage for Acupuncture
Medicare will cover up to 12 visits in 90 days, and an additional eight sessions for patients demonstrating improvement, for a maximum 20 treatments per year. Treatment must be discontinued if the patient is not improving or is regressing.
Physicians providing acupuncture must meet applicable state requirements. Physician assistants (PAs), nurse practitioners (NPs), clinical nurse specialists (CNSs), and auxiliary staff must have a masters or doctoral level degree in acupuncture or Oriental Medicine from a school accredited by the Accreditation Commission on Acupuncture and Oriental Medicine. Also required is a current, full, active, and unrestricted license to practice in the place of service.
Acupuncturists are not recognized by CMS as Medicare providers, and are not eligible to bill for acupuncture services. In certain settings, however, acupuncturists may be permitted to provide acupuncture as auxiliary personnel "incident to" a physician's service. The incident-to regulations require appropriate-level supervision by a physician or other qualified healthcare practitioner.
A coverage of evidence determination (CED) study is not required.
National Coverage Determination
Acupuncture remains non-covered for all other indications. NCD 30.3 Acupuncture is revised to account for the new coverage for cLBP: NCD 30.3.1 Acupuncture for Fibromyalgia, NCD 30.3.2 Acupuncture for Osteoarthritis – both of which remain noncovered — and NCD 30.3.3 Acupuncture for cLBP.
Coding and billing requirements will be communicated separately in CMS transmittals.
Latest posts by Renee Dustman
(see all)
5 Responses to "Acupuncture for Chronic Low Back Pain Covered Under Medicare"