Approach Health Record Audits With Care
February 1, 2020
Comments Off

on Approach Health Record Audits With Care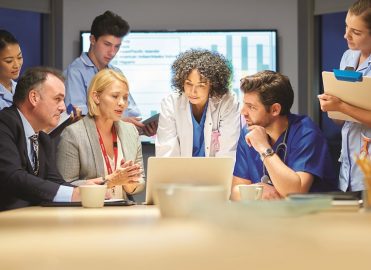 Discovering how your medical providers were trained to document establishes common ground on which to build a solid relationship.
Meeting with a medical provider to review health records, whether it be for chart audits or clinical documentation improvement, can be very stressful for a medical coder or auditor. Coders and auditors routinely face providers who object to unfavorable coding or audit findings and question scoring methodologies. To understand the provider's perspective, it helps to uncover how they were trained to document in the health record.
Ask the Right Questions
Consider asking the provider the following questions:
How were you trained to document information in a health record?
a. SOAP
b. 1995/1997 Documentation Guidelines
c. No format
According to 1995/1997 Documentation Guidelines for Evaluation and Management (E/M) Services, which of the following describe key components?
a. Subjective, Objective, Assessment, Plan
b. History, examination, medical decision making
When documenting an E/M encounter note, what are the elements of the history of present illness according to documentation guidelines?
a. Onset, Location/Radiation, Duration, Character, Aggravating factors Timing, Severity (OLD CHARTS)
b. Location, One, Chronology, Quality, Severity, Modifying factors, Additional symptoms, Treatment (LOCQSMAT)
c. Location, Quality, Severity, Duration, Timing, Context, Modifying factors, Associated signs & symptoms
d. Site, Onset, Character, Radiation, Associations, Time courses, Exacerbating/relieving factors, Severity (SOCRATES)
Per the 2018 and 2019 Physician Fee Schedule final rules, starting Jan.1, 2021, which of the following will no longer be key components and will not require documentation for outpatient/office E/M services?
a. Subjective and Objective
b. History and Examination
c. Medical Decision Making (MDM)
d. Assessment/Plan
Get the Right Answers
Answers to these questions will help the medical coder or auditor assess the provider's mindset and educational needs. For providers who are taught within the framework of 1995/1997 Documentation Guidelines, such questions establish common ground. For those taught alternative documentation practices, such questions give advanced warning of potential auditing problems. Asking these types of questions may also uncover biases taught, suggesting health record documentation is for billing purposes only and does not need to reflect the patient's experience, exam findings, or the MDM process.
Mary Wood, CPC, CPC-I, CRC, lead physician documentation educator for Kaiser Permanente Northern California, observes not all newly-hired providers straight out of residency have been taught health record documentation according to 1995/1997 Documentation Guidelines.
Wood explains, "When I first meet new provider hires, I gauge their documentation education to tailor individual education. For those who were not properly trained on documentation principles, I offer remedial education to bring them up to speed. For those properly trained, we review documentation principles and create a chart audit plan for continuous competency assessment."
Asking introductory questions is not only an assessment of documentation competency, but it also uncovers underlying beliefs and biases.
"Some providers have embraced rules that have no support in documentation guidelines," Wood said. "For example, some have insisted that for a focused SOAP encounter, the review of systems (ROS) must be listed before past family social history (PFSH), whereas for a comprehensive SOAP encounter, the PFSH must go before ROS."
I think to myself, "Who is teaching these medical providers?"
Get on the Same Page
Published research has concluded poor correlation between what happens during a medical encounter and what is documented in health records. Beliefs that health record documentation does not need to reflect what occurred with the patient should be corrected for the sake of patient safety and regulatory compliance.
OLD CHARTS, SOCRATES, and LOCQSMAT are handy mnemonics for students and practicing medical providers. These memory tricks, however, should not be confused with elements of the HPI per documentation guidelines (Location, Quality, Severity, Duration, Timing, Context, Modifying factors, Associated signs & symptoms). Some providers are surprised to learn that actual guidelines exist defining and structuring health record documentation.
When addressing providers, especially those who have never been taught 1995/1997 Documentation Guidelines, give them a copy of your audit scoresheet. By sharing the scoring rubric, providers will have a chance to better appreciate the elements you search for when reviewing health records. Sharing your audit scoresheet literally puts both of you on the same page.
While it is not wrong to enter data into health records in ways inconsistent with E/M Documentation Guidelines, such as SOAP or OLD CHARTS, deviation from the guidelines creates a mismatch between an auditor's scoresheet and the provider's documentation process. Asking these few questions may uncover reasons for mismatch and open discussion for collaboration.
In preparation for 2021 — when history and examination documentation will no longer be required for E/M services in the outpatient/office setting — novel methods of gathering and recording information will be studied by medical schools, post-graduate programs, and provider practices to determine best practices. For now, providers should understand that coders and auditors have an audit tool based on established documentation guidelines. Consistent documentation, in line with your 1995/1997 based audit tool, may help mitigate provider contention and encourage a team approach to health record audits and clinical documentation improvement programs.
Latest posts by Dr. Michael Warner
(see all)