HHAs, Hospices Receive COVID-19 Guidance
In CMS
March 12, 2020
Comments Off

on HHAs, Hospices Receive COVID-19 Guidance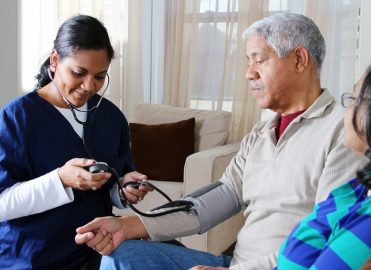 Review emergency preparedness policies with your visiting staff.
The Centers for Medicare & Medicaid Services (CMS) has stepped in with provider-specific guidance to help home health and hospice agencies prepare and operate in the face of the COVID-19 pandemic.
Monitor for Signs and Symptoms
HHAs should be monitoring the health status of everyone (patients/residents/visitors/staff/etc.) in the homecare setting for signs or symptoms of COVID-19," CMS says in its March 10 memo to surveyors, Guidance for Infection Control and Prevention Concerning Coronavirus Disease 2019 (COVID-19) in Home Health Agencies (HHAs). "Per [the Centers for Disease Control and Prevention], prompt detection, triage and isolation of potentially infectious patients are essential to prevent unnecessary exposures among patients, healthcare personnel, and visitors."
CMS repeats that guidance in its March 9 memo regarding hospices, adding that "for exposed staff, hospice agencies should consider frequent monitoring for potential symptoms of COVID-19 as needed throughout the day."
Implement Control Measures
Home care and hospice agencies should screen for COVID-19. For patients identified as at risk, agencies should "implement source control measures (i.e., placing a facemask over the patient's nose and mouth if that has not already been done)" and "inform the HHA clinical manager, local and state public health authorities about the presence of a person under investigation (PUI) for COVID-19," CMS instructs.
For inpatient hospice facilities, "isolate the patient in a private room with the door closed," CMS says. "If the patient cannot be immediately moved to a private location, ensure they are not allowed to wait among other patients who reside in the inpatient unit. Identify a separate, well-ventilated space that allows patients to be separated by 6 or more feet, with easy access to respiratory hygiene supplies."
"For hospice patients with symptoms, determination about whether or not to conduct diagnostic testing versus presuming a positive COVID-19 diagnosis (based on his/her symptoms and exposure) should be a decision among the patient, patient representative, hospice agency and state and local public health authority," CMS says. The agency doesn't address COVID-19 testing in the HHA memo.
HHAs "are normally expected to provide supplies for respiratory hygiene and cough etiquette, including 60%-95% alcohol-based hand sanitizer (ABHS)," CMS notes. Inpatient hospice facilities should additionally supply "tissues, no touch receptacles for disposal, facemasks, and tissues at healthcare facility entrances," the agency says in the hospice memo.
Supplies Exception in Effect
"State and Federal surveyors should not cite home health agencies for not providing certain supplies (e.g., personal protective equipment (PPE) such as gowns, respirators, surgical masks and alcohol-based hand rubs (ABHR)) if they are having difficulty obtaining these supplies for reasons outside of their control," CMS directs. "However, we do expect providers/suppliers to take actions to mitigate any resource shortages and show they are taking all appropriate steps to obtain the necessary supplies as soon as possible."
Adopt Protocols for Interacting with Sick Patients
CMS also offers advice on how to interact with COVID-19 patients, including:
Don all personal protective equipment (PPE) outside the home before entering and take it off after exiting the home.
Separate the patient from other people and pets in the home as much as possible.
Include the COVID-19 information about the patient to the receiving provider upon transfer or discharge.
CMS provides additional guidance to inpatient hospices with COVID-19 patients, including:
Consider allowing certain volunteer activities to be performed via phone or other electronic devices to minimize risk of exposure.
Consider setting "clinical restrictions on visitation subject to patient's rights."
"If hospice care is provided in a nursing home, we have advised nursing homes that hospice workers should be allowed entry provided that hospice staff is following the appropriate CDC guidelines for Transmission-Based Precautions, and using PPE properly," CMS says in its hospice guidance memo.
Latest posts by Rebecca Johnson
(see all)