You Can Help Save Lives
April 2, 2020
Comments Off

on You Can Help Save Lives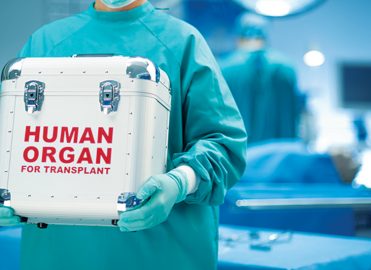 Learn about the organ procurement and transplant process to ensure patients are covered.
National Donate Life Month, in April, is about encouraging people to donate organs and tissues to save the lives of those in need. An estimated 113,000 men, women, and children in the United States are waiting for organ transplants right now, according to Donate Life America. Electing to be an organ donor is one way you can improve the odds for these individuals to receive the organ(s) they need. Being informed is another way you may be able to help.
Identify the Type of Organ Donation
When coding an organ acquisition or transplantation, to achieve proper CPT® code selection you will need to know the donation type and organ(s) being donated. There are two types of organ donations:
Deceased donations:
Heart
Liver
Lung
Kidney
Intestines
Pancreas
Cornea
Tissue (includes corneas, tendons, heart valves, veins, skin, and bones)
Living donations:
One kidney
Segment of the liver
Lobe of a lung
Portion of the pancreas
Portion of the intestine
Vascularized composite allografts involve the transplantation of multiple structures that may include skin, bone, muscles, blood vessels, nerves, and connective tissue.
Know What's Covered Under Insurance
Organ transplant patients require a coordinated team of healthcare professionals including clinical transplant coordinators, transplant physicians and surgeons, financial coordinators, and social workers. Most insurances cover reasonable and necessary organ acquisition and transplantation and associated services. Medicare covers human organ and tissue transplants, including pre- and postoperative medical, surgical, and hospital services, and medically necessary ambulance transportation when coverage criteria are met. Costs of both the acquisition and transplant generally fall to the organ recipient.
Part A
There are two payment components for organ transplantation between two people (allotransplant): Certified transplant centers (CTCs) are paid a prospective payment system rate based on diagnostic related groups (DRGs) for the actual organ transplant, and they are also reimbursed for the reasonable and necessary costs associated with acquiring the organ — billed using the CMS-2552 form. Organ acquisition costs incurred by independent organ procurement organizations (OPOs) are billed using the CMS-216 form. The costs of procuring an organ are not covered when performed independent of a Medicare-covered transplant facility.
Reimbursement protocol for one other scenario is explained by the Centers for Medicare & Medicaid Services (CMS) in the Medicare Claims Processing Manual Pub 104, Chapter 3, Section 90.1: Kidney transplant:
"If the transplanting hospital's organ procurement team excises the cadaver kidney at another hospital, the cost of operating such a team is included in the transplanting hospital's kidney acquisition costs, along with the reasonable charges billed by the other hospital of its services."
Applicable acquisition charges are not included in the DRG-based payment for the transplant under the Inpatient Prospective Payment System and are submitted separately by revenue code 0811 Acquisition of body components, living donor or 0812 Acquisition of body components, cadaver donor.
To prevent potential overpayments, Medicare's Fiscal Intermediary Shared System deducts organ acquisition charges billed with revenue codes 081X, excluding 0185 and 819, from the total covered charges, effective July 1, 2019.
Part B
Payment is made under Medicare Part B for the services of the surgeon who performs the organ transplant and assumes primary responsibility for the patient's post-op surgical care for 60 days, or both post-op surgical care and the related course of immunosuppressant therapy for 60 days.
Payment is also made under Medicare Part B to surgeons who perform:
Other surgical procedures, such as splenectomy and/or nephrectomy, at the time of the transplant
Physician backbench standard preparation work performed on organ(s)
Laboratory tests
Fast Facts
According to the Organ Procurement and Transplantation Network:
One organ donor can save eight lives.
Every nine minutes another person is added to the national transplant waiting list.
On average, 17 people die each day in the United States while waiting for an organ transplant.
From 1988 to 2020, there have been 634,425 deceased donor transplants nationally.
From 1988 to 2020, there have been 166,737 living donor transplants nationally.
The first successful living-donor kidney transplant in the world occurred in 1954, performed by Joseph E. Murray, MD, at Brigham & Women's Hospital, Boston, Massachusetts.
For the Record
OPOs and CTCs must maintain records for each organ retrieved and furnished to a Medicare patient. The record should contain:
Organ(s) and/or tissue(s) recovered;
Recovery date;
Donor's name/number;
Hospital recovered from;
Name of transplant center;
Recipient's name or dispensation;
Indication of research intent; and
Indication of en bloc (intact) transplants.
It's About Time
In the time it took you to read this article, another person was added to the national transplant waiting list. You have the power to help; if you are responsible for coding/billing medical claims for organ acquisitions and/or transplants, learn all you can about the process and payers' coverage criteria to ensure patients receive appropriate care.
Latest posts by Renee Dustman
(see all)