Take the Training Wheels off EHR Systems
April 2, 2020
Comments Off

on Take the Training Wheels off EHR Systems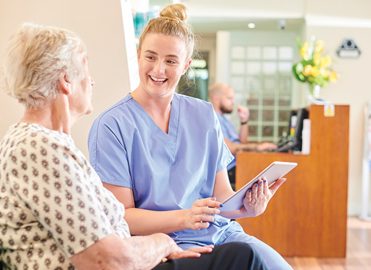 Electronic health records (EHRs) are a major reason for physician burnout and job dissatisfaction. But they are about to improve the healthcare experience for physicians, ancillary medical staff members, and patients. Now's the time to take off the EHR training wheels. But like learning to ride a bike, freeing EHR systems to deliver on spectacular promises will require balance between the patient-provider relationship.
Evaluation and Management Visits Reimagined
The current method for collecting data in EHRs no longer serves us; in fact, it impedes the goal of providing quality healthcare. Consider what your healthcare workplace would be like if patients were encouraged to author their own histories. Consider what it would take for ancillary staff members to accommodate the gathering of patient data and document the history.
Now, can you imagine providers reviewing the documented history, documenting pertinent exam findings, and basing their level of service on medical decision making (MDM) or time?
Starting Jan. 1, 2021, the Centers for Medicare & Medicaid Services (CMS) will no longer require providers to document the history and/or examination into health records per the 1995/1997 Documentation Guidelines for Evaluation and Management Services when performing outpatient/office evaluation and management (E/M) services. Although providers should continue to perform these elements of the E/M service, as medically appropriate, code selection and reimbursement will be based on their MDM and/or time.
Clinical Documentation Improvement Starts Here
The fear of no documentation requirements is that no history or examination will be performed. While this concern is understandable, it's also worth knowing medical research shows parts of the history to be only 40.1 percent accurate (36.7 percent with a scribe) and examination accuracy near 53 percent.
Inaccurate data sabotages all attempts to calculate best practices and create predictive algorithms. Imagine interacting with EHR systems and seeing treatment options with odds of outcome. This will be the new norm once health record documentation is accurate and highly detailed.
The best person to author the history is the patient. If the patient is not able, then the second best is a family member, friend, or caregiver. In a study published in The Journal of the American Osteopathic Association (JAOA) in 2017, patients completed a prehistory (preHx) as preparation for a family doctor office visit. The preHx is a replica of the medical interview/history as structured and defined by 1995/1997 Documentation Guidelines for Evaluation and Management Services (Documentation Guidelines). Consisting of nearly 30 questions, the preHx creates a standardized way to collect the patient's story and represent it in the health record.
Patient-authored preHx use resulted in 100 percent accuracy of the history because patients expressed their own narrative. Health record content also became highly detailed because patients consistently answered all the questions. Increased efficiency using a patient preHx resulted in all charts being completed by the end of the visit within a 15-minute schedule. Per the research protocol, all patients received a printed copy of the entire note (history, exam, MDM) at the checkout window after the visit. They were instructed to go home, read their health record, and score the experience with an anonymous survey. Patients reported feeling empowered and scored the satisfaction of their experience at 97 percent.
The JAOA study referenced the HIPAA Privacy Rule as the means to collect the preHx and use it to document the history. The 2019 and 2020 Medicare Physician Fee Schedule final rules provide for patients to author the history portion of their own health record. These rules also authorize medical staff to document all aspect of the history. We must take care, though, to not overwhelm staff members and force them to use auto-population computer features. We need them focus on accommodating the patient's right to author the history and seek efficient ways to document it into the health record.
Educate Patients and Providers
We should not wait until it's no longer the provider's job before we empower patients to author their pre history and ancillary staff to document the patient's story into the health record.
We should accommodate federal rules and laws now to improve health record data accuracy and capture the patient's narrative. The question is how do we implement a corrective action plan? What best practices can we follow?
Touro University California (TUC), working with a non-profit's free patient empowerment tool, www.PreHx.com, is collecting evidence with the intent of creating a best practice guideline on how to best empower patients and foster the patient/provider relationship (look for it in a future issue of Healthcare Business Monthly).
TUC osteopathic medical students are currently taking a Systems-Based Practice (SBP)/Problem-Based Learning and Improvement (PBLI) core competency mini-course designed to prepare them for 2021 E/M coding and documentation policy changes. Medical student survey responses, embedded throughout the boot camp course, help generate evidence on new roles of medical students. Meanwhile, an on-campus clinical simulation lab is comparing and contrasting old information intake practices with new data-collection methods. Best practices will likely redefine roles for providers, staff members, and patients.
Like learning to ride a bike, there comes a point when training wheels prevent advancement. With new E/M documentation requirements coming in 2021, intended to reduce provider clerical burden, we need to abandon inappropriate use of EHR templates, copy and paste, and copy-forward functions, and empower patients to tell their story. If we transition poorly into 2021, horrible social injustice will occur to patients because they will not be heard or understood. If we transition successfully, leverage of the computer will usher healthcare into a new era. Now is the time to take the training wheels off your EHR.
Latest posts by Dr. Michael Warner
(see all)