Improve Your Productivity at Work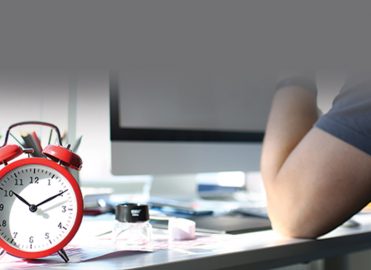 Take one or more of the time management courses in the AAPC Member Development Library.
Time management is an essential soft skill everyone should possess — and most of us need to improve. Knowing how to manage your time can improve your life, both professionally and personally. For one, it allows you to get more done in less time without getting overwhelmed with tasks. The benefits of time management also include reduced stress, improved memory, and probably a few other things I forgot.
To help members develop and improve their various soft skills, including time management, AAPC offers third-party online courses in its Member Development Library.
What are "soft skills"? For details, read "Realize the Value of Soft Skills in Healthcare," in the September 2019 issue of Healthcare Business Monthly or here in the Knowledge Center.
These Courses Are Worth Your Time
There are several courses on time management in the online library, including:
How to Make Time for Training at Work (do this one first!): This video lesson provides easy-to-implement strategies for creating opportunities for training. Tips include studying as a team, using self-study, using online training, and learning from others. After viewing the lesson, you will realize that you have more time for training than you think — as long as you use your time wisely.
How to Improve Your Time Management at the Office in 10 Easy Steps: Managing multiple projects, objectives, and deadlines can be a full-time job. It requires all of your concentration, skills, talents, and dedication. If you are going to be successful at time management, one of the first things you need to do is to identify your challenges and gain control of your workday.
Setting Time Management Goals: This video lesson walks you through the process of creating goals for managing your time. You will learn why goal-setting is a crucial step to becoming an effective time manager. You will also discover key steps for setting time management goals and review the SMART criteria required to make those goals truly effective.
The Value of Time: This video lesson will shape your understanding of time. You will learn that time must be managed differently from other resources. In addition, you will come to realize just how much discretionary time you have and how important it is to use it wisely.
Bending Time to Your Will: This course talks about the key principles of scheduling, like using a day planner, budgeting time for items on your priority list, and time-logging to keep yourself honest about the way you're managing your time.
Effective vs. Efficient: You can accomplish lots of things efficiently that don't make you any more effective. In this course, you'll learn how to identify your effective activities from merely efficient ones through good prioritization.
How to Avoid Self-Inflicted Delay: There are a variety of tactics for avoiding self-inflicted delays in your workplace. These tactics include making quicker and better decisions, avoiding distractions, and learning how to say no.
How to Tame the Incoming Telephone Time Thief: This course explains the false reasoning you may have for answering every call. You'll also learn how to screen your calls as politely and efficiently and effectively as possible.
Meeting Deadlines and Avoiding Procrastination: You can call it different things, but most of the time, all the reasons why you didn't meet a deadline can be boiled down to one thing: procrastination. In this course, you'll learn why procrastination happens, what it looks like, and what you can do to meet your deadlines.
Using Your Prime Energy Time for Priority Tasks: People often have a prime time for when they are the most productive. In this course, you'll learn about the benefits of scheduling an hour of quiet time every day and setting time aside to plan your day.
Creating an Effective Daily Routine: Learn how to add structure to your day to improve your organization and productivity. This course comprises three video lessons that lay out the benefits of having a daily routine, how to develop a personal routine, and tips to help you adhere to your schedule. Have you ever felt overwhelmed by the amount of work you have to do? A routine is a sequence of actions you consistently follow to help relieve your anxiety and get you through the day having accomplished everything you set out to do. After viewing these lessons, you won't be able to deny the correlation between having a routine and getting your work done efficiently and effectively.
There are more courses on time management and plenty more courses on other subjects such as communication, cybersecurity, harassment, and more.
Check Out Your Courses
Log in to your AAPC member account on the AAPC website and click on the Resources tab. Select Member Development Library from the list of resources on the left. At the top-right of the Member Learning Library page, you'll see the number of vouchers you can use toward the courses. Members receive 25 FREE vouchers annually, which can be used to purchase these courses (a $49.95 value per course). Each course requires one voucher.
Review the courses and select the ones you want to watch. Follow the directions at the top of the webpage for accessing the courses. After you select a course and redeem your voucher(s), you will receive an email from AAPC with the rest of the information you need to access the course(s) you selected. All courses expire on the date of your membership renewal. (Your vouchers also reset, rather than carry over, so be sure to use them!)
Got the Time?
If you didn't have time to work on your professional development skills before, you certainly will after you take a few of the time management courses in the AAPC Member Learning Library. You can use all that newfound free time to watch some of the other videos and develop other soft skills — or maybe take a personal day for a little rest and relaxation. You deserve it!
Latest posts by Renee Dustman
(see all)
AAPC's annual salary survey gives a good understanding of the earning potential within the medical coding profession.
See what actually is going on in the healthcare business job market.
3 Responses to "Improve Your Productivity at Work"