Welcome to the Industry: Medical Coder's Role in Healthcare
April 2, 2020
Comments Off

on Welcome to the Industry: Medical Coder's Role in Healthcare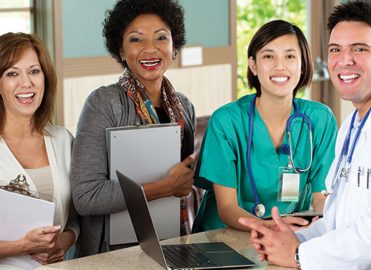 Beyond revenue cycle integrity, medical coding has the potential to save entire patient populations.
Initially, medical coding was just about assigning codes to supplies, services, and diagnoses for provider reimbursement purposes. Over the years, this data has become much more valuable. Insurance companies are using coding data to help identify which services are medically necessary for certain conditions. The U.S. Centers for Disease Control & Prevention (CDC) uses coding data to determine where outbreaks or illnesses are occurring. And the Centers for Medicare & Medicaid Services is using data gleaned from coding to determine medical coverage and to drive the value-based care initiative. Let's take a closer look at how the role of the medical coder has become more important than ever.
Coding Helps With Tracking and Planning
According to the National Center for Health Statistics, International Classification of Diseases (ICD-10-CM/PCS) Transition – Background, medical coding data is used for:
Tracking public health conditions (complications, anatomical location);
Improving data for epidemiological research (severity of illness, comorbidities);
Measuring outcomes and care provided to patients;
Making clinical decisions;
Identifying fraud and abuse; and
Designing payment systems/processing claims.
Healthcare personnel and clinicians are the primary users of medical codes. They use it for a variety of medical purposes, including claims reimbursement and treatment plans. Research hospitals, health plans, and various government agencies subsequently use the data to survey or research public health activities, oversee claims payment, determine insurance coverage, and much more.
To see how much data the CDC really has, go to the National Center for Health Statistics, "FastStats – Statistics by Topic." You'll be amazed at just how much statistical information there is, and it was all captured through provider documentation and medical coding. The Infectious Disease page, for example, shows how many people in the United States contracted certain infectious diseases in 2017:
Number of new tuberculosis cases: 9,105
Number of new salmonella cases: 54,285
Number of new Lyme disease cases: 42,743
Number of new meningococcal disease cases: 353
Place of service codes provide more details regarding location of treatment and hospital admissions statistics. For example:
Number of physician office visits with infectious and parasitic diseases as the primary diagnosis: 15.5 million
Number of emergency department visits with infectious and parasitic diseases as the primary diagnosis: 3.7 million
Number of emergency department visits resulting in hospital admission with a principal hospital discharge diagnosis of infectious and parasitic diseases: 280,000
This information is used for statistical analysis of diseases and treatments and makes it easier to observe and track epidemics and pandemic events. Medical organizations and hospitals, for example, often use such data to plan and make medical decisions that ensure organizations have proper support systems in place during a crisis or natural disaster.
Codes Evolve to Capture Data for Tragic Events
Code sets are constantly evolving, yet sometimes they still can't keep up and capture adequately the newest technologies, events, and illnesses. For example, 9/11 events created an urgency to update diagnosis codes.
The CDC's National Center for Health Statistics released the following statement afterward:
For health data, the September 11 events present challenges, in particular, the urgent need for a classification that can be used to characterize and statistically classify, report, and analyze injuries, sequelae of injuries, and deaths associated with those events.
As a result, ICD-9-CM codes were created to classify death or injury associated with terrorism to help the U.S. Federal Bureau of Investigation (FBI) capture data for investigating and tracking the 9/11 injuries.
ICD-10-CM Chapter 20 External causes of morbidity codes (V00-Y99) includes Y38 Terrorism to capture terrorist attack injuries and mortality. The "Applicable To" note guidance in the Y38 category reads:
These codes are for use to identify injuries resulting from the unlawful use of force or violence against persons or property to intimidate or coerce a Government, the civilian population, or any segment thereof, in furtherance of political or social objective.
This guidance corresponds with U.S. Code of Federal Regulations (28 CFR Section 0.85) definition of terrorism. Government bodies use this coding data to identify, track, and investigate individuals injured by terrorist attacks.
Codes Identify SDOH to Help Patients
Social determinants of health (SDOH) codes Z55-Z65 Persons with potential health hazards related to socioeconomic and psychosocial circumstances represent conditions such as low income, abuse, inadequate housing or homelessness, no safe water to drink and lack of food, neglect, and poverty.
These ICD-10-CM codes can be used to identify environmental and socioeconomic factors in health for the purpose of improving the overall care of the patient population. For example, a clinic may identify many of its patients as being malnourished and having health issues due to poverty. To improve their patients' health, the clinic may start up a food pantry to ensure identified patients go home with nutritious meals.
Codes Help Determine Medical Necessity
At its core, providers rely on documentation and diagnosis coding to show medical necessity of the services/supplies they render to a patient. Without these elements, the provider will not be reimbursed by the patient's insurance carrier. Comprehensive documentation and consistent code assignment can actually establish medical necessity for noncovered services, and initiate national coverage analyses, which may lead to added coverage.
For comprehensive information on social determinants of health (SDOH), read the Healthcare Business Monthly articles "Diagnosing Social Determinants of Health" from January 2020 and "Overcome the Stigma of Social Determinants of Health" from July 2019.
Codes Make Data Overload More Efficient
The U.S. healthcare system is overloaded with data, and codes make it easier to transfer all that information. They are a standard way to pass information between physicians and hospitals all over the United States. This aids in research, analysis, and tracking of trends to treat patients in the most efficient and productive way possible. The more concise data and statistics are, the better and more accurate medical decisions will be; better medical decisions lead to better patient outcomes. And it all starts with the medical coder.
Latest posts by Michelle Dick
(see all)