I Am AAPC: Aarthy Sooryanarayanan, CPC, CPMA, COSC, CASCC
March 31, 2020
Comments Off

on I Am AAPC: Aarthy Sooryanarayanan, CPC, CPMA, COSC, CASCC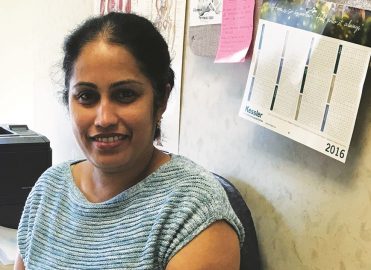 With a master's in math, the last I had been in touch with biology was about two decades earlier. So, when I was looking to get back into the workforce after a break, and found coding as a good option, medical terminology posed a real threat. But I went ahead and registered for the course at my state university, heavily depending on my hard work and ability to face any challenge.
The Day I Felt Coding Is my Calling
In the meantime, I started working as a volunteer in the billing department at a local hospital, just to familiarize myself with the working environment of a fast-paced billing office. I was able to understand how to decipher an explanation of benefits and tackle denials. I was attracted to how every service got billed with a five-digit numeric code (remember, I am a math major) and how there were diagnoses for even the weirdest stuff. With a lot of hard work and practice exams from AAPC, I passed my Certified Professional Coder (CPC®) exam on the first attempt.
The Day I Started As a Coder
I started as a billing specialist in an orthopedic practice and found myself in a coding position within three months. I trained for two weeks and was nervous about coding for nine surgeons and three physician assistants. Our specialties included orthopedics, pain management, and podiatry. With the support, cooperation, and nurturing atmosphere of the doctors, management, and my colleagues, I started feeling confident and comfortable within the next few months. I also went on to acquire my Certified Orthopedic Surgery Coder (COSC™) and Certified Professional Medical Auditor (CPMA®) certifications. We recently acquired a surgical center and that motivated me to get my Certified ASC Coder (CASCC™) certification, as well.
"Coding on a day-to-day basis is a learning process, which keeps you a lifelong student."
The Day I Will Feel Content
Coding on a day-to-day basis is a learning process, which keeps you a lifelong student. I enjoy being the point of contact for any coding issues organization-wide, and I would like to extend that to the coding community, as well. I would feel content if I am able to contribute back to the coding community, whether it be contributing articles for the Healthcare Business Monthly magazine, educating coders who are starting fresh, or helping people who are aspiring to be coders.
Latest posts by Guest Contributor
(see all)
AAPC's annual salary survey gives a good understanding of the earning potential within the medical coding profession.
See what actually is going on in the healthcare business job market.