COVID-19 Causes Financial Instability for Healthcare Providers
By Lee Fifield
In COVID-19
April 3, 2020
Comments Off

on COVID-19 Causes Financial Instability for Healthcare Providers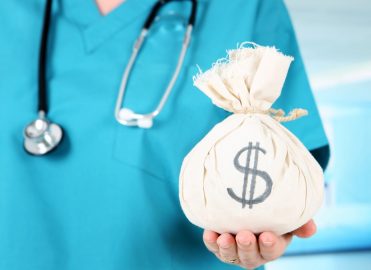 HHS extends financial assistance to hospitals and physicians during pandemic.
As the COVID-19 pandemic continues, the financial stability of the healthcare system is in jeopardy. Some hospitals have been forced to furlough staff to make ends meet, while many small physician practices are having trouble keeping their doors open. From the smallest practice to the largest hospital, healthcare providers are looking to find a solid foundation in these challenging times.
CMS Accelerated and Advance Payment Program
To help lessen the financial hardships of providers and thus keep the focus on patient care, the Centers for Medicare & Medicaid Services (CMS) has expanded eligibility of its Accelerated and Advance Payment Program to a broader group of Medicare Part A and Part B suppliers for the duration of the COVID-19 pandemic. These payments provide necessary funds when there is a disruption in claims submission or processing during a public health emergency and will help keep practices open to Medicare patients.
"Unfortunately, the major disruptions to the healthcare system caused by COVID-19 are a significant financial burden on providers," said CMS Administrator Seema Verma. Extending help to hospitals and physicians "will ensure that they have the resources they need to maintain their all-important focus on patient care during the pandemic."
Medicare will start accepting and processing the accelerated and advance payment requests immediately. CMS anticipates that the payments will be issued within seven days of the provider's request.
See CMS' fact sheet for eligibility requirements as well as how to submit a request for an accelerated or advance Medicare payment.
The Stimulus Package
The $2 trillion stimulus package signed into law last Friday will also help provide financial relief to providers, as well as to individuals whose livelihood has been affected by COVID-19.
For hospitals, it means a $100 billion  influx of cash, which will go toward not only needed equipment and supplies but also administrative costs. But how the money will be able to be used and when it will arrive are questions still being figured out by hospital CEOs and the American Hospital Association. It is possible that some of the money may be used to offset the suspension of elective services, which have resulted in a large amount of lost revenue due to COVID-19. Yesterday, Speaker Nancy Pelosi formed a new select committee to oversee the $2 trillion coronavirus relief package.
Loans for Small Practices
Practices with fewer than 500 employees will be eligible for new small business administration loans that will be forgivable if a practice maintains its salaries from Feb. 15 through June 30. Those qualifying practices would be able to receive up to $10 million to cover salaries and overhead, and at the end of that period qualify to be forgiven, much like a grant. Keep an eye on the AMA website and also on the Small Business Administration website as they add guidance concerning loan applications. Until more information becomes available, know that the process is mainly through your existing lender.
A Look Down the Road
The measures put in place by CMS and Congress are good first steps to creating financial stability in the healthcare system. But more may need to be done.
In a video conference for the AMA's COVID-19 update, Todd Askew, Senior Vice President, Advocacy for the AMA says, "What's been done is not going to be enough to completely turn around the economy and put physician practices on solid financial ground. However, the healthcare system needs to continue. It's not only COVID right now, but we still have everything else that was going on before still going on. I think there's a recognition of our allies in Congress that they need to look at additional ways to get support to physicians, and we're pursuing that."
Latest posts by Lee Fifield
(see all)