HEALTHCON 2020 Daily Wrap-Up: Day 1
April 6, 2020
Comments Off

on HEALTHCON 2020 Daily Wrap-Up: Day 1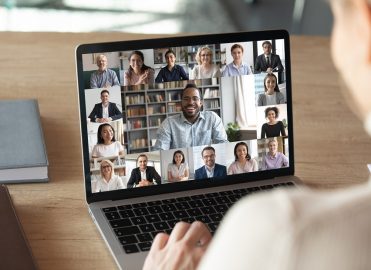 Not even a pandemic of epic proportions can stop medical coders and other healthcare business professionals from coming together. We thrive in the face of adversity, and we will persevere! That is the prevailing message at AAPC's 28th annual conference: HEALTHCON 2020.
HEALTHCON 2020 almost didn't happen, though.
Originally scheduled to convene at Disney's Coronado Springs Hotel in Orlando, April 5-8, the public health emergency (PHE) for COVID-19 forced AAPC's hand: cancel HEALTHCON 2020 or make it virtual.
Knowing that AAPC members look forward to this event, and the opportunity to network and earn continuing education units (CEUs) on a grand scale, AAPC decided to carry on. Today marks the first of the three-day virtual conference.
If only someone had told Dave Keysor! (You had to be there.)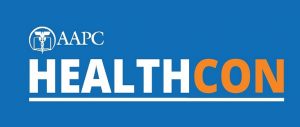 Conference Welcome: Evolution
AAPC CEO Bevan Erickson kicked off the conference with a graphic overview of the current state of the COVID-19 pandemic and the effect it will have on the U.S. economy — long after the PHE. From his home office, he painted a rather bleak picture but offered a glimmer of hope. "I believe we'll get through this, like we have before …."
While millions are out of work, the healthcare industry is scrambling to keep up with the demand. "Notwithstanding the huge setback of the current pandemic, it's a good time to be in this industry," Erickson said. "Healthcare has become the U.S.' largest employer. And job growth has outpaced nearly every other sector on the planet."
But challenges remain.
Healthcare will continue to adopt a value-based payment ideology. Technology will change the practice of medicine. And roles will change. Your ability to adapt to these changes will determine your longevity in this business.
Making HEALTHCON virtual on the fly is just one example of AAPC's adaptability. Erickson gave a rundown of the many other things the business is doing, including developing new credentials for emerging roles and upgrading AAPC Coder, soon to be rebranded as Codify by AAPC.
"Part of AAPC's overall evolution has seen increased diversification of our membership," Erickson said. "What was once certification for outpatient physician office coders in the U.S. has evolved to numerous products and services to outpatient and inpatient healthcare professionals working in nonclinical and clinical around the planet."
What's next for AAPC? Stay tuned!
Keynote Motivates Attendees
Nationally recognized speaker and expert on poverty and economic segregation in healthcare, Gloria Wilder, MD, MPH, followed Erickson with an uplifting and eye-opening talk on social justice in healthcare.
There are five keys to social justice, Wilder explained: 1. Access to quality healthcare; 2. Access to a quality education; 3. Access to economic justice; 4. Access to environmental justice; and 5. Access to civil and legal justice.
"Healthcare is more than just the moment that the service is delivered," she said. "It's about whether the service mattered. Did we do the right thing at the right time? Were we able to help the people who needed it most?" Value-based healthcare is about making sure the patient/provider interaction makes a difference.
"I think one of the positive things of COVID is a lot of the ridiculous rules of telehealth, all of sudden within a couple of weeks, we were able to lift those rules and throw them away. Isn't that wonderful?" (virtual applause)
This pandemic will cause more changes like that, Wilder confirms. "If we all just take a deep breath and put our feet firmly on the ground, we'll realize that this fragility we're experiencing right now is really the perfect opportunity to find out what life is really about," Wilder said.
Feeling incredibly motivated to be better employees, not to mention better humans, attendees dispersed to attend the remaining sessions of the day.
General Sessions
Some attendees went on to hear David Zielske, MD, COC, CIRCC, CCC, CCVTC, founder and CEO of ZHealth, give a presentation on "CPT® Coding Updates for Interventional Radiology, Cardiology, and Endovascular Surgery." Dr. Z ran down the code changes and offered insightful tidbits as only an interventional radiologist could.
At the same time, some attendees opted for "Jump Start Your Chronic Care Management Program." The presenter, Samuel "Le" Church, MD, MPH, CPC, CRC, explained that the purpose of chronic care management (CCM) is to reduce hospitalizations and emergency room visits and to improve care. He spoke of the requirements for a CCM program, offered suggestions for implementation, and highlighted applicable code changes for 2020.
Meanwhile, Lawrence Simon, MD, covered a range of problem areas within otolaryngology coding in his session "Hot Topics and Controversies in Otolaryngology Coding." Topics included the use of modifier 25, magnetic transcutaneous bone anchored hearing aid coding, and a wide range of surgeries such as sleep apnea, frontal endoscopic sinus surgeries, and laryngeal surgery.
I chose to attend "Coding and Billing for COVID-19," along with more than 300 others. Presenter Yvonne Dailey, CPC, CPB, CPC-I, walked us through all the coding and policy changes the PHE for COVID-19 has brought us, especially with regard to telehealth. Dailey had the latest information, but warned coders to consult payers for specific guidance. In particular, she warned, payers may have different implementation dates for new codes and policy waivers. She also warned of the misconception that Medicare won't audit telehealth claims. The only thing the Centers for Medicare & Medicaid Services is overlooking, she said, is the new versus established status in the evaluation and management (E/M) code descriptors.
The fundamentals of coding were discussed in "Outpatient Facility and Physician Coding – Are They Different?" On the surface, physician coding and outpatient facility coding seem similar, but with a few exceptions, they are mostly different, presenter Marsha Diamond, COC, CPC, CPMA, said. Physicians code/bill for their expertise while outpatient facilities code/bill for resources. The same modifiers are used for both, but not in the same way. AAPC's Certified Professional Coder (CPC®) credential offers a solid foundation for both settings, Diamond said.
The remaining sessions of the day covered the gamut: emergency department encounters, provider queries, auditing mental health services, compliance plans, documentation, and much more. I can't wait until tomorrow!
The Virtual HEALTHCON Experience Has Its Benefits
One of the nice things about a virtual conference is the ability to chat with attendees while the presenter is speaking without being rude. Another bonus: Not having to get out of your PJs!
"See" you tomorrow!
Latest posts by Renee Dustman
(see all)