Telehealth Coverage Expanded for Home Health, Hospice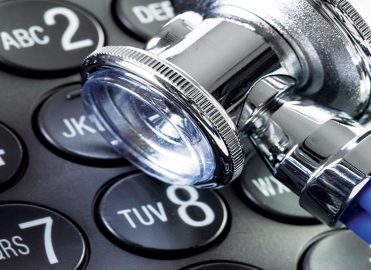 HHAs, hospices need direct telehealth reimbursement, industry reps maintain.
Medicare is giving home health agencies and hospices freer rein with telehealth visits, but providers must make sure the plan of care reflects that new usage.
Telehealth for Home Health
The Centers for Medicare & Medicaid Services' Home Health Prospective Payment System final rule for calendar year 2019 made clear that home health agencies (HHAs) can provide telehealth services such as remote monitoring. CMS provides in a new interim final rule a host of regulatory changes to help providers deal with the novel coronavirus pandemic.
Home health telehealth services must not "substitute for in-person home health services ordered as part of a plan of care certified by a physician." And "we remain statutorily-prohibited from paying for home health services furnished via a telecommunications system if such services substitute for in-person home health services ordered as part of a plan of care and for paying directly for such services under the home health benefit," reiterates the interim final rule, released March 30.
CMS explains in the rule that it is amending regulations to clarify that:
The use of technology must be related to the skilled services being furnished by the nurse/therapist/therapy assistant;
The use of technology must be included on the home health plan of care along with a description of how the use of such technology will help to achieve the goals outlined on the plan of care without substituting for an in-person visit as ordered on the plan of care; and
On an interim basis, HHAs can report the costs of telecommunications technology as allowable administrative and general (A&G) costs by identifying the costs using a subscript between line 5.01 through line 5.19.
While CMS confirms that "services furnished via a telecommunications system cannot be considered a home health visit for purposes of eligibility or payment," they do acknowledge that the use of such technology may result in changes to the frequency or types of visits outlined on the plan of care, especially to combat the PHE for the COVID-19 pandemic.
National Association for Home Care & Hospice (NAHC) President William Dombi lauds the rule's "expanded opportunities to combine telehealth services with in-person visits to patients."
Other helpful telehealth provisions in the rule include allowing visits to patients who have audio capabilities only and expanding access to telehealth services for people with Medicare. But CMS needs to do better on the telehealth front, industry members insist. "Home health agencies cannot afford to provide the care for free," Dombi insists.
At least CMS has clarified that physicians' telehealth visits can serve as face-to-face encounters for home health certification purposes.
Telehealth for Hospice
That good face-to-face news now extends to hospices, too — at least in part.
"Given that a face-to-face visit solely for the purpose of recertification for Medicare hospice services is considered an administrative requirement related to certifying the terminal illness … we believe that such visit could be performed via telecommunications technology as a result of the [public health emergency] for the COVID-19 pandemic," CMS says in a recently-released interim fine rule.
The physician and nonphysician practitioner visits won't be separately billable, CMS points out. "Encounters solely for the purpose of recertification would not be a separately billed service, but rather considered an administrative expense," the rule clarifies.
However, CMS explains in the final rule, "If a hospice physician, or a hospice NP who is also the patient's designated attending physician, provides reasonable and necessary nonadministrative patient care during the face-to-face visit, that portion of the visit would be billable under the Medicare rules." In those cases, "the physician or NP may bill for such direct care services for Medicare beneficiaries under the [physician fee schedule]."
CMS also clarifies telehealth use for hospice visits. "For the duration of the PHE for the COVID-19 pandemic, we are amending the hospice regulations … to specify that when a patient is receiving routine home care, hospices may provide services via a telecommunications system," as long as "it is feasible and appropriate," CMS says in the final rule. That will "ensure that Medicare patients can continue receiving services that are reasonable and necessary for the palliation and management of a patients' terminal illness and related conditions without jeopardizing the patients' health or the health of those who are providing such services," CMS continues.
"The use of such technology must be included on the plan of care," CMS instructs. And "the inclusion of technology on the plan of care must … be tied to the patient-specific needs as identified in the comprehensive assessment and the measurable outcomes that the hospice anticipates will occur as a result of implementing the plan of care."
This is good news, NAHC says. The trade group "is encouraged by the Administration's efforts to expand telehealth," it says in a release about the changes.
The National Hospice and Palliative Care Organization (NHPCO) isn't so sure. "We are concerned about the inflexibility in counting of visits on the required claim forms, reporting requirements and payment," they say. According to the final rule:
There is no payment beyond the per diem amount for the use of technology in providing services under the hospice benefit; and
For the purposes of the hospice claim submission, only in-person visits (with the exception of social work telephone calls) may be reported on the claim.
CMS does offer a suggestion in the final rule to recognize the extra telehealth costs: "Hospices can report the costs of telecommunications technology used to furnish services under the routine home care level of care during the PHE for the COVID-19 pandemic as 'other patient care services' using Worksheet A, cost center line 46, or a subscript of line 46 through 46.19, cost center code 4600 through 4619, and identifying this cost center as 'PHE for COVID-19.'"
Guidance on what devices and technologies providers can use to furnish telehealth visits is changing as the COVID-19 crisis develops. In a release for the interim final rule, CMS notes that "During the pandemic, individuals can use commonly available interactive apps with audio and video capabilities to visit with their clinician." But in a March 31 call, CMS indicated "telephone only" visits are acceptable, NHPCO reports.
Questions remain about how hospices can bill their physician services, NHPCO's Judi Lund Person said in a March 31 webinar on hospice telehealth under COVID-19. "Attending and outside consulting physicians that bill Part B for physician visits can do so using telehealth," Lund Person said in the presentation.
"When the same visit is done by a hospice physician and billed through Part A by the hospice … billing is not clear," she said. The hospice claim form does not include the Place of Service 02 code that CMS uses, and telehealth services aren't generally billable by Part A providers.
Latest posts by Rebecca Johnson
(see all)
One Response to "Telehealth Coverage Expanded for Home Health, Hospice"