ICD-10 Keeps You in High Demand
By admin aapc
In Coding
April 5, 2010
Comments Off

on ICD-10 Keeps You in High Demand
Need another reason to start ICD-10 training? Here are many:
The closer the Oct. 1, 2013 deadline gets, the more difficult it will be to find workers with ICD-10 expertise. Experts will already have been put to good use. The more ICD-10 training and expertise you have, the more in demand you'll become. And, if you can put the new code set into daily practice, you'll be a hot commodity in the health care industry.
ICD-10 will create new jobs for health care IT professionals who can implement the mandated code set and for coders who can quickly transition to ICD-10-CM and keep up with the constant volume of claims.

Jim Gibson, principal of Gibson Consultants, an executive search firm specializing in health care, said that ICD-10 "creates a new type of talent, this expertise didn't exist shortly ago. It's supply and demand, and I don't think the supply will keep up with the demand."
The National Committee on Vital and Health Statistics (NCVHS) pointed out that with ICD-10, there's a "knowledge deficit in several key areas," including:
Its impact on business operations, training, and education during the complex transition.
Knowing how and when to use the general equivalence mappings (GEMs) for ICD-9-CM to ICD-10-CM/PCS.
Fulfilling the need for an official, adopted, and mandated crosswalk between ICD-9-CM and ICD-10 code sets.
There are no hard and fast solutions for ICD-10 implementation. It's best to start training now to help you and your practice capitalize on your ICD-10 knowledge. For comprehensive ICD-10 training you can find, go to the AAPC website.
Read the Healthcare IT News story "ICD-10: Putting More Americans Back to Work," Part 1 and Part 2 to see how getting trained on ICD-10-CM will keep you in high demand.
Latest posts by admin aapc
(see all)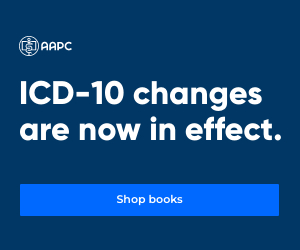 No Responses to "ICD-10 Keeps You in High Demand"