HEALTHCON 2020 Daily Wrap-Up: Day 3
By Lee Fifield
April 8, 2020
Comments Off

on HEALTHCON 2020 Daily Wrap-Up: Day 3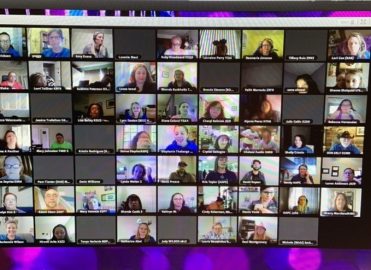 It may have been the third and final day of HEALTHCON 2020, but the energy level was high. Attendees started the day off right by using HCON Chat and Facebook to post lots of inspiring pictures of the morning view through their back window (the vantage point from everyone's current "office"), funny memes, encouraging messages about the conference, and of course pics of their kids and fur babies.
Many took the time throughout the day to thank AAPC and our conference vendors, while also applauding the presenters and the topics they taught. The virtual setting could not dampen the enthusiasm for the chance to learn.
The virtual café was in full swing on day one and two, and day three was no different. Telehealth and other hot topics were discussed, and attendees took advantage of the chance to network.
Lots to Learn
Rhonda Buckholtz, CPC, CPMA, CRC, CDEO, CMPE, CHC CHPSE, COPC, kicked off the morning sessions with a topic on the minds of many: transitioning from ICD-10 to ICD-11. Buckholtz discussed the key differences between the two and why a transition is years away.
Though some are impatient for news, Buckholtz reminded attendees that it took decades to work through the code sets when transitioning from ICD-9 to ICD-10, and that moving toward ICD-11 will be no different. ICD-11 will include 55,000 base codes, as compared to less than 20,000 in ICD-10. These significant changes will require significant resources and years to work through clinical modifications and other hurdles to implementation.
Buckholtz warned that with the stringent rules we already have in place, we can't afford to lose any specificity in the new coding. We need to be careful how we transition the data. In the end, she said, "it doesn't matter what the code set is: We've got to use it correctly."
When asked if she thinks the earliest ICD-11 implementation in the U.S. would be around 2025, she replied: "I wish I had a magic ball. I don't, [but] I don't think it's remotely possible it will be 2025." She could not predict a date, and further said, "I don't see it happening for a long time … a long time."
Instead, Buckholtz suggests that in the next few years we simply educate ourselves on the whole foundation of ICD-11, build a strategy of how to prepare for what is coming, and then wait.
Something for Everyone
There were many breakout sessions of note throughout the day — everything from developing and implementing an audit program to coding post traumatic stress disorder to advanced ophthalmology coding.
I attended "Anatomy of a PCS Code," in which Kathryn Williamson, CPC, CIC, gave a solid step-by-step foundation for selecting correct ICD-10-PCS codes. She was especially pleased with the virtual format for this conference, since she didn't have to lug around her heavy code books!
In one of the morning sessions, "Risk Adjustment Documentation and Coding," presenter Sheri Poe Bernard, CPC, CRC, CDEO, CCS-P, spoke to attendees about COVID-19 in terms of risk adjustment coding. Thus far, the Centers for Medicare & Medicaid Services (CMS) has not addressed hierarchical condition category (HCC) coding at all, she said. Regardless, Bernard said, it's essential to capture the various comorbidities COVID-19 patients may suffer, such as J80 Acute respiratory distress syndrome.
In "Radiology Coding, LCDs, NCDs, and Coding Tips for Your Practice," Tyler Griffeth, CPC, CPRC, presented a plethora of coding tips and advice for diagnostic radiology coders to implement in their practices, focusing on accurate and compliant coding, including guidelines surrounding provider documentation and anatomic criteria for various imaging services.
In "Coding for Non-Surgical Sports Medicine Providers," Nate Felt, MS, ATC, PTA, CPC, kept his audience engaged through humor and polling questions. He provided a wide-ranging survey of coding issues for non-surgical sports medicine providers that included current and future evaluation and management (E/M) coding guidelines and modifiers and concluded with a fascinating review of new procedures like dry-needling, platelet-rich plasma and stem cell injections, barbotage, and cryoanalgesia.
To round out the day's sessions, AAPC's Raemarie Jimenez, CPC, CDEO, CIC, CPB, CPMA, CPPM, CPC-I, CANPC, CRHC, spoke about the upcoming changes to the E/M documentation guidelines going into effect Jan. 1, 2021, and what to expect next year. Jimenez kept her audience engaged with multiple-choice polling questions that attendees answered in real time. The session ended with everyone giving a virtual high five.
And Now, the End is Near
After the last session, it was time for the after party! Conference prize winners were announced and everyone got to connect with old and new friends via chat. Dave Keysor showed us his singing and guitar playing skills in a video performance about next year's HEALTHCON in Dallas, Texas. And while it was sad we couldn't listen to Eclipse 6 in person, we all enjoyed their music videos, including "Best Day of My Life." Those attendees who wanted to dance turned on their webcams and showed us their moves. Our fearless leader, AAPC CEO Bevan Erickson, took the lead in some serious chair dancing!

Saying Goodbye, For Now
Making the 2020 conference into a virtual experience was daunting, but in the end, AAPC and its members were up to the challenge and every participant made this unique experience a success.
One member said "I want to thank AAPC for putting this together. This had to be a logistic nightmare! THANK YOU!"
Some other kind words from our attendees:
"We made it to day 3 of a virtual conference. Time to celebrate. Many of my colleagues want to know how this was accomplished. Great job AAPC. This organization is the best. So glad to be a member!!!"
"Last Day! We're super bummed. It's been a very informative & fun virtual conference. Thank you, AAPC. Until we meet again, stay safe everyone."
"This is my first AAPC conference and it has been amazing! Thank you to everyone that has worked so hard to put this together. I'm ready for next year!!!"
"My first conference and I must say it has been a great virtual experience."
In these uncertain times it may seem impossible to think about planning ahead for anything — but better days are on the horizon. We hope you enjoyed our virtual HEALTHCON 2020, and we hope to see everyone next year in Dallas, Texas, March 28-31. You won't be able to attend in your PJs, but it's sure to be a great time!
Latest posts by Lee Fifield
(see all)