How to Cultivate Healthy Care Teams and Eliminate Risk
By Sarah Prom
May 1, 2020
Comments Off

on How to Cultivate Healthy Care Teams and Eliminate Risk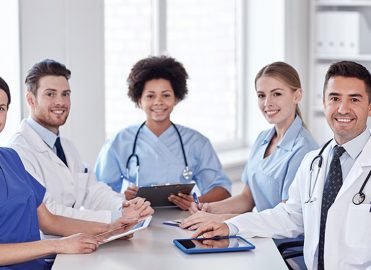 Ensure healthy working relationships to improve patient health and satisfaction.
Teamwork has become crucial in contemporary healthcare, and the reasons are multiple. As the Human Resources for Health Global Resource Center explains, "Clinical care is becoming more complex and specialized, forcing medical staffs to attempt complicated health services and quickly learn new methods. Aging populations, [and] the increase of chronic diseases like diabetes, cancer, and heart disease, have forced medical staffs to take a multidisciplinary approach to healthcare. In countries like the United States, medical teams must manage patients' suffering from multiple health problems."
As teams of physicians, advanced practitioners, nurses, techs, and other medical professionals face these interdisciplinary challenges, it's important they find ways to work together at an optimal level of cooperation — because failure to do so is a source of real trouble. For instance, according to a 2014 study published in Health Care Management Review, more than 70 percent of medical errors can be attributed to dysfunctional interpersonal dynamics on care teams.
A comprehensive article on medical teamwork in AAMC News underlines the effect of dysfunction on the team members themselves: "Numerous peer-reviewed studies show that group dysfunction leads to burnout, emotional distress, depression, substance abuse, reduced productivity, and other psychosocial issues."
Respect, Empathy, Communication
What makes a medical team optimally functional: in other words, most cooperative and productively interactive?
For V. Simon Mittal, MD, a leadership and career development coach, the indispensable ingredients are two very basic positive human qualities and one very basic human skill: mutual respect and mutual empathy, and good communication.
"In a team working together optimally," Dr. Mittal says, "there is the sense everyone is listened to in an active, responsive and thoughtful way and everyone is recognized for the value they bring to the team." Mutual respect supports good medical decisions, since multiple perspectives are honored and considered before decisions are made, and good communication means decisions will be arrived at and carried out effectively.
Psychologist and workplace burnout expert Christine Maslach, quoted in AAMC News, notes going the extra mile in respect and empathy pays dividends. "It's important to recognize people in a positive way when they do something good," she says. "Rather than say, 'Well, you did your job, big deal, so what,' if you periodically say, 'You really handled that patient well, nice job,' that goes far. It's huge. It doesn't cost anything, but you have to be sensitive enough and willing to care about each other."
Warning Signs
It's not hard, then, to spot the signs of a dysfunctional team. "Limited communication; snippy, disrespectful comments; team members whose contributions aren't valued and who then become less engaged, more detached from the processes they're working in," says Dr. Mittal.
The sources of these problems may be personal, but they may also have an institutional aspect, as Michelle O'Daniel and Alan H. Rosenstein, MD, point out in a study of team communication and collaboration. Developing interpersonal sensitivity may take considerable effort for healthcare physicians. Medical education tends to value individual excellence and error-free practice over cooperation and willingness to admit error and ask for help. Individual team members may feel a loss of autonomy working on a team, as well as "lack of confidence or trust in decisions of others; clashing perceptions; territorialism; and lack of awareness of one provider of the education, knowledge, and skills held by colleagues from other disciplines and professions," O'Daniel and Dr. Rosenstein say.
The Patient's-Eye-View
Everyone involved in healthcare wants the patient to be safe, get better, and feel comfortable and confident during the process of healing. Dr. Mittal believes seeing the work of the team from the patient's point of view can help team members understand the value of overcoming those obstacles to cooperation.
When a care team is aligned according to these three major values, he asserts, the patient immediately feels more secure. Of course, the team needs to show the patient respect, listen to their input about care, and take them seriously. "The old model of medicine was, the doctor says, 'do this,' and you do it. Today it's much more of an active collaboration between the providers and the patient," says Dr. Mittal.
But good relationships among the team members are reassuring for the patient, too. "When care team members show respect for each other in front of the patient, and empathy, too, it shows they really care about one another as people," Dr. Mittal says, "the patient feels if a difficult issue comes up in his or her care, the team members 'have each other's back' and will work well together to solve the problem."
Cultivating Good Teams
How, then, can leaders promote optimal cooperation and the best relationships among care team members? Writing in Critical Care, Constantine Manthous, MD, and his colleagues underline the responsibility of the team leader.
"Team leader behavior is a well-documented contributor to team effectiveness," they write. "How team leaders structure the team, define its purpose, remove organizational barriers, help individual members enhance their contributions to the team, and coach to help members use their collective resources to fulfill team goals all influence team success. Additionally, team leaders are influential on an interpersonal level …. Members look to leaders' behaviors as an indicator of what is expected and accepted of their own behavior."
Dr. Mittal says institutional leaders need to set clear standards, too — and, he insists, "They don't have to wait for a problem to arise in order to make things better for everybody." Even if teams are functioning well, without prompting complaints from patients or team members, he says, leaders should see what can be improved. Can there be more expressions of respect, trust, and empathy — those qualities shown to be reassuring to patients while they ensure better care?
And, of course, leaders should be alert for even subtle signs of dysfunction. "Like the unnecessarily short, slightly rude response to a question, the verbal disagreement that shows lack of respect, the look of disengagement or demoralization on the face of a team member. Just walking around the institution and observing the teams at work can tell a leader a great deal about how healthy his or her teams are." Team meetings are a good place to assess interpersonal dynamics, too, and Dr. Mittal thinks chief medical officers and other leaders should attend them as observers whenever they can.
"Ultimately," he says, "leaders should think: 'Even if we're good, there's always something more we can do in this area. No matter what the challenges, we choose to be an organization with healthy work relationships and healthy work teams.'"
---
Resources:
"Why Is Teamwork in Health Care Important?" Human Resources for Health Global Resource Center. www.hrhresourcecenter.org/HRH_Info_Teamwork.html
Mitchell, R. and colleagues, "The ABC of Health Care Team Dynamics: Understanding Complex Affective, Behavioral, and Cognitive Dynamics in Interprofessional Teams," Health Care Management Review, January-March, 2014. www.ncbi.nlm.nih.gov/pubmed/24304597
"Teamwork: The Heart of Health Care," AAMC News, Sept. 27, 2016. www.aamc.org/news-insights/teamwork-heart-health-care
O'Daniel, MHA; Michelle and Rosenstein, MD, Alan H. "Professional Communication and Team Collaboration," Patient Safety and Quality: An Evidence-Based Handbook for Nurses.
www.ncbi.nlm.nih.gov/books/NBK2637
Manthous, Constantine and colleagues, "Building Effective Critical Care Teams," Critical Care 15/4, 2011. www.ncbi.nlm.nih.gov/pmc/articles/PMC3387583
Latest posts by Sarah Prom
(see all)