Commit to Zero Harm
May 1, 2020
Comments Off

on Commit to Zero Harm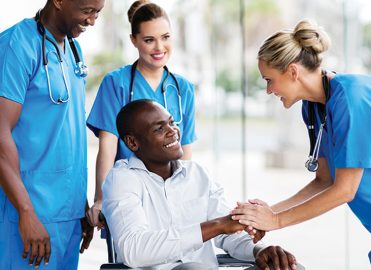 Imagine a future of zero harm in healthcare. It starts here, and now.
The Joint Commission is providing a national focus on zero harm. To that end, from a clinical perspective, The Joint Commission is collaborating with institutions to take a path toward zero falls, zero complications, zero infections, and zero lost revenue. That is zero harm of any kind. This initiative is possible when everyone works together — not only clinicians but business staff, as well.
What can organizations do to make healthcare harm a thing of the past? The Joint Commission's Leading the Way to Zero™ initiative advises that they:
Ensure leadership is committed to a goal of zero harm.
Develop and adopt a safety culture.
Incorporate process improvement tools and methodologies in their work.
Demonstrate how everyone is accountable for safety and quality.
Healthcare business professionals have an essential role in their organization's goal of zero harm to ensure zero lost revenue.
Set the Tone at Reception
Ensuring that the correct demographics are captured as patients enter the health system is imperative. Reviewing insurance and updating information as needed is an important aspect of ensuring the claim is submitted to the correct carrier so revenue can be collected. Assessing service requirements related to prior authorization and notifying the insurance company of any planned procedures offers an opportunity for setting expectations with the carrier.
Making a follow-up call to alert the carrier of any change to the anticipated procedure after the final operative report is made available can expedite claim processing. If a service is not covered by the insurance carrier, educating the patient about the procedure, alternatives, and the expense related to the proposed procedure will enable the patient to make an informed decision about how to proceed.
Remember: The patient must sign an Advance Beneficiary Notice of Noncoverage (ABN) form if they choose to have a procedure that is not covered under their insurance. This form must be completed prior to rendering the service or you cannot bill the patient for the service.
Fast-Track Providers' Enrollment
As new providers enter the health system, ensuring prompt enrollment with the various payers enables them to bill for their services. Decisions regarding enrolling nurse practitioners, physician assistants, and registered dieticians with insurance carriers must be made to capture all potential revenue sources.
Ensure Correct Coding for Quality Data
Medical coders must ensure comprehensive documentation is available and should query the provider if clarification is needed. These measures will enable coders to submit all relevant diagnosis and procedure codes at the highest level of specificity. It's important for coders to adhere to local and national coverage determinations and the various system edits in use. Ongoing training will ensure adherence to the most up-to-date guidelines.
Streamline Billing Processes for Timely Payment
Medical billers are instrumental in reducing the amount of patient financial responsibility and preventing surprise billing. Work queues are established for candidates for bills that have edits preventing a final claim submission. It's important for both coders and billers to review accounts in these work queues, make necessary updates, and to release claims timely.
Educating staff for improved data entry, from registration to coding, will reduce the work queue volume. Another aspect of work queue review includes critically assessing recurring edits that may require a system build to prevent repopulating the work queue. Optimizing the electronic medical record by establishing rules for various work queues diminishes edits that may delay claim submission.
If a claim is denied, a thorough review of the encounter, including all documentation, will ensure claim updates are made timely and appeals are submitted with supporting documentation. This is a time to determine trends and assess opportunities for improvement to reduce or minimize recurrence.
Put Customer Service First
Customer service is imperative at all levels of the revenue cycle. Interactions with providers and collaboration within and across teams ensures the focus is on timely reimbursement and reducing patient financial responsibility.
Take Time to Review
Quality reviews ensure compliance with guidelines, offer an opportunity for education, and are a venue for collaboration related to process and policy across teams.
We can all commit to zero. With an objective to protect the patient and improve interaction with our colleagues through accountability for process improvement, we can't go wrong.
Click here for more information about The Joint Commission's Leading the Way to Zero™ initiative.
Latest posts by Valerie Fernandez
(see all)