Losing Business? Maybe It's Your Customer Service
May 1, 2020
Comments Off

on Losing Business? Maybe It's Your Customer Service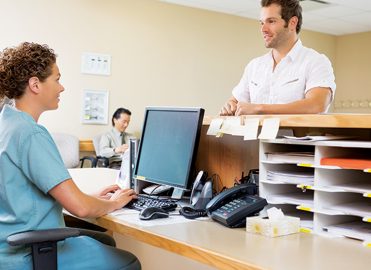 Implement these recommendations to score high with patients.
From time immemorial, many societies have been based around one thing: commerce. Although what we perceive as currency has changed throughout history, our expectation to get what we paid for has not. The medical field is no exception. Ranging from the use of cutting-edge medical technology to treat the most inoperable disease to a simple bandage over a scraped knee, healthcare providers offer goods and services in the expectation that they will be paid. That's partly why we're in the business office — to guarantee this trade goes off without a hitch. One thing which can derail this, however, is an angry patient.
Wait, what?
Yes, should a patient become dissatisfied with a provider's service, not only may the patient refuse to pay their bill and go elsewhere, but they also may harm your organization's reputation. In the age of social media, the ripple effect can be astronomical.
Reviews Can Make or Break a Provider
Sites like healthgrades.com and ratemds.com allow patients to express their satisfaction or dissatisfaction with their doctor and ancillary staff. Google and Yelp also have popular message boards where dissatisfied patients can vent. And there are endless other outlets, not to mention the Centers for Medicare & Medicaid Services' (CMS') star ratings and compare programs.
Here are two actual examples of ratings posted on Google about two hospitals in my area of Georgia:
"The majority of staff lacks common decency and people skills … I was bounced around between 7 departments to find a solution to an issue THEY created, left multiple voice messages, haven't received a call back (2.5 weeks later), and the issue remains unresolved."
"In my experience the on-duty MD has no compassion and horrific bedside manner … When pressed to provide a clear answer the conversation actually devolved into a cursing match. Have you ever had a doctor call you an a-hole? This one will."
Both hospitals have a valuable niche and are instrumental in keeping millions healthy in my city. However, those negative reports will remain forefront in people's minds.
What Causes Patients to Be Disgruntled?
In the article "The Man who Lied to His Laptop: What Machines Teach Us About Human Relationships," co-author Clifford Nass says: "The brain handles positive and negative information in different hemispheres. Negative emotions generally involve more thinking, and the information is processed more thoroughly than positive ones." Negative experiences leave lasting impressions.
According to an American Customer Satisfaction Index (ACSI) 2019 report, "customers aren't happy with hospital care, which falls 5.3% to 72" from a prior score of 76 in 2018. While the chief cause of this dissatisfaction seems to be the emergency room departments, the impact can be felt in outpatient and other healthcare settings, as well. While one of the chief complaints is wait time, and providers have been educating the public about emergency room visits, the other complaints ring the same: clinical staff interaction and registration, and business staff interaction.
How Can You Improve Customer Satisfaction?
If you're concerned about how your staff would measure up to a patient satisfaction review, ask yourself these questions:
Do we respect our patients and their privacy?
Post signs asking other patients to give a bit of space when patients check in.
Place the sign-in sheet so it's visible from your entrance.
When clinical staff calls a patient about their care, they should be discreet about leaving voice messages.
There should be a standard protocol to follow when a patient requires financial counseling.
Are we respectful of our patients' time?
If you work in an office setting, make sure there is a protocol in place for when the doctor is running late.
The admission and discharge process should be quick and efficient, allowing for the required information to be shared without inconveniencing the patient.
Are we respectful to patients with our communication?
In the article "The Impact of Rudeness on Medical Team Performance: A Randomized Trial," the researchers surmise, "Not only does rudeness harm the diagnostic and procedural performance of practitioners, it also seems to adversely affect the very collaborative process that might otherwise allow for teams to compensate for these effects."
If rudeness has an impact on provider care, imagine its effect on patients. All patients should be shown the same level of courtesy that you yourself would like to receive if in their shoes.
It Pays to Be Nice
Customer satisfaction plays an integral part of a practice's or hospital's ongoing financial stability. Patients are much more selective about where they receive treatment and they are able to share their experience globally. What's the best insurance for getting a claim paid? Make sure your patients receive excellent customer service throughout their healthcare experience with your office or facility.
For more articles on customer service, look to the AAPC Knowledge Center.
---
Resources
Yen, Corina; Clifford Nass. "The Man who Lied to His Laptop: What Machines Teach Us About Human Relationships." Penguin Books. 2010
Riskin, Arieh; Erez, Amir; Foulk, Trevor A.; Kugelman, Amir; Gover, Ayala; Shoris, Irit; Riskin, Kinneret S.; Bamberger, Peter A. "The Impact of Rudeness on Medical Team Performance: A Randomized Trial." Pediatrics. September 2015. 136 (3) 487-495; DOI. https://pediatrics.aappublications.org/content/136/3/487
DiMeglio, Denise. ASCI Finance, Insurance, and Health Care Report 2018-2019. Nov. 19, 2019.
Latest posts by Joshua Caillouet, CPC, CASCC
(see all)