How Telehealth Services Factor Into Risk Adjustment
In Coding
May 11, 2020
Comments Off

on How Telehealth Services Factor Into Risk Adjustment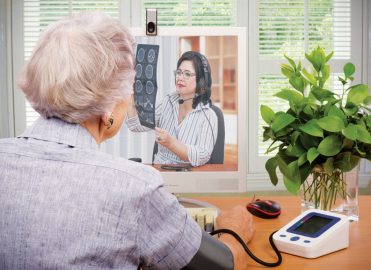 2020 has proven to be one of the most complex, busiest times in healthcare — in the 21st century, anyway. In January, we were preparing for a new chapter in ICD-10-CM, Chapter 21: Vaping-Related Disorders. On January 30, the World Health Organization announced a Public Health Emergency of International Concern (i.e., pandemic) for coronavirus. In March, a new diagnosis code was created for the virus: U07.1 COVID-19, and Congress quickly mandated a huge expansion of telehealth coverage.
To add a significant layer of change, on April 10, the Centers for Medicare & Medicaid Services (CMS) announced changes for risk-adjusted payments.
"Medicare Advantage (MA) organizations and other organizations that submit diagnoses for risk adjusted payment are able to submit diagnoses for risk adjustment that are from telehealth visits when those visits meet all criteria for risk adjustment eligibility, which include being from an allowable inpatient, outpatient, or professional service, and from a face-to-face encounter. This use of diagnoses from telehealth services applies both to submissions to the Risk Adjustment Processing System (RAPS), and those submitted to the Encounter Data System (EDS). Diagnoses resulting from telehealth services can meet the risk adjustment face-to-face requirement when the services are provided using an interactive audio and video telecommunications system that permits real-time interactive communication."
What About Risk Adjustment?
The 2021 payment methodology for the CMS-Hierarchical Condition Category (CMS-HCC) Risk Adjustment (RA) Model is:
75% of 2020 CMS-HCC Model (v24) with Diagnosis of Encounters Data, RAPS, and Fee-for-Service (FFS)
Plus:
25% of 2017 CMS-HCC Model (v22) using Diagnosis of RAPS and FFS
Encounter Data is Key
Whereas 25 percent of 2017 CMS-HCC Model uses diagnosis of RAPS and FFS and no encounter data, 75 percent of the 2020 CMS-HCC Model includes encounter data. This could have a profound effect, as shown in the chart below. As such, it is important for providers to document every encounter accurately — including telehealth visits. This is important for coders and auditors to know.
Secure a Risk-Adjusted Rate Increase
On April 9, CMS published the Calendar Year (CY) 2021 Rate Announcement. The table below shows Medicare Advantage plans may expect an average 1.66 percent payment increase in 2021.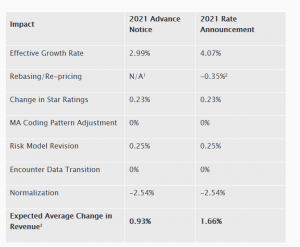 Complete, accurate provider documentation will be key in obtaining this revenue increase. Proper documentation will allow for risk adjustment/HCC code abstraction for encounters to include telehealth visits.
Tricks of the Trade
Medical coders have found it extremely difficult to keep up with the rapidly changing coding and coverage changes for telehealth visits. You may find it helpful to map the changes in a spreadsheet, such as the one below.
Documenting dates on your telehealth grids will help in auditing services rendered. Keep copies of payer documentation, as well. Using a spreadsheet allow you to copy the template and date it. This will make it easier to refer to when running a report. This spreadsheet will also be a great resource to have for your internal audits, as telehealth has become its own abstraction in coding to correct claim adjudication.
---
About the author:
Barbara Shaw, CPC, CRC, CEDC, has over 20 years of experience in healthcare as a coder, auditor, educator, and practice manager. She is a compliance specialist at Duke Health. Shaw is a member of the Durham, North Carolina, local chapter.
---
Resources:
https://www.cms.gov/newsroom/fact-sheets/2021-medicare-advantage-and-part-d-rate-announcement-fact-sheet
https://www.sheppardhealthlaw.com/wp-content/uploads/sites/134/2020/04/Applicability-of-Diagnoses-from-Telehealth-Services-for-Risk-Adjustment-4.10.2020.pdf
https://www.ama-assn.org/media/59741/download
Latest posts by Guest Contributor
(see all)