Stakeholders Plan to Reduce Health Care Spending
By admin aapc
May 12, 2009
Comments Off

on Stakeholders Plan to Reduce Health Care Spending
Health care stakeholders presented a plan to President Barack Obama and his administration May 11 that they say will reduce the growth rate of health care spending by 1.5 percent annually, or $250 for each American family of four each year.

Mirroring President Obama's health care reform initiative, the coalition—consisting of representatives from hospitals, the insurance industry, medical device and pharmaceutical companies, and labor and physician groups—said that costs could be contained by reducing hospital readmission rates and drug prices, improving care after hospitalizations and Medicare and Medicaid payment accuracy, and expanding the hospital quality improvement program.
"We are determined to work together to provide quality, affordable coverage and access for every American. It is critical, however, that health reform must enhance quality, improve the overall health of the population, and reduce cost growth," the coalition wrote in a letter to the president.
In the letter, the coalition outlined their plan for creating a more stable and sustainable health care system, which they believe can be achieved by:
Implementing proposals in all sectors of the health care system, focusing on administrative simplification, standardization, and transparency;
Reducing over-use and under-use of health care by aligning quality and efficiency incentives among providers;
Encouraging coordinated care and adherence to evidence-based practice and therapies; and,
Addressing cost drivers in each sector and making common sense improvements in care delivery models, health information technology (health IT), workforce deployment and development, and regulatory reforms.
The coalition also indicated in the letter that a large-scale, national effort of health promotion and disease prevention is needed, and that "reform should include a specific focus on obesity prevention."
Senator Chuck Grassley, ranking member of the Committee on Finance, issued the following response the same day:
"The message of the trustee's report is loud and clear. We need to act now to address Medicare's fiscal sustainability … Necessary policy reforms to add efficiency and improve Medicare's fiscal health without cutting benefits will take time to implement. If Congress waits, the savings from those changes won't materialize until after the program becomes insolvent. At that point, the only options would be cutting provider payments, reducing benefits, or raising payroll taxes."
Go online to the White House Briefing Room for a list of coalition members who attended the meeting.
Latest posts by admin aapc
(see all)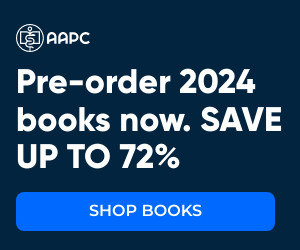 No Responses to "Stakeholders Plan to Reduce Health Care Spending"