Introducing AAPC's New eBook Collection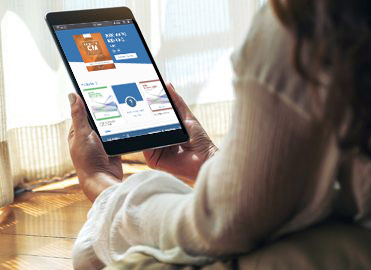 Easily carry your favorite coding books, specialty guides, and reference guides with you wherever you go with AAPC's eBooks.
As everything around us is getting the switch over to digital, eBooks — books in an electronic format that can be downloaded to a computer or mobile device — are becoming increasingly popular. While many people still prefer the tactile feel of traditional printed media, eBooks have some definite benefits and offer versatility that print cannot. This is particularly true when it comes to medical coding books.
Get the eBook Advantage
Individuals whose jobs rely heavily on these reference materials — from coders and billers to auditors to healthcare providers — understand how cumbersome printed code books can be, especially when you need to reference several tomes throughout the day. Anyone working on the revenue side of medicine stands to benefit greatly from the digital format, which provides improved portability and accessibility to the myriad books needed to accurately code medical conditions, diagnoses, procedures, treatments, and supplies. AAPC recognizes this and now provides options for people who believe a book in electronic format better suits their needs.
Your 2021 eBooks Are Ready
AAPC is now offering eBook versions of our 2021 code books and medical reference guides (MRGs). For those of you who find it hard to decide between eBooks and printed books, here are just a few of the advantages AAPC's eBooks have over the traditional print format:
One Device, Many Books
No more book storage issues and lugging around multiple bulky code books that are subject to wear and tear. With eBooks, a single device — desktop, laptop, tablet, or smartphone — is all you need to consult the multitude of reference materials your job necessitates. Multiple eBooks can be stored on your device, transforming your entire code book collection into a portable and lightweight format. This allows you to effortlessly bring your entire library with you wherever you go. Convenience is further enhanced by being able to sync the eBooks across all your devices, switch between books with ease, and store them in the cloud.
Instant Access and Immediate Updates
With eBooks, you no longer have to wait for your code books to be printed, packaged, and delivered. Once you purchase an eBook, you can download it to your device and start reading it right away. And if errata updates are released, AAPC's eBooks are revised immediately. With automatic eBook updates, you don't have to worry about coordinating the errata updates published online and reconciling them with the original print version of your code book.
Usage Tools
AAPC's eBooks come with tools — bookmarks, highlighting, notes, and flashcards — to maximize your coding capabilities; no more trying to figure out how to add notes and helpful tidbits in the limited space within your code books. Our eBooks enable you to add, review, and share notes, as well as create and update digital flashcards, all of which can be stored in the eBook.
The new eBook format also makes bookmarking and highlighting extremely simple. You can highlight important information in your choice of colors and save custom notes that can be quickly referenced in the future. Bookmark your favorite pages without worrying about a physical bookmark or tab getting moved or lost. Additional features include on-screen descriptor symbol legends and zoom capabilities, symbol pop-ups when hovering over an item, and highlighted indents as you read through the page.
Easily Searchable
The search feature makes it quick and easy to find what you're looking for in eBooks. You're not limited to searching for information based on a table of contents, index, or physical bookmarks. Instead, you can search by sections, chapters, keywords, codes, highlighted text, notes, tags to a block of content, bookmarks, and figures. AAPC's eBooks even have a clickable table of contents that can take you directly to the section you want to reference.
Readability
Put an end to your struggle with small font size and fixed pages. With AAPC's eBooks, you can change the font type and size as well as the page background color. You can also customize line height and page margins with re-flowable text. This is a handy feature for those who require large-print books.
Read-Aloud Feature
AAPC's eBooks come with text-to-speech (TTS) functionality. This read-aloud feature allows people to listen to eBooks, which is a convenient way to better understand the pronunciation of medical and other technical terms. TTS can also facilitate usage and enhance the learning experience for individuals with visual impairments or learning disabilities.
Get Your eBooks Today
AAPC is always looking for new and innovative ways to support its members. We want to make sure that those working on the revenue side of healthcare have all the tools they need to best serve the medical community, which is why we're excited to introduce our novel eBooks, a convenient and accessible alternative to our printed books. Whether you're looking for a way to make your reading experience easier and more enjoyable or simply wanting to save shelf space, give our eBooks a try and experience the many benefits they offer.
Check out our electronic code books and our MRGs. If you are new to eBooks or simply want to make sure you're familiar with all the tips and tricks to maximize your eBook experience, check out this instructional video on how to use AAPC's new eBooks.
Latest posts by Stacy Chaplain
(see all)
10 Responses to "Introducing AAPC's New eBook Collection"