How to Get Noticed and Land Your Dream Job: Part 1
June 1, 2020
Comments Off

on How to Get Noticed and Land Your Dream Job: Part 1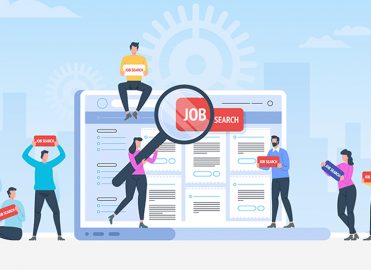 A step-by-step guide to achieving your career goals.
Whether you are just entering the job market or planning on making a career change, you need to start thinking about the
job search process and what you need to do now, before you even begin.
Gone are the days of scanning classified ads in newspapers, making telephone calls for job leads, and then sending a paper resume through the mail, or personally delivering it, to potential employers. Job hunting these days requires you be prepared to input your skills and job experience into employment websites or directly into employer databases, and somehow make yours stand out from all the rest. The key to finding a job today is embracing technology and using it to improve the odds that your resume or application is even seen by a potential employer.
So, before you find that job posting that is perfect for you, there are a few things you need to do. First, you need to ask and answer these questions:
Do I need a cover letter?
Is there anything I can do to ensure my application/resume is noticed?
What job search resources are available, and how do I use them correctly?
Does my online presence, especially my email address and social media profile, portray me as a professional?
Where is the best place to look for work?
What should I do to prepare for an interview?
We'll focus on the first three questions this month and cover the other three questions next month, in the second part of this series.
Nix the Canned Cover Letter
A cover letter is always important to include when applying for any job. It should be concise and employer-specific, to focus the reader's attention on your skills and identify yourself as an outstanding applicant. Do not send a generic or canned cover letter; make sure to always tailor your cover letter to the job.
Your cover letter needs to be short and to the point. Less is more. In one or two sentences, explain how your experience can meet the company's needs. In other words, why you are the right person for the job. Stick to the facts. Save the details for the interview. Write, edit, and re-edit these main sentences until they are pared down and to the point. These key sentences are equivalent to what some professionals refer to as your "elevator speech" — explaining yourself and your goals in 30 seconds or less.
Share your cover letter with other professionals to get their feedback and to see if they understand your goals at just a glance.
Another good idea is to spell out titles, professional organizations, certifications, and other healthcare-specific terminology you include in your cover letter (and resume), in addition to using their acronyms/abbreviations. This will improve the odds of your cover letter and resume being found in a keyword search. Plus, you don't want to assume the person reviewing your information knows what the acronyms/abbreviations stand for.
If you are changing careers, briefly include this fact in your cover letter. Be prepared to explain in the interview why you chose to switch careers and what you have done to educate yourself in this new field.
Shine Through in Your Resume
Studies have shown that employers spend as few as six seconds scanning a resume. Automated resume screening software (also known as an applicant tracking system (ATS) or ro-BOTs) spends even less time. So, a resume that may have worked a few years ago may not be up to today's standards.
Your resume needs to be simple but strong. List your accomplishments in a well-polished, professional manner. Be relevant. Only include education and work experience that relates to the specific job you are applying for, and only include the past 10-15 years of experience, unless you have switched careers and want to show relevant experience from your past.
If you are currently unemployed, that's OK. Always include an end date for your last job position. This will let the company you are applying to know that you are available to start immediately. But when you interview, be prepared to clearly explain why you are unemployed — layoffs are an acceptable fact of life.
Weave keywords into your resume to improve the chances of your application or resume being seen. If the employer is using computerized screening, using language that mirrors words found in the job posting should get your resume flagged in the system. Not sure how to identify keywords in a job posting? There are online services that determine just the right keywords to use. Google, for example, has a free keyword tool called WordStream.
Emphasize Your Soft Skills
A solid education and years of experience aren't the only ways to demonstrate that you're the right person for the job. If you don't have a lot of practical work experience, emphasize your soft skills.
Soft skills are character traits that range from punctuality and friendliness to organization and trainability. Make sure you can clearly identify your soft skills.
The following is a list of some common soft skills and ways you can demonstrate them in an interview:
Sincerity – Interviewers want to see the real deal. They want someone who is honest and genuine. You can demonstrate this with a firm handshake and by smiling, but by far and away, the best means to demonstrate your sincerity is through direct eye contact.
Good communication skills – You can easily demonstrate your communication skills by speaking clearly and professionally. Do not use slang. Make sure you ask intelligent questions and that you provide more than one-word answers.
Works well independently – Employers want to know that after a bit of training they can give you a task and that you will be self-motivated enough to get it done. Share a story from your past where you were given a task and got it done without any handholding.
Works well in groups – You also need to be able to demonstrate that you work well in groups. Before the interview, think about a time where you worked successfully in a group (in school or work). Explain a bit about the project and how your group worked together to solve it.
Flexibility – Are you capable of rolling with the punches, switching gears on a moment's notice, and doing what it takes to get the job done? Let your interviewer know that your feathers do not get ruffled if plans change.
Trainability – One of the most valuable soft skills is trainability. Are you a fast learner? If so, let the interviewer know this and be ready to offer up an example of a time when you were trained and picked up the info right away.
Organization, responsibility, and reliability – These last soft skills are the words every potential employer wants to hear. Don't claim them unless you have them and you are ready to put your money where your mouth is. Examples of these traits include sticking to your word, keeping papers and data organized, and keeping private information confidential.
Studies show that healthcare providers look for employees who are able to communicate, be flexible, display empathy, demonstrate strong problem-solving skills, and manage time effectively.
Tip: Ask your friends and family to help you identify your soft skills, and constantly be on the lookout for ways to improve these skills and gain new ones.
Win Points for Flawless Formatting
One of the easiest and surefire ways to get your resume noticed is with clean and professional formatting. This will help your resume convey important information at a glance.
Keep in mind that using fancy fonts may look good on paper, but they will not work with some automated resume applications. Use standard fonts that are easy to read and easily scanned. Opinions vary, but Arial, Calibri, Cambria, Garamond, and Helvetica routinely come up as good options. But check the site(s) you are using to make sure there are no standard requirements.
Cute or hard-to-read fonts just don't cut it. Moreover, information that is not organized and presented in a balanced way looks sloppy. A resume is not meant to be read. Think of it as a list of the things a hiring agent needs to know about you.
Include your name, address, and contact info boldly and prominently at the top of your resume. Do not make the reviewer hunt for this information (they won't). Use headings to direct the eye to the other information the reviewer is looking for. For example, include a bold heading titled "Experience" and another titled "Education." You may also want to include a section for clubs, affiliations, volunteerism, or the like. Use bullets to populate information under these headings. Make sure the bullets align and use tabs to align your job titles, etc.
While populating the Experience and Education sections of your resume, use date ranges, and work backward from your most recent experience and education. The example below illustrates this:
January 2019-Present Medical Coder, Albany Medical Center, Albany, NY
Responsible for overseeing 20 remote and onsite medical coders. Knowledge of both outpatient and inpatient coding.
August 2015-January 2019 Outpatient Coder, St. Peter's Hospital, Albany, NY
Responsible for applying ICD-10-CM and CPT® codes to outpatient charts. Knowledge of evaluation and management (E/M) levels and infusion and injection coding.
If you have gaps between jobs, use a bullet and a date range to insert a brief explanation for the gap such as "Returned to college," or "Caretaker for a family member." If a company you worked for has closed, simply state that fact.
Make Grammar and Spelling Count
Poor grammar and spelling tell a potential employer a lot about you — none of it good. Both types of errors indicate a lack of attention to detail, which is not a good trait for a medical coder or other employee working on the revenue side of healthcare. There are plenty of tools that you can use to make sure these mistakes are eliminated. One such tool is the spelling and grammar checker in Microsoft Word. It is wise to utilize a checker tool multiple times while crafting your resume and cover letters.
Tip: Double-check all acronyms. For example, HIPAA has one P and two As.
We've Only Just Begun
There is a lot more to finding a job in today's marketplace. Be sure to read part two of this series in the next issue of Healthcare Business Monthly. We'll discuss creating a professional social media presence, interviewing tips, and more!
---
Lisa Meaney, BS, RHIT, is a senior development editor at TCI. She helps compile content and proof educational books and coding manuals.
Patricia Zubritzky, BS, CRCE-I, works at TCI. She is instrumental in helping develop content and proof TCI publications and books. She is also a published author of "Master the Interview and Land the Job!"
Latest posts by Guest Contributor
(see all)