Clinical Trials Have a Place for Medical Coders
By Felicia Knox
In Billing
July 1, 2020
Comments Off

on Clinical Trials Have a Place for Medical Coders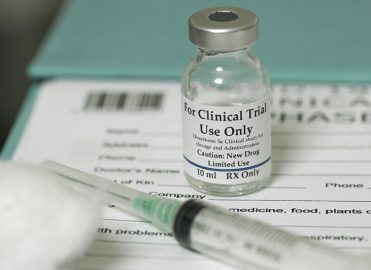 Research is a big job market often overlooked by healthcare business professionals.
Healthcare is changing rapidly. New technology and drugs are being developed daily to help improve the health and quality of life for many people around the world. To get new technology and medical drugs, many healthcare providers offer their patients opportunities to participate in clinical trials. Clinical trials offer patients a chance to try the latest technology or medication to help improve their health and quality of life. What are clinical trials, and how do medical coders fit in? We'll answer those questions in this article.
What Is a Clinical Trial?
To understand how a coder fits into clinical trials, you must understand what a clinical trial is. A clinical trial is a type of research study that tests how well new medical approaches work in the human body. These types of studies attest to new methods of screening, prevention, diagnosis, or treatment of a disease (NCI, 2020). Clinical trials may also be called clinical studies. Clinical trials are typically conducted in phases that build on one another. Each phase is designed to answer specific questions about whether the treatment or intervention is safe and effective.
There are five phases of a clinical trial:
Phase 0 trials involve limited human exposure to the drug or device. These trials are exploratory and do not include therapeutic or diagnostic goals.
Phase I trials assess the safety, side effects, optimal dose, and best way to administer the new treatment. This initial phase of testing usually includes a small number of healthy volunteers.
Phase II trials test the efficacy of a drug or device and evaluate its side effects; performed on larger groups of people with a specific disease/condition.
Phase III trials involve large-scale testing to assess the safety and effectiveness of the new treatment and compare it to existing treatments for the same condition.
Phase IV trials are conducted after a treatment has been approved and marketed to monitor long-term effectiveness and detect any rare or long-term adverse effects. Post Marketing Surveillance Trials involve a much larger patient population and longer time period than was possible during the Phase I-III clinical trials.
The phase of the clinical trial tells the coder what, who, and why this study is happening and if the trial will have any therapeutic intent. Once this information is gathered, the coverage analysis can start.
Trials Begin With a Coverage Analysis
Coverage analyses (CA) include the review of clinical trial documents, Medicare's Clinical Trial Policy (NCD 310.1), Medicare Benefit Policy Manual, National and Local Coverage Determinations, Medicare Claims Processing Manual, and the disease's conventional care guidelines. All of these must be reviewed to determine if the service furnished in the clinical trial can be billed to the patient's insurance. All clinical trials should have a coverage analysis performed to ensure compliance with clinical trial billing.
Requirements Must Be Met
The Centers for Medicare & Medicaid Services (CMS) requires clinical trials receiving Medicare coverage for routine costs to meet three requirements:
The subject or purpose of the trial must be the evaluation of an item or service that falls within a Medicare benefit category (e.g., physician's service, durable medical equipment, diagnostic test) and is not statutorily excluded from coverage (e.g., cosmetic surgery, hearing aids).
The trial must not be designed exclusively to test toxicity or disease pathophysiology. It must have therapeutic intent.
Trials of therapeutic interventions must enroll patients with a diagnosed disease rather than healthy volunteers. Trials of diagnostic interventions may enroll healthy patients to have a proper control group.
If these requirements are not sufficient by themselves to qualify as a clinical trial for Medicare coverage of routine costs, then the clinical trial should show the following characteristics:
The principal purpose of the trial is to test whether the intervention potentially improves the participant's health outcome;
The trial is well-supported by available scientific and medical information, or it is intended to clarify or establish the health outcomes of interventions already in common clinical use;
The trial does not unjustifiably duplicate existing studies;
The trial design is appropriate to answer the research question being asked in the trial;
The trial is sponsored by a credible organization or individual capable of successfully executing the proposed trial;
The trial is compliant with federal regulations relating to the protection of human subjects; and
All aspects of the trial are conducted according to the appropriate standards of scientific integrity. (CMS.gov)
Some Studies Qualify Automatically
To be automatically qualified as a clinical trial, effective Sept. 19, 2000, a trial must be:
Funded by a federal agency (i.e., NIH, CDC, AHRQ, CMS, DOD, or VA);
Supported by centers or cooperative groups that are federally funded (by one of the aforementioned agencies);
Conducted under an investigational new drug (IND) application reviewed by the FDA; and
Drug trials that are exempt from having an IND under 21 CFR 312.2(b)(1) will be deemed automatically qualified until the qualifying criteria are developed and the certification process is in place. At that time, the principal investigators of these trials must certify that the trials meet the qualifying criteria to maintain Medicare coverage of routine costs. This certification process will only affect the future of the trial and will not be used to retroactively change the earlier deemed status. (CMS.gov)
If your trial is deemed qualifying, then you can move forward with the study. These questions are part of a process called the Qualify Clinical Trial (QCT).
Clinical Trials Must Follow Protocol
A protocol is documentation that tells the research staff what, who, and why this study is being done. The protocol can help answer questions from the QCT. In the protocol, there are procedures, labs, exams, radiology, and many other tests that are performed on the patient during the clinical trial.
A CA grid (see below) is built from the protocol of the study, and this is called the schedule of events. The schedule of events lists all the tests and procedures needed for the study and when they will be performed.
Here's Where Coders Come In
As a coder, you would code the procedures, tests, exams, and labs that are required in the schedule of events with the proper CPT® and HCPCS Level II codes. With this information, you would document all items paid by the sponsor and analyze the remaining items as routine care or non-billable services. Non-compliant billing in a research study can carry severe penalties, as well as civil and criminal actions against the provider and/or hospital.
Your job would be to correctly bill the participating patients, as appropriate, and insurance companies to ensure providers participating in the trials are reimbursed for their expertise. Patients may be billed for routine care provided in the trial. That's where the medical coder's expertise becomes invaluable.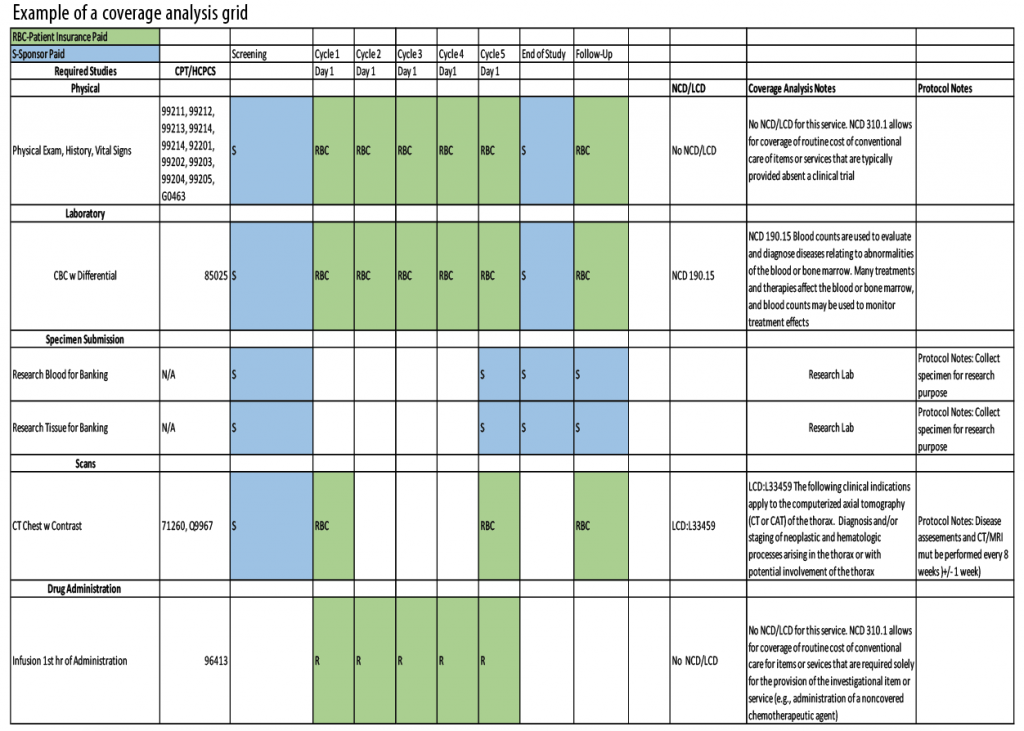 ---
Resources:
NIH National Cancer Institute (NCI) Dictionary of Cancer Terms
CMS Medicare Coverage Clinical Trials Final National Coverage Decision
Latest posts by Felicia Knox
(see all)