How to Get Noticed and Land Your Dream Job: Part 2
July 1, 2020
Comments Off

on How to Get Noticed and Land Your Dream Job: Part 2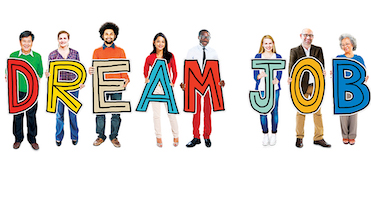 A step-by-step guide to achieving your career goals.
Read part 1 of this article here.
Finding a job in the electronic age is easier in some ways (more opportunities) and harder in others (more competition). Last month, we talked about how to prepare your cover letter and resume. In this second part of our step-by-step guide, we'll walk you through the process of finding a job and getting an interview.
Make a Good First Impression
Let's start with your email address. Best practice is to keep it simple. For example, do not use BigManOnCampus@domain.com or partygirl@domain.net. These kinds of addresses leave the recipient wondering just how serious or professional you are, which may cause your application to be instantly discarded.
Structure your email address with straightforward use of your name (for example, Susan.Smith@domain.net). Using this structure will keep your name in the mind of the person viewing your email correspondence.
Never apply for a job or send your application/cover letter/resume using your current work email. Even if you have permission from your current employer to do so, this says to a prospective employer that you use your work time to conduct personal business.
Make sure your cell phone voicemail message is professional, too. Loud music playing in the background isn't ideal. Find a quiet place to record a voicemail message that is clear and concise, but not impersonal and monotone. For example:
"Hello! You've reached [your name]. I'm not able to take your call right now. Please leave a message, and I will return your call."
Be Selective on Social Media
Next, you need to evaluate your entire online presence, especially your social media presence, before you start your job search. Your online image is just as important as how you present yourself in person. Just as you research potential employers and bosses, employers are using social networking sites to research and check on you.
Look at your online presence and ask yourself, "Is this the impression I want to make on a potential employer? Is the image I project a strong, positive one, or am I representing myself as something else?" To check your online presence, Google your name as you have it on your cover letter and resume. This will show you what a potential employer will see. To make sure they only see what you want them to see, increase your security setting on personal sites, so only close friends and family can view your personal life.
Next, make sure the facts about your career and education are consistent on any professional sites such as LinkedIn. Your education, current job title and duties, work history, graduation dates, etc., should be the same wherever they appear.
Ramp Up Your Job Search
If you are just starting to job hunt or haven't found that perfect job to apply for yet, make sure you are capitalizing on all available resources out there. To find a job posting online, subscribe to job sites like Indeed, Monster, and Simply Hired. These sites let you specify keywords in your profile so relevant job postings are automatically flagged and notifications are forwarded to you. Use AAPC's Job Board, too, to search for healthcare business openings by keyword, ZIP code, and/or distance from where you live.
Capitalize on your Facebook, Twitter, and LinkedIn connections, as well. Speaking of LinkedIn: Don't only search for jobs in the jobs section; do a reverse search for a specific job you are interested in. To do this type of search, go to the general "people search" area and search by the job title you are interested in. This not only identifies employers who require your skills, but also people you may want to add to your contact list.
Speaking of networking: Let people you know and anyone you meet know that you are looking for a job. Try to set a goal for yourself to attend one or two professional engagements or networking opportunities a week, if possible. AAPC local chapter communications and meetings are a great way to network and learn about jobs in your area.
Once you identify a job that is right for you, it's essential that you move quickly. You need to be in the first group of qualified candidates who respond if you want to secure an interview (or even stand a chance at getting one). Once an employer finds a good (or good-enough) fit, they will stop looking.
Improve Your Odds
If you send an email that says, "Attached, please find my resume," be sure a clean, current copy of your resume is actually attached. And send your resume as a PDF file (unless the employer requests a different format) to ensure it's compatible with different platforms.
Do not automatically ignore part-time, entry-level, or even ad hoc work. Getting your foot in the door can lead to bigger and better opportunities. Temporary jobs often lead to full-time employment, as employers often look within for experienced workers. Internships are good avenues, too. And don't discount externships (job shadowing) and volunteering. Exploring opportunities and building or expanding your skillset are steps in the right direction.
Wow Them in the Interview
Interviews need not be scary or intimidating. The best way to go into an interview is prepared.
Do Your Research: One of the most important things you can do when preparing for an interview is research the company beforehand. Use your internet and social media skills to find out everything you can about the organization. Identify the company's mission and vision. If you are extra savvy with your research, you may be able to pick up vibes about the company culture.
Dress for Success: Times and styles have changed, but nothing says professional more than a clean, ironed, pulled together outfit. Jeans are typically a no-no. A suit and tie for men, a modest dress or dress pants/skirt and blouse for women. Keep jewelry, makeup, and perfume to a minimum. Cover tattoos where possible.
Show Up on Time: Punctuality is key. Be on time, if not slightly early, for this important event. Show the people interviewing you that you care and that you are responsible. Do not waste their time. If, by chance, you are held up by an emergency or circumstances beyond your control, call the company contact ASAP, explain your situation, and offer a solution. Don't lie (unless the truth is too personal or embarrassing). Generally, if you are honest and sincere, a reasonable company will not penalize you.
Radiate Confidence: If you are the type of person who is self-assured – no problem, but if not, sometimes you must fake it until you make it. Treat the interview as if you are meeting new friends for coffee, and they want to learn all about you! Always listen to your favorite music on the way to the interview and smile while you are there. It breaks the ice and puts everyone at ease.
Speak Clearly and Concisely: Most interviews start with the candidate being asked to tell the interviewer a little bit about themselves. Be prepared to give a brief overview of your education and experience. Summarize it and present it with a smile. This is the time to expand a bit on items in your resume that need greater explanation.
Be prepared to briefly explain how your professional skills and education match the company's needs. If you lack a bit of the requisite experience listed in the job ad, this is a great time to sell your soft skills.
It's important to always have at least one or two questions prepared for the interviewer. As the interview winds to a close, job candidates are typically asked if they have any questions about the company. This is when you may ask them to clarify some information you saw on their website or inquire about other relevant topics.
One question you shouldn't raise is salary — at least not at this point. Save that for later, when you are called back for a second interview or offered the job.
Keep the negative talk to yourself! One of the most damaging things you can do during the interview is to speak negatively about past or present employers, bosses, or work experiences. If asked why you are looking for a new job, put a positive spin on it such as "I'm looking for a change," or "I'm looking to challenge myself with new opportunities." Regardless of the reason you are leaving your employer, do not complain or speak negatively about them or their processes.
Before you leave, make sure to ask for the interviewer's business card. You'll need their contact information for the next and final step.
5 Tips to Move Your Resume to the Top of the Pile
How do you get noticed among all the other job applicants? Here is a summary of the items we discussed in this two-part series that will help you stand out.
Respond promptly to job postings. New jobs are posted every single day. Make sure to subscribe to job search engines. The sooner you apply, the sooner you will get noticed.
Customize your resume and cover letter to the job. Tailor your resume and cover letter for each specific job you apply to.
Check your spelling and grammar. Professional documents contain no spelling or grammatical errors, are formatted clearly, and effectively convey your professional strengths at a glance.
Be relevant. Employers do not have time to give resumes and cover letters more than a glance. Make yours shine by only including information that is relevant to the position.
Utilize keywords. Take the time to integrate keywords into your job application documents and in your social media profiles, too. Make sure your profile is consistent with your resume, and your applications are consistent with both.
Follow Up to Seal the Deal
Shortly after the interview, send a well-written, genuine thank you letter, either handwritten or via email, to the interviewer. Tell the interviewer that you appreciated their time and that it was a pleasure meeting them. Keep the letter brief and, just as with your resume and cover letter, make sure formatting is neat and spelling is accurate.
Happy job hunting and good luck!
---
Lisa Meaney, BS, RHIT, is a senior development editor at TCI. She helps compile content and proof educational books and coding manuals.
Patricia Zubritzky, BS, CRCE-I, works at TCI. She is instrumental in helping develop content and proof TCI publications and books. She is also a published author of "Master the Interview and Land the Job!"
Latest posts by Guest Contributor
(see all)