Take Your Training to the Next Level
In AAPC News
July 1, 2020
Comments Off

on Take Your Training to the Next Level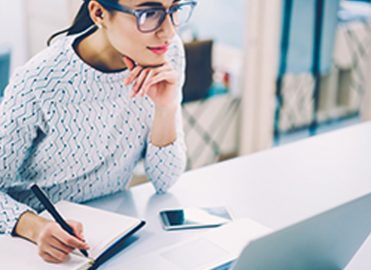 Keep your edge with AAPC's webinars — a convenient way to stay up to date and earn CEUs.
The healthcare industry is continuously evolving. Codes, rules, and Medicare policies undergo frequent changes to keep pace with medical innovations and emerging technologies. It's imperative that healthcare business professionals stay current with the latest guidelines and practices to remain compliant and ensure accurate coding. AAPC recognizes the need for ongoing learning and provides a way for you to keep up to date with the ever-changing practice of medicine: live and on-demand webinars.
What's a Webinar?
The term webinar is an amalgamation of the two words web and seminar. A webinar is an online presentation that is broadcast over the internet to a dispersed audience in real-time using audio/video technology. In contrast to a webcast, where information is presented on demand and only transmitted in one direction, a webinar is interactive. This allows two-way communication between the speaker and the audience, enabling attendees to interact with the presenter. The exchange between presenters and participants usually takes place via webcam and microphone.
6 Benefits of Educational Webinars
There are many benefits to incorporating webinars into your training regimen. For example:
Ease of use: Registering for and attending webinars is a simple process. All you need is an electronic device with a reliable internet connection and a standard web browser. Most webinar applications are designed for ease of use and require little additional software downloading, if any. Exchanging information before, during, and after the event is easy, too.
Affordability: The price of attending a webinar is typically much lower than other training options. Webinars stay cost-efficient by eliminating the travel and lodging expenses associated with onsite training. AAPC's webinars provide the training and education you need from pundits you know and trust — all at a great price.
Convenience: Since webinars take place virtually, directly on your computer or other electronic devices, there is no need to leave the office or factor in travel time. Because of this, webinars are a time-efficient, cost-effective method of training and education.
Efficiency: Most webinars are designed to last around 60 minutes and are usually scheduled to fit the workday of busy professionals. Because of their short length, webinars pack a lot of information into a short period of time.
CEUs: AAPC's webinars are a great way to earn continuing education units (CEUs). In addition to the invaluable knowledge and resources you gain from participating in these events, you can earn one CEU per webinar.
Long-Term value: A webinar offers the option to download its contents, enabling access to the podcast and event materials after the event has ended. Because of this, participants can review the presentation multiple times and revisit the slides and other reference materials as needed.
Education Anytime, Anywhere
Busy schedule? No problem. AAPC offers both live and on-demand webinars. Choose from a library of topics — medical coding, billing, auditing, compliance, and practice management, as well as hot topics such as COVID-19, emerging technologies, evaluation and management (E/M), MACRA, and other healthcare legislative changes — encompassing more than 20 specialties. AAPC hosts more than 40 live webinars annually, in addition to providing over 80 on-demand recordings that you can access anytime, anywhere.
On-Demand Webinars
AAPC's ever-growing library of on-demand webinars has something for everyone. These presentations allow flexibility in when and where you complete them.
One attendee favorite is Anatomy and Pathophysiology Series: Obesity by Sheri Poe Bernard, COC, CPC, CDEO, CRC, CPC-I. In this informational webinar, Bernard reviews the behavioral, metabolic, genetic, and hormonal issues associated with obesity, which can increase the risk of conditions such as diabetes, joint disorders, cardiovascular disease, infertility, and cancer. She wraps up her 60-minute lecture discussing how to capture risks and services associated with the obese patient through proper coding.
Another highly recommended webinar is Cutting Through the Red Tape of Preauthorization by Gina Piccirilli, CPC, CPMA. She breaks down the preauthorization process in this 60-minute lecture as well as the step-by-step process needed for optimal reimbursement. Piccirilli also reveals some handy tips for getting faster reimbursement, decreasing denials, and eliminating lost revenue from unauthorized services, to name a few.
Live Webinars
If you prefer being able to interact with the presenter, you'll appreciate AAPC's live webinars. The live versions function almost like a personal tutoring session, where you can ask questions and receive feedback. AAPC schedules these live events three months in advance to ensure you are receiving timely training and education on trending industry topics and specialties. Here's a list of events for July and August:
| | |
| --- | --- |
| Date | Title |
| 7/8/2020 | Bronchoscopy Billing – Navigational and EBUS |
| 7/15/2020 | Leadership in an Evolving Healthcare Culture |
| 7/22/2020 | Pediatric HCCs |
| 8/12/2020 | Compliance and Ethics for Practice Administrators |
| 8/26/2020 | Anatomy and Pathophysiology Series: Neonates and Children |
A Webinar Option for Everyone
Anyone can take advantage of the phenomenal educational opportunities AAPC's webinars provide. The cost for a single webinar is $49 for members and $69 for non-members. For those of you who want more bang for your buck and like to plan ahead, consider an annual webinar subscription. It provides you with 12 months of access to AAPC's entire library of more than 120 live and on-demand events, bringing the cost down to as low as $3 per webinar. You're guaranteed a minimum of 40 new webinars for the upcoming year. Members pay $349 per year for an annual subscription. AAPC also offers a multi-user webinar subscription, which allows you to save even more. See AAPC's webinar subscription page for volume discount information.
What's the Word on the Street?
Still on the fence? Here's what a few of our webinar users are saying:
"The webinars are great! There are a wide variety of topics, they are easy to access, and I cannot think of a way to improve them, at this time. It is a one-stop-shop for CEUs, as well as a great topic library for coding research."
– J. Morrison
"The webinars that AAPC offers cover a wide range of topics and are easily put into 'real-life' situations not just 'the book.' Also, they are easy to understand and are offered at times that work into your schedule."
– V. Luna
"Convenient way to obtain needed CEUs and some of the webinars are directly applicable to the job. Less experienced coders especially can benefit greatly from many of the webinars. I previously was in a multi-specialty group and found more of the webinars directly applicable."
– K. Leisman
"Great information provided on specific topics needed for my CEUs. Relevant pictures when appropriate and ease of listening and obtaining the resource."
– C. Gilson
Prepare for Tomorrow, Today
The need for continuing education — adding value and improving your knowledge and skills — while reducing costs is becoming even more critical as shrinking budgets and a general global economic slow-down are requiring healthcare business professionals to achieve more with less. To address these challenges, consider adding AAPC's webinars to your list of training resources as a low-cost option for top-notch education and CEUs. More information on AAPC's webinars can be found on their website.
Latest posts by Stacy Chaplain
(see all)