Gain Solid Footing for Orthopedic E/M Coding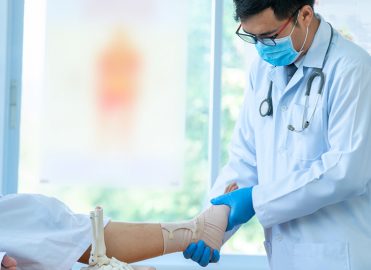 Medical decision making and time take center stage in 2021.
Orthopedic offices will have some special challenges when adjusting to 2021 evaluation and management (E/M) coding expectations. Coders anticipating the sweeping changes to E/M office and other outpatient visit coding next year should prepare now.
You will no longer use history and examination as factors in deciding overall E/M levels. For 2021 office E/M services, explains Raemarie Jimenez, CPC, CIC, CPB, CPMA, CPPM, CPC-I, CCS, senior vice president of product at AAPC, "the level of service will be based on time or MDM — not both — one or the other."
In her AAPC webinar "2021 E/M Guideline Changes: Orthopedics," Jimenez, who is coding liaison to the AMA CPT® Editorial Panel, shows attendees how to apply these changes to cases they might encounter next year. Step into the virtual world of this presentation for a look at some ortho-specific advice on E/M coding in 2021.
Put Time on Your Side in 2021
The new E/M rules will only affect office or other outpatient visit E/M codes (99202-99215). "It will not carry over into the hospital inpatient codes, or any other E/M codes where time is an element that can be used for code selection," Jimenez clarifies. Also, CPT® code 99201 will be deleted in 2021.
Time is always important when coding office E/M services in an orthopedic practice. When commenting on coding E/M services based on time, Jimenez notes: "In some specialties … you just see it more. Orthopedics, anytime you have surgeons involved. Lots of times, the scenario around that E/M encounter is discussion … we need to talk about options here."
Not only will you need to adjust your coding to make time an overarching determinant in E/M coding in 2021, but you'll also need to get used to the new definition of time for E/M coding purposes, Jimenez says. Time will be redefined from "face-to-face time" to "total time spent on the day of the encounter."
MDM Could Make or Break 2021 Claims
In addition to making medical decision making (MDM) one of the two deciding factors for E/M code selection in 2021, CPT® will make these changes to the MDM component descriptors (emphasis added):
"Number of Diagnoses of Management Options" will become "Number and Complexity of Problems Addressed."
"Amount and/or Complexity of Data to be Reviewed" will become "Amount and/or Complexity of Data to be Reviewed and Analyzed."
"Risk of Complications and/or Morbidity or Mortality" will become "Risk of Complications and/or Morbidity or Mortality of Patient Management."
See How MDM Drives Decision
After reviewing how office E/M coding will differ for orthopedic practices in 2021, Jimenez leads you through a series of E/M case studies and discusses how you might code them based on MDM in 2021. Here are the encounter notes from one of those case studies:
Est pt, past hx of L ACL tear, comes in for follow-up on MRI of L knee. She has been playing basketball. She can tell the brace helps but feels like knee could "slip" if she pushed it. Exam reveals loose Lachman's. Something changed btw last two visits from previous; she has a slight pivot glide as well on today's exam. ROM 3-0-130. MCL, LCL, and PCL are stable.
X-rays: Review of MRI appears to show re-tear of ACL. She has some meniscus changes as well, although I certainly would expect this with post-op changes.
Impression: Left knee ACL re-tear.
Plan: Does not have a real loose knee; has been tolerating basketball. As long as she can prevent knee from the big instability episodes, I would be OK with her continuing to play basketball. If she has instability episodes, then we need to sit down and discuss surgical revision. Will see her back sometime in the basketball season. I personally performed the history and physical examination on the patient and formulated the treatment plan.
Coding: After discussion, Jimenez and the group agree that 99212 would be the best code to choose based on MDM for this encounter using the 2021 E/M office visit rules. The reason? Straightforward MDM. In 2021, the level of exam and history won't matter at all, and the MDM comes in at a straightforward level when coding this case with the 2021 E/M office visit rules.
Explanation: The E/M reveals that this patient has "been getting around; she's been playing basketball. Whatever they have found here, they've found before; it's not a new finding," explains Jimenez. Further, this E/M involved a review of an MRI, not an interpretation. "The provider says it's OK for her to continue playing basketball, which likely means the recovery is going pretty well," Jimenez says.
Jimenez then takes that info and puts it into the 2021 MDM tables. For the number and complexity of problems addressed, the ranking is low. "Some people might look at it as one stable, chronic injury. Others might say that the patient has an acute uncomplicated injury; either way, it's low," she says.
As for the amount and/or complexity of data to be reviewed and analyzed, Jimenez explains, "we know that there was an MRI review and there were no orders, so that one-point review of MRI takes us to minimal" on the E/M MDM chart.
Finally, for risk of complications and/or morbidity or mortality of patient management, Jimenez says, "You have to think about the problem and the complexity. It's minimal; there's no additional work. They're stable."
So even though the visit probably merited a "low" rating on number and complexity of problems addressed, the other two components on the table line up with 99212, which would be your likely code choice in 2021.
What Do 2021 E/M Time Changes Mean for Coders?
There is a lot of discussion about the changes being made to office and other outpatient visit evaluation and management (E/M) codes starting Jan. 1, 2021. How will these changes affect medical coders? Let's consider that for a moment.
For many years, coders have discussed and debated E/M code level requirements and whether providers' documentation contained the necessary three key components: history, examination, and medical decision making (MDM). While providers will still be required to document all three of these components as medically necessary, in 2021, coders can choose to select a code based solely on time or MDM.
With respect to MDM, this change means that the MDM level alone can determine the level of service for a new or established office/outpatient visit.
The time-based billing in 2021 will be different than the rules in 2020.
While the current guidelines allow for time reporting for E/M services in which counseling and/or coordination of care services consist of more than 50 percent of the visit, the requirement of a time statement such as "total time spent with the patient is XX minutes, with greater than 50 percent of this time being spent on counseling/coordination" will be eliminated in 2021. The new rules on time reporting will have no such restrictions. Instead, the practitioner will only be required to demonstrate the medical necessity of the visit in addition to documenting the total amount of time they spent with the patient. Effective Jan. 1, CPT® will also replace the words "typical time" with the words "total time spent on the day of the encounter."
Note: See more specifics about the changes to MDM and time requirements in the article "Prepare for Office and Other Outpatient Code Changes" in the March issue of Healthcare Business Monthly.
Coder Benefit No. 1
For coders, this change will eliminate time spent looking for the "more than 50 percent" phrase and verifying it is documented appropriately. Coders will also spend less time counting the documented history and exam elements, as these elements will no longer be a requirement for determining level of service; coders will review mainly the MDM component. All this considered, coders who are required to adhere to organizational productivity requirements should be able to secure these numbers more easily.
Coder Benefit No. 2
Another aspect of the changes to consider is that E/M leveling will be much easier to teach and learn. Those seeking a new AAPC credential, such as the Certified Professional Coder (CPC®), will have a much easier time passing this portion of the exam.
What Do 2021 E/M Time Changes Mean for Coders? by Vicky Schack, MHA, CPC. Schack is a compliance program manager and educator/auditor for St. Jude Children's Research Hospital. In this role, she has developed an education and training program and provides education and audit reviews to providers on staff.
Latest posts by Chris Boucher, CPC
(see all)
3 Responses to "Gain Solid Footing for Orthopedic E/M Coding"