New Code for Alternative Care Sites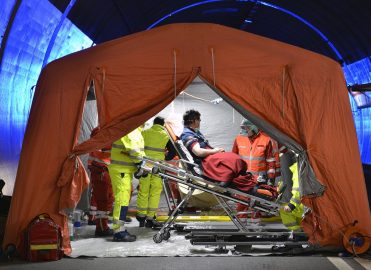 A new Point of Origin (PoO) code has been created for reporting patient transfers from a designated disaster alternative care site (ACS). The new PoO was necessary to align with the Discharge Status Code for ACSs, DS code 69, created in response to the COVID-19 public health emergency (PHE).
Initially, the National Uniform Billing Committee (NUBC) advised billers to use PoO code 6 Transfer from another healthcare facility (not defined elsewhere in this code list).
Effective July 1, 2020, billers are instructed to use PoO code G Transfer from a designate disaster alternative care site (ACS) for claims involving patients transferred to or originating from designated disaster ACSs.
UPDATE: CMS changed the implementation date to August 3, 2020.
Continue to use patient discharge status code 69 Discharges/transfers to a designated disaster alternative care site.
What Are Alternative Care Sites?
The Centers for Medicare & Medicaid Services (CMS) defines ACSs as "any building or structure that is temporarily converted or newly erected for healthcare use."
CMS determines whether it will pay for covered hospital facility inpatient or outpatient services furnished to enrolled patients at an ACS based on the following criteria:
1. Is the ACS operator already enrolled in Medicare/Medicaid programs as an acute care hospital or other provider type that is capable of furnishing inpatient or outpatient care during the PHE?
2. Is the ACS operator contributing resources and responsible for the care being furnished to Medicare/Medicaid patients at the ACS?
3. Is the ACS operator following the billing requirements of the applicable payment system?
Examples of an ACS include:
Hospital cafeteria
Tents on hospital grounds
Gymnasiums
Convention centers
Although CMS will pay for inpatient and outpatient care furnished in these ACSs, hospitals must follow all applicable CMS coding and billing rules during the PHE.
Place of Service Codes Unchanged
During the PHE, Medicare-enrolled physicians and non-physician practitioners (NPPs) can bill Medicare for covered professional services that are furnished to Medicare patients at ACSs. When the ACS is considered part of a hospital, physicians and NPPs should use the applicable place of service (POS) code depending on whether the ACS is furnishing outpatient (POS code 19) or inpatient care (POS code 21).
When the ACS is not enrolled as part of a hospital or other facility, and no facility claim is being submitted to Medicare, physicians and NPPs should use POS code 11 for a non-facility practice location. Also add modifier CR to professional claims for patients treated in an ACS.
---
Sources:
MLN Matters MM11836 / MM1836 Revised
NUBC announcement
CMS Fact Sheet May 26, 2020
Latest posts by Renee Dustman
(see all)