2020 HEALTHCON Goes Virtual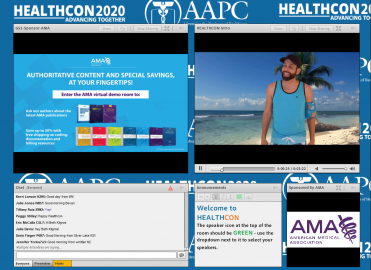 AAPC puts positivity during adversity to the test, and members pass with flying colors!
As a pandemic swept through the country, AAPC was forced to adapt and transform its 2020 HEALTHCON conference into a virtual experience. Many were dubious this venue could hold a candle to what it would be like to travel to Orlando in April, attend sessions in person, and mingle face to face with fellow attendees.
Instead, staff, attendees, and presenters all tuned in on their computers in their own homes and communicated through cameras — and, surprising to many, it worked! Not only did people walk away with the same great content, invaluable connections, and continuing education units (CEUs) they would've received at the in-person venue, but they also witnessed the extreme lengths AAPC will go to for its members.
COVID-19 Takes the Lead
AAPC staff kept a close eye on the COVID-19 data and the decision to go virtual quickly became obvious. But that didn't make it any easier.
AAPC CEO Bevan Erickson said in his Conference Welcome that first morning, April 6, "We entered into March with the overwhelming number of attendees wanting us to continue" with the live in-person HEALTHCON.
In consideration of customers, staff, and community during the health crisis, however, AAPC decided to make HEALTHCON a virtual event. AAPC adapted to the environment "for the betterment of [our members] and the organization," Erickson said from his home office in Utah.
AAPC Pulls It Off
Once the decision had been made to create a virtual HEALTHCON experience, AAPC staff had to shift gears — and fast.
For instance, for last year's HEALTHCON in Las Vegas, Jill Finn, Sr. Director of Program Management, played a big role in supporting AAPC's apps, including the introduction of scanning QR codes. All that changed when AAPC decided to make HEALTHCON 2020 virtual."
I needed to quickly become an expert in every aspect of the conference technology to help make decisions, drive the project, and be able to support anyone on the team," Finn said. "I had so many hats stacked on my head! I ran point on project management to keep things organized and moving quickly in such a short time frame. I also set up and managed the Conference app, answered support questions in the app (as AAPC Andy), along with amazing Stacey Tucker [from West Virginia], answered support cases that came in through email, ran the Virtual Help Desk, hosted the Virtual Café, and supported anything else the other staff members needed to make this successful." And they did it all from their homes.
That's only one staff member's story, as many others contributed to this unique HEALTHCON experience.
"This was the most amazing event to have been a part of," said AAPC Sr. Education Specialist and presenter Peggy Stilley, CPC, CPB, CPMA, CPC-I, COBGC, from Oklahoma. "I work with some pretty amazing humans!"
The best part is that many of the attendees noticed the magnitude of effort on AAPC's part. "I would like to acknowledge everyone that was involved," attendee Melissa Reeves, RHIT, CPC, CRC, from Ohio, said. "The amount of time and effort that went into planning this event for so many people in such a short amount of time was astounding.
What Was so Great About HEALTHCON 2020?
AAPC strives to offer the best conferences for its members, so after HEALTHCON ended, AAPC staff immediately examined what worked and what didn't. "We have a whole list from our conference retrospective!" Finn said.
People Were Engaged
On a positive note, while attendees were stuck self-isolating at home, lounging in PJs or fending off kids while watching presentations, they were by no means passively participating. "I was excited to see how engaged our attendees were in the event," Finn said.
Indeed, many of the attendees had fun sharing pictures of their pets and home offices and reading the "speed chats" in the Virtual Café. "I really loved the Virtual Café," attendee Asma Ahmad, CPC, from Connecticut, said. "I learned so much that I didn't know about through the chat." The Virtual Café was a place for attendees to virtually network, and network they did!
Connections Were Made
Even though the connections didn't occur within the same space, some folks took full advantage of this. "I feel like, even though we could not physically see each other, I was able to connect with a lot more people than I have with previous conferences," said Reeves. "I am an introvert, so introducing myself is hard, but I am also a millennial, so everything online is my niche!
Another place for attendees to explore was the Demo rooms. Some exhibitors went the extra mile to get noticed. Attendee Amanda Goff, CPC, CPB, from Florida, said "My favorite memory was the Ohana Coding Demo. [The representative] was hilarious, and we found out he does coding seminars dressed as female Disney characters such as Cruella and Ursula!"
Games Were Played, Prizes Won
Attendees could gain points by checking out those demos. "I enjoyed the game-ification of the event," said Stuart Newsome, CPCO. "I was intrigued. I watched the interaction and challenges that helped attendees participate in the app, as well as with each other." Some won big, such as Marlene Shorey, CPC, CRC, CEMC, from North Carolina, who won a trip to Dallas, Texas, for AAPC's 2021 HEALTHCON.
Presentations Were Spot-On
Of course, let's not forget the main purpose of the conference: the presentations. "The content was on point and relevant," Finn said.
Healthcare was in the midst of a pandemic, with a bevy of new coding and telehealth rules related to COVID-19. Much of the information provided in HEALTHCON sessions was not only timely but highly necessary. That information needed to find its way to members.
"I loved COVID-19 Billing, the keynote, and the last general session on E/M changes," Shorey said. "I feel that the presenters were so knowledgeable; really excellent speakers!"
In live conferences, many of the popular sessions fill to capacity, and there are often crowds vying for seats. Another issue with live conferences is deciding which sessions to attend, especially if they are running concurrently. The virtual platform allowed a solution for this. "Probably my favorite thing is having the ability to listen to sessions that I couldn't attend because of conflicts and still be able to earn CEUs," said Ruby O'Brochta-Woodward, BSN, CPC, CPB, CPMA, CPC-I, COSC, CSFAC, RCC, from Minnesota.
Lessons Learned
While so much of the conference was successful, not everything went off without a hitch. Some attendees had technical issues such as the screen freezing and being unable to hear the presenter.
"While we had a few technical hiccups, things actually went smoother than anticipated," Finn said. "On the flip side, those few technical issues were, of course, frustrating to our members and to us. We also wish we'd had another week to plan and test and be able to communicate earlier."
Some attendees said they missed the in-person interaction, especially when it came to the exhibitor halls and making connections that may lead to job prospects. Others said they really missed the escape from their day-to-day lives. It was hard for everyone to give up the fun and relaxation we would've had at Walt Disney World.
Are Virtual Conferences the Way of the Future?
As the dust settles, many virtual HEALTHCON attendees are asking themselves whether they would like other virtual events someday. Some people who thrive in an in-person social environment are a solid "No way!" Others love the option of cutting down on travel expenses and stress levels.
"While this was convenient," Amy Farnworth, CPC, CRC, from Idaho, said about the virtual venue, "I'd rather attend in person."
For those of you who think this way, never fear. AAPC's upcoming regional conference and 2021 HEALTHCON are planned as in-person events. The upcoming locations and dates are:
HEALTHCON Regional- August 12-13 – Virtual
HEALTHCON: Dallas, Texas – March 28-31, 2021
Others enjoyed the virtual venue. "I'd love the virtual option for every conference," said Cindy Akkerman, MD, MBA, MBA-HCM, CPC, CPPM, CPB, CPC-I.
For those in this camp, there's good news. "Everyone [at AAPC] came away from this conference asking how we could continue offering some type of virtual experience for our members who need/want it," Finn said. "The success of this conference is a real tribute to the hard work of our AAPC staff as well as the willingness of our members to give this a chance, to stay engaged, and to show great support for AAPC and each other."
Suzanne Burmeister, CPC, COBGC, has attended HEATHCON nine times. She is managing editor at The Coding Institute and is the go-to resource for the toughest obstetrics and gynecology (ob-gyn) coding questions. Burmeister has been the Ob-Gyn Coding Alert editor since 2004. She has a Bachelor of Arts degree from North Carolina State University and an international master's degree from Trinity College Dublin.
Latest posts by Suzanne Burmeister
(see all)
2 Responses to "2020 HEALTHCON Goes Virtual"